ROCCAT Selects High-Performance NXP Microcontrollers for Cutting-Edge Gaming Devices
Savu Gaming Mouse and Isku Gaming Keyboard Powered by LPC1343 and LPC1752
(March 09, 2012)

EINDHOVEN, THE NETHERLANDS and HAMBURG, GERMANY -- (Marketwire) -- 03/09/12 -- When it comes to professional gaming, the performance and precision of your gaming devices can make or break the outcome. In designing its new Savu gaming mouse and Isku gaming keyboard, ROCCAT Studios selected 32-bit microcontrollers from NXP Semiconductors N.V. (NASDAQ: NXPI) to enable advanced, high-precision design features that have generated tremendous excitement and anticipation within the worldwide gaming community. Showcased this week at CeBIT 2012, the new ROCCAT™ gaming devices are powered by NXP's LPC1343 and LPC1752 microcontrollers, which offer high speeds, robust serial interfaces and superior USB, and are based on the ARM® Cortex™-M3 processor.
"Both Savu and Isku, our flagship gaming products for 2012, combine the world's smartest and most advanced gaming engineering with jaw-dropping design features," said René Korte, ROCCAT founder and CEO. "NXP's high-performance Cortex-M3 microcontrollers deliver the high-performance system capabilities we needed to implement the device functions to unleash the gaming legend in you."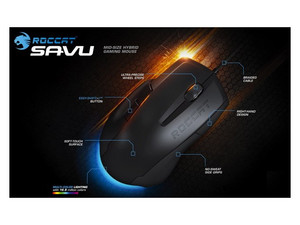 Inside the "Tough New King of Optical Mice"
The ROCCAT Savu Mid-Size Hybrid Gaming Mouse uses the NXP LPC1343 microcontroller with a 72-MHz ARM Cortex-M3 processor. The microcontroller communicates with Savu's unique 4000 dpi optical sensor via an SPI interface, helping to deliver speed and control for highly accurate game commands. With 8 KB of SRAM, 32 KB of Flash, 26 GPIOs, 4 timers, and a 10-bit ADC, the LPC1343 controls and reacts to the gaming mouse's five buttons and ultra-precise 2D scroll wheel, which supports up to 12 macro functions. User input is sent every millisecond, via the LPC1343 microcontroller's USB 2.0 Full-Speed USB PHY.
Savu's massively customizable features include the ability to illuminate its rear light bar in one of 16.8 million colors to enhance the atmosphere of gaming sessions. Its fully configurable RGB LED uses the LPC1343 microcontroller's PWM to choose one of 16 pre-defined colors or define a custom color, and activate color cycling and "breathing" functions.
Acting Faster Instead of Hunting for Keys
The ROCCAT Isku Illuminated Gaming Keyboard uses the 120-MHz LPC1752 microcontroller, which provides an ultra-fast 1-ms response to user inputs via its USB 2.0-certified Full-Speed USB interface, supporting a 1000-Hz polling rate. The LPC1752 microcontroller has 16 KB SRAM, 64 KB Flash, and 52 GPIOs to support Isku's 123 blue-illuminated keys with 6 brightness levels, 36 macro keys, 8 configurable media and hotkeys, and 5 profile-status LEDs.
"ROCCAT Studios is defining breathtaking new features for gaming devices, and we're very pleased that NXP Cortex-M3 is its microcontroller of choice for high-precision game play," said Jan Jaap Bezemer, director of marketing, microcontroller business line, NXP Semiconductors. "From gaming to industrial applications, our broad portfolio of 32-bit ARM microcontrollers offer a rich set of options for high-performance Human Interface Devices that are transforming the way we interact with the digital world today."
The ROCCAT Isku Illuminated Gaming Keyboard is available immediately. The ROCCAT Savu Mid-Size Hybrid Gaming Mouse will be available in May 2012. Further information about ROCCAT gaming devices is available at http://www.roccat.org/Products/.
Information on NXP LPC1700 and LPC1300 microcontrollers is available at http://www.nxp.com/products/microcontrollers/cortex_m3/.
About ROCCAT Studios
Founded in 2007 in Hamburg, Germany, ROCCAT Studios produces innovative, high-quality products for today's ambitious computer gamer. Always operating in close collaboration with the gaming community, the company's advanced input devices, headsets and accessories offer extreme precision, first-class ease-of-use and unique, eye-catching design. ROCCAT™ entered the scene with its Kone Gaming Mouse -- a high-performance device that still ranks as one of the world's premier gaming peripherals. A long list of international awards attests to the ingenious design and world-class quality of ROCCAT products.
About NXP Semiconductors
NXP Semiconductors N.V. (NASDAQ: NXPI) provides High Performance Mixed Signal and Standard Product solutions that leverage its leading RF, Analog, Power Management, Interface, Security and Digital Processing expertise. These innovations are used in a wide range of automotive, identification, wireless infrastructure, lighting, industrial, mobile, consumer and computing applications. A global semiconductor company with operations in more than 25 countries, NXP posted revenue of $4.2 billion in 2011. Additional information can be found by visiting www.nxp.com.
Forward-looking Statements
This document includes forward-looking statements which include statements regarding NXP's business strategy, financial condition, results of operations, and market data, as well as any other statements which are not historical facts. By their nature, forward-looking statements are subject to numerous factors, risks and uncertainties that could cause actual outcomes and results to be materially different from those projected. These factors, risks and uncertainties include the following: market demand and semiconductor industry conditions; the ability to successfully introduce new technologies and products; the end-market demand for the goods into which NXP's products are incorporated; the ability to generate sufficient cash, raise sufficient capital or refinance corporate debt at or before maturity; the ability to meet the combination of corporate debt service, research and development and capital investment requirements; the ability to accurately estimate demand and match manufacturing production capacity accordingly or obtain supplies from third-party producers; the access to production capacity from third-party outsourcing partners; any events that might affect third-party business partners or NXP's relationship with them; the ability to secure adequate and timely supply of equipment and materials from suppliers; the ability to avoid operational problems and product defects and, if such issues were to arise, to correct them quickly; the ability to form strategic partnerships and joint ventures and to successfully cooperate with alliance partners; the ability to win competitive bid selection processes to develop products for use in customers' equipment and products; the ability to successfully establish a brand identity; the ability to successfully hire and retain key management and senior product architects; and, the ability to maintain good relationships with our suppliers. In addition, this document contains information concerning the semiconductor industry and NXP's business segments generally, which is forward-looking in nature and is based on a variety of assumptions regarding the ways in which the semiconductor industry, NXP's market segments and product areas may develop. NXP has based these assumptions on information currently available, if any one or more of these assumptions turn out to be incorrect, actual market results may differ from those predicted. While NXP does not know what impact any such differences may have on its business, if there are such differences, its future results of operations and its financial condition could be materially adversely affected. Readers are cautioned not to place undue reliance on these forward-looking statements, which speak to results only as of the date the statements were made. Except for any ongoing obligation to disclose material information as required by the United States federal securities laws, NXP does not have any intention or obligation to publicly update or revise any forward-looking statements after we distribute this document, whether to reflect any future events or circumstances or otherwise. For a discussion of potential risks and uncertainties, please refer to the risk factors listed in our SEC filings. Copies of our SEC filings are available from on our Investor Relations website, www.nxp.com/investor or from the SEC website, www.sec.gov.
Image Available: http://www2.marketwire.com/mw/frame_mw?attachid=1913091

Add to Digg Bookmark with del.icio.us Add to Newsvine
Copyright @ Marketwire
Page: 1
Related Keywords:
nxp, roccat, savu, isku, gaming, mouse, keyboard, cortex-m3, lpc1343, lpc1752, microcontroller, mcu, Germany,USA,Marketwire, ,CeBIT Attendees,Financial,Business,Other,
---