Quvis Provides Indie Filmmakers With Unbeatable DCP Quality, Security and Speed With the Launch of Wraptor 2.0
New Wraptor 2.0 Features Patented Technology to Create DCP Files From Final Cut Pro That Deliver the Best Possible Viewing Experience
(April 12, 2012)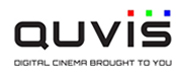 TOPEKA, KS -- (Marketwire) -- 04/12/12 -- Quvis Technologies Inc, a provider of digital cinema software, today announced the availability of Wraptor 2.0 ™. Featuring Quvis' proprietary Quality Priority Encoding (QPE ™) technology, Wraptor 2.0 enables filmmakers to easily, accurately and inexpensively convert Final Cut Pro files to the Digital Cinema Package (DCP) format used by most theatrical digital projection systems today. Wraptor 2.0 does what other products don't -- securely packages data that results in the highest quality image storage in an efficient format -- without risking the distortion that can come with other software solutions that rely heavily on compression techniques.
The global digital cinema market has exploded in the past decade. Half of all screens are now digital and Quvis expects nearly 80 percent digital screen usage over the next three years. DCP offers top-level image control as well as security and encryption needed when film producers look to digitally distribute their film -- a work that represents years of creation and a major monetary investment -- resulting in a far greater product than competing formats such as Blu-ray.
The costs associated with converting a film from a format used by Final Cut Pro, Adobe and Avid to a digital format are high. Wraptor 2.0 is a plug-and-play solution that delivers the quality users expect from a digital format at a low price point. Not only is Wraptor 2.0 a cost-effective, high-quality solution, but it also drastically cuts the compression time to create DCP with a software solution.
Features of Wraptor 2.0 include:
Quality Priority Encoding (QPE) Technology - Quvis' wavelet-based encoding technique stores data with less compression, preserving images for the best possible showing.
Customization Capabilities - Allow for the best possible viewing experience.
True Representation for 2K and 4K Digital Cinema - Achieve digital mastering and cinema playback in 2K and 4K and 3D.
Control Aspect Ratio with Resizing and Cropping - Adjust the aspect ratio to make an optimal DCP from any input file to fit any screen.
Audio Selection Options From 0 to 16 Channels - Pick the audio that's right for your work and free up the extra bandwidth for better presentation or more special effects.
Enhanced Security with Optional Encryption - Protect against unauthorized use by requiring specific decryption keys delivered as Key Delivery Messages (KDMs) or encrypt your project without the expense of additional software.
"Quvis is committed to bringing digital cinema not only to movie theatres, but to home theatres as well," said Kenbe Goertzen, Quvis Founder. "Our software products significantly reduce the cost and time associated with converting movies into digital format, while at the same time producing the highest quality digital content."
QPE Technology: A Higher Standard
The secret ingredient of Quvis' products lies in its QPE technology. While other technologies utilize existing methods of image compression for rate-critical consumer media communication, Quvis has pursued a different path. The company saw the possibilities of better encoding for the most efficient data storage, enabling the preservation of image quality and fueling innovations for critical applications in not only the media communication industries, but the technical, military and medical industries as well.
In 2012, Quvis will introduce the first fully featured, software DCP player, allowing customers to view their finished work without incurring the high costs typically associated with digital cinema hardware for their studios or the inconvenience of traveling to their local digital theatre. The Quvis DCP player will integrate with Mac and Windows operating systems.
Pricing and Availability
Quvis Wraptor 2.0 is available today for $699. It can be downloaded for a free 30-day trial.
About Quvis
For nearly two decades Quvis Technologies, Inc, a Seacoast Capital Partners company, has invented technology to move vast amounts of data in real time with extraordinary visual representation quality. Quvis' patented Quality Priority Encoding (QPE) enables ultra high quality image storage in an efficient format, without risking the distortion that often accompanies compression techniques. Quvis products have been trusted by more than 2,000 customers for digital mastering and cinema playback including Pixar, Universal, Paramount, Sony/Columbia Pictures, Fox, Miramax, Lucas Films, Warner Brothers, Light Storm, and DreamWorks. Visit Quvis online at http://www.quvis.com
Add to Digg Bookmark with del.icio.us Add to Newsvine
Editorial Contacts
Darci Klein
Quvis
857-231-6540

Chuck Tanowitz
Fresh Ground, Inc.
quvis@itsfreshground.com
617.575.9643


Copyright @ Marketwire
Page: 1
Related Keywords:
Quvis, Digital Cinema Package, DCP, Wraptor, Digital Cinema, Pro AV, Presentors, Camera/Film, Prosumer/Consumer, Blu-ray/HD DVD, DVD Hardware, Anim, Production/Post, Compression, Facility (Post Production), Digital Cinema, DVD, Storage, Mac, OS9, OSX, Marketwire, , Apple Final Cut Pro, Film, Computer Science, Other,
---