Q'VIVA! THE CHOSEN Paves the Way for Multilingual Television
Produced in Spanish, Portuguese and English in 21 Countries Worldwide
(March 29, 2012)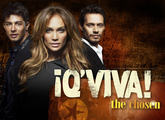 LOS ANGELES, CA -- (Marketwire) -- 03/29/12 -- ¡Q'VIVA! THE CHOSEN has achieved international success as the first multilingual television show to be broadcast simultaneously throughout the Americas. Created by Jennifer Lopez, Marc Anthony, Jamie King, XIX Entertainment and BlackBerry®, ¡Q'VIVA! THE CHOSEN is a groundbreaking series celebrating Latin culture, music and performance arts.
Broadcast in Spanish on 22 networks across the Americas, ¡Q'VIVA! THE CHOSEN has become the #1 or #2 show on the network in Puerto Rico, Peru, Uruguay, the Dominican Republic, Colombia and Brazil (Portuguese version). The docu-journey, which highlights the richness of Latin America's culture, has consistently received critical acclaim and rated well on Univision in the US, with subtitled repeats on FOX.
The 12-part series is seen by over 30 million viewers across North, Central, and South America each week. ¡Q'VIVA! THE CHOSEN stars superstar entertainers Lopez and Anthony and legendary show director King as they travel throughout the Americas in search of the most incredible Latino performers that will stun the world with their color and originality.
"This is a passion project on so many levels. It's really our dream to see it come together," shares Jennifer Lopez. "I believe that people will be so enlightened, so enriched by this experience."
During the course of the series which is also sponsored by BlackBerry, American Airlines and Kohl's, Lopez, Anthony, and King travel throughout the region and witness the most amazing singers, dancers, musicians, and mesmerizing performers that they have found through local grassroots efforts, YouTube (www.youtube.com/qviva), and Facebook (www.facebook.com/qvivathechosen).
"The Chosen" artists make a dream journey to the U.S. for a once in a lifetime opportunity to share their artistic gifts with the world as part of a spectacular live Las Vegas show that will be the greatest celebration of Latin music and performance arts that the world has ever seen.
For more information on ¡Q'VIVA! THE CHOSEN, please visit www.qvivathechosen.com and www.blackberry.com/qviva. For broadcast footage and high-resolution photography, please visit https://www.epk.tv/view/#/campaign/q-viva/.
Add to Digg Bookmark with del.icio.us Add to Newsvine
Copyright @ Marketwire
Page: 1
Related Keywords:
XIX Entertainment, USA, Peru, Brazil, Marketwire, , Television, Music, Entertainment,
---