Publish and Sell Your Cookbook as an iPad App and Web-Based eBook With BakeSpace.com's Cookbook Cafe
It's Free to Create Deliciously Interactive Cookbooks for Multiple Device Platforms; Now Anyone Can Sell Their Cookbook to the World for Profit or Fundraising
(February 29, 2012)

LOS ANGELES, CA -- (Marketwire) -- 02/29/12 -- BakeSpace.com -- the Webby-honored food social network and recipe swap -- today announced the launch of Cookbook Cafe as the first do-it-yourself digital publishing platform for grassroots cookbook authors. It enables anyone to create, market and sell their very own cookbook as a native iPad App, as well as an interactive web-based eBook.
"We're using technology to democratize cookbook publishing," said BakeSpace.com Founder Babette Pepaj. "Why should only 'big name' culinary stars have an opportunity to achieve success as a cookbook author? Our goal is to make publishing and distributing a cookbook easy for every home chef, group, company and nonprofit organization with great recipes to share!"
Unlike other do-it-yourself publishing services that help authors create traditional eBooks or mobile apps, Cookbook Cafe is free AND not limited by technology platform. It functions across different types of devices, including the iPad and any desktop or mobile web browser. It takes full advantage of the app environment, without trapping authors inside a technological "walled garden."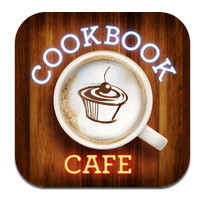 Cookbook Cafe was inspired by Pepaj's desire to transform how nonprofit organizations (schools, faith-based institutions, clubs, civic groups, etc.) use crowdsourced cookbooks for fundraising. While such cookbooks are an important fundraising tool, their value has, until now, been limited by the cost and complexity of book publishing, marketing and distribution.
"In the past, independent authors and nonprofit organizations were forced to publish cookbooks that were modest in format or designed for a single technology platform, while distribution was usually limited to a small network of friends and family members," Pepaj added. "We created Cookbook Cafe to replace this antiquated model."
How it Works:
The Cookbook Cafe platform is built upon three core components:
1) A free Cookbook Cafe iPad App with the cookbook storefront and reader.
2) A web-based version of the storefront and reader accessible through any web browser.
3) A web-based cookbook builder that automatically creates both a native iPad app and a website version of each cookbook.
A New World of Possibility for Indie Cookbook Authors:
There's no cost to create a cookbook and market it in the Cookbook Cafe iPad and Web-based storefronts.
Each author determines his/her own price -- from giving a cookbook away for free to selling it for a price ranging from $0.99 to $9.99 (in one dollar increments). Each cookbook is acquired by the end-user as either a free download or in-app purchase on the iPad, or as a simple download or online purchase on the web. BakeSpace.com collects a commission only when an author sells a book for profit or fundraising. The commission covers all costs, including Apple's app store transaction fee and credit card processing fees on sales made through the online storefront.
Commercial brands can also use Cookbook Cafe to create and market cookbooks themed around specific ingredients, types of recipes, events, etc. Cookbook Cafe's launch brand partners include Scharffen Berger Chocolate Maker, Driscoll's Berries, Chobani Greek Yogurt and Sabra Hummus.
A Dynamic New Experience for Cookbook Lovers:
The Cookbook Cafe iPad and web-based reader makes it easy for users to not only view the cookbooks they've downloaded, but also search and access each recipe individually by type, ingredient and author. This eliminates the need to search an entire cookbook (or cookbook library) to find a specific recipe.
"Imagine if you could search all of your cookbooks at home with a single click," Pepaj added. "Home chefs often use more than one cookbook to plan a meal, so our advanced search feature means less stress and hassle in the kitchen."
The free Cookbook Cafe iPad app also includes helpful kitchen tools such as multi-function kitchen timers (five different timers that work even when you close the app), interactive substitution charts and conversion tables.
To Get Started:
If you have an iPad:
Visit the App Store, search for "BakeSpace" and download the free Cookbook Cafe app. You can also find the app on iTunes at http://itunes.apple.com/us/app/bakespace.coms-cookbook-cafe/id467167455?mt=8.
To check it out on the Web:
Visit http://cookbookcafe.com for an overview. To build your own cookbook or visit the web storefront go to http://BakeSpace.com/cookbooks.
About BakeSpace.com
BakeSpace was launched in 2006 as the Web's first food social network and recipe swap. Described by USA Today as "the closest thing to a Facebook-like food site," it's a grassroots community for people who love to cook, bake and hang out in the kitchen. The site has been recognized by the Webby Awards for five consecutive years, earning back-to-back Webby Award nominations in 2009 and 2010 for Best Social Network. BakeSpace also produces the TECHmunch food blogger conference, which is held in cities across the U.S. to help bloggers learn the skills they need to make their blogs more personally and professionally rewarding. BakeSpace.com is based in Los Angeles. More information is available at http://BakeSpace.com and http://BakeSpaceMedia.com.
Link to intro video: http://youtu.be/4Mqz66M7H2Q
Link to feature list: http://cookbookcafe.com/#Features
Link to screenshots: http://bakespacemedia.com/coobook-cafe/
Image Available: http://www2.marketwire.com/mw/frame_mw?attachid=1896352
Embedded Video Available: http://www2.marketwire.com/mw/frame_mw?attachid=1896353

Add to Digg Bookmark with del.icio.us Add to Newsvine
Contact:
Erik Deutsch
(323) 851-2455 direct
erikd[at]excelpr[dot]com


Copyright @ Marketwire
Page: 1
Related Keywords:
iPad, iPad app, cookbook publishing, cookbook app, recipe app, fundraising cookbook, self publishing, USA, Marketwire, , Internet Technology, Family, Other,
---