Procera Launches the PacketLogic(TM) PL20000, the Industry's First 100GE-Capable Intelligent Policy Enforcement Solution
Policy Enforcement Ecosystem Ushers in the Era of Mass Personalization for Broadband Operators
(January 17, 2012)

FREMONT, CA -- (Marketwire) -- 01/17/12 -- Procera Networks, Inc. ("Procera") (NASDAQ: PKT), the intelligent policy enforcement company, today announced the launch of the PacketLogic™ 20000, the industry's first 100GE-capable Intelligent Policy Enforcement (IPE) platform. The PL20000 raises the bar for performance in the IPE market to 320Gbps per system and up to 5 Tbps per cluster, with support for up to 72 ports of 10GE and four ports of 100GE interfaces. The PL20000 supports up to 10 million active subscribers and 120 million active flows, with the ability to enforce services and collect charging information on every active flow in the system. When coupled with Procera's PacketLogic Subscriber Management System, the PL20000 becomes an invaluable tool in a broadband operator's toolbox to rapidly create innovative, sticky service offerings based on business analytics provided by the PacketLogic Report Studio.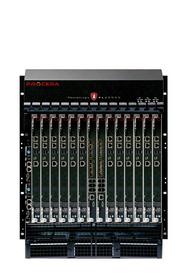 "The biggest limitation many operators face today is the ability to launch large-scale charging and service plans due to scalability and performance issues for their entire policy enforcement ecosystem," says Jennifer Pigg, President and Cofounder of Battle Green Research, a Yankee Group affiliate.
"As consumers continue to be more dependent on their broadband connections, the stress on broadband networks will continue to grow. Even though the PL20000 system performance shatters industry benchmarks, the biggest leap forward for the PL20000 is the ability to utilize the solution for personalized service creation at a scale never before possible for broadband operators of all types," says Cam Cullen, VP of Global Marketing for Procera.
"With the PL20000, Procera continues to build on our performance leadership in the market," said Alexander Havang, Chief Technology Officer for Procera. "The throughput of the PL20000 enables even the largest operators in the world to grow their policy deployments as their subscribers continue to take advantage of streaming media and social networks. No system available on the market offers the combination of performance, scalability, charging and policy management that is offered by the PL20000."
Operators that do not have the ability to understand their customers' usage behavior and meet their customers' expectations with new services will be at a competitive disadvantage. IPE systems that cannot scale to meet these requirements will become a CAPEX and OPEX drain on profitability. In addition, the speed of business will be measured in days and weeks, not months; policy enforcement systems will be expected to identify new service opportunities and launch them in very short timeframes.
The PL20000 delivers radically simple tools to enable service providers to create personalized services -- from the analytics tools of PacketLogic Report Studio to the customer-defined Virtual Services, plus easy-to-create charging and service policies on the PacketLogic Subscriber Manager. With the PL20000, Procera has created a policy enforcement ecosystem to enable the world's largest operators to become more agile and to capitalize on the latest in broadband applications and trends with innovative service plans offered by a personalized network.
The PL20000 will be available in Q2 2012 for customer shipments. For more information, please visit www.proceranetworks.com.
About Procera Networks, Inc.
Procera Networks Inc. (NASDAQ: PKT) delivers Intelligent Policy Enforcement (IPE) solutions designed for carriers, service providers and high-end enterprises to enable proactive quality management; innovative service creation and delivery; detailed business analytics on network utilization and bandwidth consumption; and mitigate security threats. Procera's PacketLogic solutions deliver superior performance, scalability, and functionality to allow personalized services for millions of subscribers as part of the 3GPP Policy and Charging Control architecture. For more information, visit www.proceranetworks.com.
Cautionary Note Regarding Forward-Looking Statements
This press release contains forward-looking statements, including statements relating to Procera's ability to deliver high-performance intelligent policy enforcement products to broadband service providers. Any statements in this release that are not historical or current facts are forward-looking statements. All forward-looking statements in this release are made pursuant to the safe harbor provisions of the Private Securities Litigation Reform Act of 1995. These statements are not guarantees of future performance and involve known and unknown risks, uncertainties and other factors that may cause Procera's actual results, performance or achievements to be materially different from any future results, performances or achievements expressed or implied by the forward-looking statements. These risks and uncertainties include, without limitation, risks and uncertainties related to market conditions, actions taken and decisions made in pursuit of growth and those risks and uncertainties included from time to time in documents Procera files with the Securities and Exchange Commission. Given these risks and uncertainties, investors should not place undue reliance on forward-looking statements as a prediction of actual results. These forward-looking statements speak only as of the date hereof, and Procera undertakes no obligation to update, amend or clarify any forward-looking statement for any reason.
Image Available: http://www2.marketwire.com/mw/frame_mw?attachid=1854948

Add to Digg Bookmark with del.icio.us Add to Newsvine
Press Contact
Fran Lowe
Engage PR for Procera Networks
510-748-8200 x225
[email protected]

Investor Relations Contact
Charles Messman or Todd Kehrli
MKR Group Inc.
323-468-2300
[email protected]


Copyright @ Marketwire
Page: 1
Related Keywords:
deep packet inspection, traffic shaping, packet shaping, intelligent policy enforcement, standalone, Broadcast,Management,Streaming,Business,Marketing,CAD/CAM/CAE,Internet Media,Dassault Systemes,Marketwire, Inc., ,Business,Streaming Media,Other,
---