ProGaming Platforms Files Patent Application for Proprietary Game Event Record Technology
(April 03, 2012)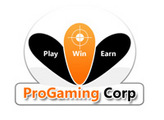 TEL AVIV, ISRAEL -- (Marketwire) -- 04/03/12 -- ProGaming Platforms Corp. (OTCBB: PPTF) (OTCQB: PPTF), the developer of a cutting-edge multiplayer online gaming and reward-processing platform, today announced the filing of an application with the U.S. Patent Office to protect the game event record technology underlying its proprietary multiplayer online gaming and reward-processing platform. If the application is approved, ProGaming would be among the few gaming companies in the industry to have a patent protecting its technology.
"ProGaming's platform accurately tracks the score of each participant playing against competitors in a particular skill game and correctly determines the winner based on game performance," explained CTO of ProGaming Platforms, Boaz Lowenstein. "The accuracy and reliability of our system are functions of our proprietary algorithms."
"What is unique about ProGaming's platform is that it can be implemented by any skill game competition, can sit on any hosting server, and can be configured to any existing billing system," Lowenstein continued. "It is this combination that is unique and is the subject of our patent application."
ProGaming filed its patent application with the U.S. Patent Office on April 2, 2012.
About ProGaming Platforms Corp.
ProGaming Platforms has developed the ultimate gaming platform for the Internet's ultimate games. The platform automatically and accurately determines game winners from an unlimited pool of players and automatically pays monetary reward payouts.The platform can be integrated into any existing billing system, can be licensed by any online gaming provider and can sit on any third-party server.
Learn more about ProGaming Platforms Corp. at http://www.progamingcorp.com.
Forward-Looking Statements
This release contains forward-looking statements within the meaning of Section 27A of the Securities Act of 1933 as amended and Section 21E of the Securities Exchange Act of 1934 as amended. All forward-looking statements are inherently uncertain, and are based on current expectations and assumptions concerning future events and the future performance of ProGaming Platforms Corp. and its technologies. In evaluating such statements, prospective investors should review carefully various risks and uncertainties identified in our public filings with the Securities and Exchange Commission, as actual results may differ materially from those indicated. ProGaming Platforms Corp. public filings may be viewed at http://www.sec.gov.
Contact:

Tamir Levinas
CEO
info@progamingcorp.com
+1(917)522-8377


Copyright @ Marketwire
Page: 1
Related Keywords:
ProGaming Platforms Corp., USA, Israel, Marketwire, , Computer Science,
---