Prezi Zooms to 20 Million Users, Breaks the Sound Barrier
Accelerating the Idea Economy, Prezi Adds 1 Million Users Every Month; Introduces Sound Capabilities to Amplify Presentation Impact
(April 05, 2013)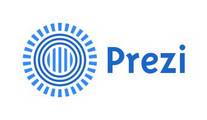 SAN FRANCISCO, CA -- (Marketwire) -- 03/12/13 -- Prezi, the zooming presentation platform liberating the world from boring static presentations, has surpassed the 20-million user mark and is introducing audio capabilities. Fueled by the market's demand for creative thinking, big ideas and compelling storytelling, Prezi has doubled its user base, from 10 to 20 million in the past ten months. Prezi is adding one million new users every month with more than one new prezi created every second.
"We're entering a global idea economy," said Prezi's CEO, Peter Arvai. "We rely on ideas to innovate in business and move society forward, and Prezi is giving people a more memorable and engaging way to share their ideas. Our new audio feature is just an added element to enhance storytelling, taking it beyond a purely visual journey to a full cinematic experience."
Many of Prezi's 20+ million users choose Prezi specifically because it's ideal for communicating big ideas and revealing relationships between them. Prezi helps presenters and audiences get to an understanding that can't be reduced to a linear, 2D slide format. For example, this year TED Conferences featured at least eight presentations created using Prezi. Miranda Wang and Jenny Yao used Prezi at this year's TED Conference to inspire the audience with their revolutionary idea for breaking down plastics with soil bacteria -- an idea they developed while still in high school.
Social sharing is amplifying the power of groundbreaking ideas on a global scale. It is not unusual for one of the millions of prezis showcased on Prezi.com to take off virally and be seen by hundreds of thousands of viewers. For example, one great prezi created last year on the theory of relativity had a prolonged social spike and has now been seen by over 750,000 people.
Prezi is constantly setting new standards in stunning design and powerful features -- from 3D and mobile editing to professionally designed templates and a new, intuitive user interface. Now, Prezi is giving presentations a voice by adding sound capabilities, a feature that Prezi's avid user base has been soliciting for some time.
Prezi's rapid adoption cuts across established markets, from consumers to enterprises. Seventy-five percent of Fortune 500 companies currently use Prezi, and the Prezi iPad app has been downloaded almost 2 million times (and counting).
Ryan Hamilton, President and CEO of Geared for Imagination, the maker of the eco-friendly children's toy company Topozoo, attracted the Smithsonian and Whole Foods as vendors using Prezi. "I mapped out the Topozoo story on the digital canvas and was able to engage our potential audience in a dynamic way," said Hamilton. "Now with sound capabilities we're excited to make our prezis sing. We rely on Prezi to help us to creatively tell our story and reach new audiences."
See the prezi showcasing new user numbers and audio capabilities here: http://prezi.com/cpwyp44vgckw/prezi-is-growing/?auth_key=3f6ec2e9cfd554f1d23b718b1462307266561a05
About Prezi
Prezi is the zooming presentation software with a mission to make sharing ideas more fun and engaging. Prezi's canvas helps you explore ideas and the connections between them. The result: visually captivating presentations that lead your audience down a path of discovery. The company was founded in Budapest, Hungary in 2009 by Adam Somlai-Fischer, Peter Halacsy, and Peter Arvai.
Media Contact:
Emily Borders
Borders+Gratehouse
Phone: (415) 963-4174 ext. 1
Email: Email Contact


Copyright @ Marketwire
Page: 1
Related Keywords:
---