Presto Instant-On to Boot or Shut Down PCs in Seconds Now Available
Enables Windows Users to Get Online Fast to Browse the Web, Send Email, Chat, Skype, Access Windows Files, and Download Applications or Play Music and Video -- Without Starting Windows
(April 21, 2009)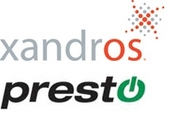 NEW YORK, NY -- (Marketwire) -- 04/21/09 -- Xandros today announced that Presto, a rich, convenient 'instant on' utility to power up laptops within seconds, is now available as a consumer download. Windows users can install Presto on almost any PC and no longer have to buy selected high-end laptops to enjoy "Instant On" features. During the release of its beta version, Presto won the highest "5 COWS" rating from Tucows and became one of the most popular downloads at both Tucows.com and Downloads.com.
Presto allows on-the-fly computing to check email, browse the web, chat with friends, make Skype calls, create documents, download media, apps and games, or enjoy music, videos, and movies stored in a user's Windows folders. Users no longer have to wait for Windows to boot and for all the system tray applets to start before they can use their machine. Shutdown is quick too -- Presto powers off most laptops in 1-2 seconds. Presto is compatible with most Windows Vista or XP laptops and desktops. Unique Presto features include an online Presto Application Store to access additional software, games, multimedia and web applications. Presto includes the integrated RealPlayer for Netbooks, which supports playback of most popular media formats including RealMedia, Windows Media, MP3, MPEG4, AAC, H.264 and QuickTime. Other best-of-breed applications include a full-featured office suite that lets users view and edit Microsoft Office documents, and save them in folders on their Windows drives. Presto connects to networks over WiFi, 3G, xDSL, LAN and cable.
Presto is a Windows software utility (.exe) that installs and uninstalls easily like any other Windows program. It does not require special chipsets or BIOS modifications to enable fast booting and therefore is especially useful for bringing new life to old laptop and desktop PCs. Presto employs Moblin 2 enhancements and Xandros' technical expertise gained in working with Intel and ASUS in creating the Eee PC, a product that powers up in seconds. Presto installs on top of Windows XP or Vista. Windows 7 will be supported in a future version.
"Presto provides Windows users with remarkably quick access to audio and video content that is either streamed on the Web or played back locally from disk," said Scott Nelson, Director, Global Business Development from RealNetworks. "We are very excited to work with Xandros on opening this innovative new pathway to a rich media experience."
"By combining leading applications such as RealPlayer for Netbooks with our own fast-boot technical recipe, we were able to bring a rich, 'Instant On' user experience to general Windows-based laptops and PCs," said Andreas Typaldos, CEO of Xandros. "Presto is a creative new tool for road warriors who don't want to only rely on their Blackberry or iPhone while traveling. Those on the go often need to quickly send emails, check the web, or make free international Skype-to-Skype calls from a taxi or when awaiting their flight -- or, if time permits, they may want to relax with music or videos from their personal playlist. They want access to their Windows laptop with a large screen and a full keyboard, but without the wait for Windows to boot, or even worse, to wait for it to shut down when their plane is about to take off."
Available for Immediate Download
The Presto consumer download for US$19.95 and a free trial version are available to the public at www.prestomypc.com. OEMs seeking to speed up their laptops, please contact [email protected]. For more information on Xandros Presto, please visit www.prestomypc.com.
About Xandros
Xandros is the leader in providing seamless Windows-Linux interoperability on a variety of platforms. Xandros' custom user experiences helped launch the netbook revolution with the award-winning Eee PC from ASUS. The Xandros suite for mobile devices and netbooks includes integrated and customizable applications, an online Application Store and cloud-based services. Scalix delivers award-winning email, calendaring and messaging. BridgeWays management packs provide seamless end-to-end management of business critical applications on Windows, Linux and UNIX environments from one console. The company is headquartered in New York, with R&D offices in Ottawa, San Diego, Bracknell, Frankfurt, Mumbai, and Taipei and sales and support offices worldwide. For more information, please visit www.xandros.com.
Xandros® is a registered trademark and Presto is a trademark of Xandros, Inc. All other trademarks and/or registered trademarks are the property of their respective owners.
Add to Digg Bookmark with del.icio.us Add to Newsvine
Xandros Media Contact:
Xenia von Wedel
Terpin Communications for Xandros
1-415-595-2030
[email protected]

Customer Service:
1-613-842-3494


Copyright @ Marketwire
Page: 1
Related Keywords:
Andreas Typaldos, Instant on, quick boot, quick start, Vista, Windows XP, Netbook, Eee PC, Windows,Unix,WinXP,Windows Vista,Unix,Linux,Marketwire, Inc.,Apple Computer,Music,Communications Technology,Internet Technology,Business,Email,Other,
---