Poynt Sees Significant Growth Opportunities in Mobile Local Search and Advertising
Reports 116% Year-Over-Year Growth in User Base to More Than 15 Million Users
(April 12, 2012)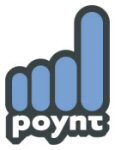 CALGARY, ALBERTA -- (Marketwire) -- 04/12/12 -- Poynt Corporation (TSX VENTURE:PYN)(OTCQX:PNYTF) ("Poynt Corp." or the "Company") today announced that during the past year (April 2011 to April 2012), its user base has grown by 116% to over 15 million unique users worldwide, as the Company continues to thrive in offering its mobile local search and advertising platform. Management of Poynt Corp. believes that this significant growth aligns with current consumer adoption trends in the mobile advertising market.
Research firm, Gartner, expects worldwide mobile ad revenue to surpass USD$20 billion by 2015. Culture Label found that 90% of mobile searches result in an action, such as a purchase or in-store visit, representing the potential for mobile local advertising. Management of Poynt Corp. believes that the recent initial public offering by mobile ad network, Millennial Media, provides further evidence of the growth potential of mobile advertising.
"Millennial Media's recent initial public offering reflects the strength and vast opportunities within the mobile marketplace for advertisers to reach their consumers and generate positive return on investment," said Andrew Osis, CEO, Poynt Corp. "More than ever, consumers are adopting and using smartphones to obtain relevant information about their favorite brands and their local surroundings. The key for brand marketers and advertisers is to provide relevant, valuable messages and offers to their consumers via the mobile device that take into consideration the consumer's location and preferences."
"Consumers expect to be able to locate local businesses, retailers, movie listings and restaurants on their mobile device at different times and locations," added Osis. "Brand marketers and advertisers that strategically use mobile local advertising to reach local consumers with relevant, personalized offers, deals or ads will see the greatest results."
Poynt is available as a free download for users in the United States, Canada, France, Spain, the United Kingdom, Germany, Italy, Australia and India on Android, iPhone, Windows Phone, and BlackBerry smartphones; the BlackBerry Playbook tablet; and Nokia devices from the respective App Stores. Poynt is also available via mobile browser as a free download at m.poynt.com.
About the Poynt Platform
Poynt is a convenient and timesaving GPS-enabled mobile local search and advertising platform that connects consumers to local offers, businesses, events, restaurants, movie theatres, gas prices and weather information at the moment they are looking to buy or acquire products or services. Poynt provides consumers with the ability to move beyond discovery of their local area to view movie trailers and reviews, buy movie tickets, click-to-call businesses, get directions, browse listing websites, read reviews and book dining reservations or find and interact with local coupons and offers.
Poynt provides contextual and relevant advertising to users performing local queries and its revenue model is based on user queries, page views, advertising and transactions within the platform. Each user query generates several page views, which are monetized through display advertising and sponsored listings paid for by advertisers. These advertising placements generate revenues on a cost per thousand impressions (CPM) basis or on a cost per click (CPC) basis. Transactions, such as ticket sales and restaurant reservations, also contribute to revenues on a fee for service basis.
About Poynt Corporation
Poynt Corp. (about.poynt.com) (TSX VENTURE:PYN)(OTCQX:PNYTF) is a global leader in the mobile local advertising space. Its Location Based Search (LBS) and advertising platform, Poynt (www.poynt.com), enhances a user's ability to connect with the people, businesses and events most important to them. Poynt is available on Android, iPhone, Windows Phone and Nokia devices, along with BlackBerry smartphones and BlackBerry PlayBook Tablets in Canada, the United States, Europe, India and Australia. Poynt Corp. entered the mobile publishing space with the acquisition of an advertising publishing platform in January 2011. Whether through the Poynt Local Search Platform or the Ad Publishing Platform, Poynt Corp. simplifies connecting consumers with businesses, retailers and events. Headquartered in Calgary, AB, Canada, Poynt Corp. trades on the TSX Venture Exchange under the symbol PYN and in the United States on the OTCQX under the symbol PNYTF.
Important Cautions Regarding Forward-looking Statements
This news release contains forward-looking statements relating to, but not limited to: the effect of an emerging mobile advertising industry on Poynt Corp.; expectations regarding future growth and consumer adoption trends in the mobile advertising industry; effect of strategic use of mobile local advertising on growth and financial results; and other statements that are not historical facts. Such forward-looking statements are subject to important risks, uncertainties and assumptions. The results or events predicated in these forward-looking statements may differ materially from actual results or events. As a result, you are cautioned not to place undue reliance on these forward-looking statements.
These forward-looking statements are based on certain key assumptions regarding, among other things: future technological developments; the cost of expanding product lines; the impact of increasing competition; the continuity of existing business relationships; the continued successful development, implementation and execution of the Poynt Platform; continued growth in number of active users of the Poynt Platform; conditions in general economic and financial markets; the ability to complete previously announced transactions; ability to obtain all necessary regulatory approvals; and Poynt's ability to obtain financing on acceptable terms. Material risk factors that could cause actual results to differ materially from the forward-looking information include, but are not limited to: the deteriorating economic and market conditions that could lead to reduced spending on information technology products; competition in our target markets; potential capital needs; management of future growth and expansion; the development, implementation and execution of the Company's strategic vision; risk of third-party claims of infringement; protection of proprietary information; customer acceptance of the Company's existing and newly introduced products; the success of the Company's brand development efforts; risks associated with strategic alliances; failure of counterparties to perform on contracts; failure to successfully negotiate contracts; failure to successfully negotiate additional preload agreements; reliance on distribution channels; product concentration; need to develop new and enhanced products; failure to obtain necessary regulatory approvals; potential product defects; our ability to hire and retain qualified employees and key management personnel; risks associated with changes in domestic and international market conditions and the entry into and development of new markets for the Company's products; and the risks described under "risk factors" in our Annual Information Form for the year ended December 31, 2010 which is available on our SEDAR profile (www.sedar.com).
Forward-looking statements and other information contained herein concerning the industry in which Poynt Corp. operates and Poynt Corp.'s general expectations concerning this industry are based on the use of data from publicly available industry sources, market research and industry analysis and on assumptions based on data and knowledge of this industry which Poynt Corp. believes to be reasonable. However, this data is inherently imprecise. While the Company is not aware of any material misstatements regarding any industry data presented herein, the industry in which Poynt Corp. operates involves numerous risks and uncertainties and is subject to change based on various factors.
The forward-looking statements contained in this press release are made as of the date of this press release. Except as required by law, the Company disclaims any intention and assumes no obligation to update or revise any forward-looking statements, whether as a result of new information, future events or otherwise. Additionally, the Company undertakes no obligation to comment on expectations of, or statements made by, third parties in respect of the forward-looking statements identified above.
The BlackBerry and RIM families of related marks, images and symbols are the exclusive properties and trademarks of Research In Motion Limited. Apple App Store and iPhone are trademarks of Apple Inc., registered in the U.S. and other countries. Windows is a registered trademark of Microsoft Corporation in the United States and other countries. Android is a registered trademark of Google Inc. Nokia is a registered trademark of Nokia Corporation.
Neither the TSX Venture Exchange nor its Regulation Services Provider (as that term is defined in the policies of the TSX Venture Exchange) accepts responsibility for the adequacy or accuracy of this release.
Contacts:
Poynt Corporation
Andrew Osis
CEO
403-313-3719
www.poynt.com

North American Public Relations Contact:
Global Results PR for Poynt Corporation
Valerie Christopherson
949-608-0276
[email protected]

Investor Relations Contact Poynt:
Liolios Group, Inc.
Scott Liolios or Matt Glover
949-574-3860
[email protected]

European Media Communications Contact:
CC-Group Communications Ltd., for Poynt Corporation
Nicole Littlewood or Howard Jones
+44 118 920 7650
[email protected]


Copyright @ Marketwire
Page: 1
Related Keywords:
Poynt Corporation , Displays,Family,Communications,Digital Audio,Movies & Music,Web,Smart Phone,PDA,iPods,iphone,Movies by Genre,Search,Research,Images,browser,Google,Sales,Advertising,Public Relations,Sales & Marketing,Internet,Business Issues,Search,Search Engines,Law & Regulations,Public Relations,Management,Sales,CEO/CFO,Sales,Canada,France,Germany,USA,India,Australia,Italy,Spain,Marketwire, Inc., ,IT (Information Technology),Apple Computer,Financial,Restaurants,Computer Science,Business,india,england,Other,
---