Poynt 'Lights the Way Home' with Sponsorship of the Missing Children Society of Canada 2012 Gala
As a CODE: Search partner, Poynt is instrumental in the search to locate missing children
(March 27, 2012)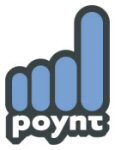 CALGARY, ALBERTA -- (Marketwire) -- 03/27/12 -- Poynt Corporation (TSX VENTURE:PYN) (OTCQX:PNYTF) ("Poynt Corp." or the "Company"), a leading provider of mobile local search and advertising services, today announced the Company is proud to be the 'Light the Way Home' Sponsor for the Missing Children Society of Canada (MCSC) Gala taking place on Tuesday March 27th 2012 in Calgary Alberta. Established in 1986, MCSC is the only non-profit organization in North America that employs an in-house team of retired police detectives to actively investigate cases of missing children.
In September 2011, the Company announced it had integrated a push geo-targeted Child Search Alert system into the Poynt Platform ("Poynt" or the "Platform") to aid in the timely recovery of missing children. Through Child Search Alerts, MCSC is able to notify Poynt users in a geographically targeted area that a missing child is potentially in their area. The notifications include important information about the missing child's active case such as last known location, physical description, photos and other pertinent details to help Poynt users in the area identify the missing child.
Being recognized as the 'Light the Way Home' sponsor celebrates Poynt Corp.'s partnership and commitment to MCSC. The Company's partnership with MCSC reflects the power of technology, corporate-social responsibility and mobile's extensive reach.
"When a child goes missing a whole community is affected, not only the child's immediate family and friends. Our work with MCSC brings communities together to help in the search for a missing child," said Andrew Osis, CEO, Poynt Corp. "We are proud to support MCSC through the resources we have available to us in order to aid in the search to help bring missing children home."
"Poynt has been an incredible partner in supporting our ongoing investigations with searching families and law enforcement," said Amanda Pick, Executive Director of MCSC. "Through their support, and the technology they bring to our work, Poynt is truly lighting the way home for our missing children. Our partnership with Poynt gives us and our searching families so much hope for the future."
For more information on the Missing Children Society of Canada, please visit (http://www.mcsc.ca.) Join the fight against child abduction by downloading the Poynt Platform today on your smartphone.
Poynt is available as a free download for users in France, Spain, Canada, the United States, the United Kingdom, Germany, Italy, Australia and India on Nokia devices, Android, iPhone, Windows Phone, BlackBerry smartphones and BlackBerry Playbook tablet from the respective App Stores. Poynt is also available via mobile browser as a free download at m.poynt.com.
About the Poynt Platform
Poynt is a convenient and timesaving GPS-enabled mobile local search and advertising platform that connects consumers to local offers, businesses, events, restaurants, movie theatres, gas prices and weather information at the moment they are looking to buy or acquire products or services. Poynt provides consumers with the ability to move beyond discovery of their local area to view movie trailers and reviews, buy movie tickets, click-to-call businesses, get directions, browse listing websites, read reviews and book dining reservations or find and interact with local coupons and offers.
Poynt provides contextual and relevant advertising to users performing local queries and its revenue model is based on user queries, page views, advertising and transactions within the platform. Each user query generates several page views, which are monetized through display advertising and sponsored listings paid for by advertisers. These advertising placements generate revenues on a cost per thousand impressions (CPM) basis or on a cost per click (CPC) basis. Transactions, such as ticket sales and restaurant reservations, also contribute to revenues on a fee for service basis.
About Poynt Corporation
Poynt Corp. (about.poynt.com) (TSX VENTURE:PYN) (OTCQX:PNYTF) is a global leader in the mobile local advertising space. Its Location Based Search (LBS) and advertising platform, Poynt (www.poynt.com), enhances a user's ability to connect with the people, businesses and events most important to them. Poynt is available on Android, iPhone, Windows Phone and Nokia devices, along with BlackBerry smartphones and BlackBerry PlayBook Tablets in Canada, the United States, Europe, India and Australia. Poynt Corp. entered the mobile publishing space with the acquisition of an advertising publishing platform in January 2011. Whether through the Poynt Local Search Platform or the Ad Publishing Platform, Poynt Corp. simplifies connecting consumers with businesses, retailers and events. Headquartered in Calgary, AB, Canada, Poynt Corp. trades on the TSX Venture Exchange under the symbol PYN and in the United States on the OTCQX under the symbol PNYTF.
The BlackBerry and RIM families of related marks, images and symbols are the exclusive properties and trademarks of Research In Motion Limited. Apple App Store and iPhone are trademarks of Apple Inc., registered in the U.S. and other countries. Windows is a registered trademark of Microsoft Corporation in the United States and other countries. Android is a registered trademark of Google Inc. Nokia is a registered trademark of Nokia Corporation.
Neither the TSX Venture Exchange nor its Regulation Services Provider (as that term is defined in the policies of the TSX Venture Exchange) accepts responsibility for the adequacy or accuracy of this release.
Contacts:
Poynt Corporation
Andrew Osis
CEO
403-313-3719
www.poynt.com

Global Results PR
Valerie Christopherson or Lora Friedrichsen
North American Public Relations Contact
949-608-0276
[email protected]


Copyright @ Marketwire
Page: 1
Related Keywords:
Poynt Corporation , Home, Displays, Family, Children, Family, Communications, Digital Audio, Movies & Music, Web, Smart Phone, PDA, iPods, iphone, Movies by Genre, Search, Children, Family, Research, Images, browser, Google, Sales, Advertising, Public Relations, Sales & Marketing, Internet, Search, Search Engines, Sales, Sales, Display, Canada, France, Germany, USA, India, Australia, Italy, Spain, Marketwire, Inc., , Apple Computer, Restaurants, india, england, Family, Children, Other,
---