Poynt Corporation to Present at the ROTH Capital Partners 24th Annual Conference on March 13, 2012
(February 29, 2012)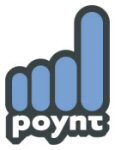 CALGARY, ALBERTA -- (Marketwire) -- 02/29/12 -- Poynt Corporation (TSX VENTURE:PYN) (OTCQX:PNYTF) ("Poynt Corp." or the "Company"), a global leader in mobile local search and advertising, has been invited to present at the ROTH Capital Partners 24th Annual Conference. The conference will be held at The Ritz Carlton in Laguna Niguel, California on March 12-14, 2012.
Andrew Osis, Poynt Corp.'s CEO, is scheduled to present on Tuesday, March 13, 2012 at 10:30 a.m. Pacific time. Mr. Osis will discuss Poynt Corp.'s recent expansion into China and provide an update on the Company's monetization strategy of its 14 million global users.
Poynt Corp.'s presentation at the ROTH Capital Partners Conference will be webcast live via http://wsw.com/webcast/roth26/pyn/, and available for replay following the conference in the investor relations section of Poynt Corp.'s Website at www.poynt.com.
For more information about the conference please contact your ROTH representative.
Poynt is available as a free download for users in France, Spain, Canada, the United States, the United Kingdom, Germany, Italy, Australia and India on Nokia devices, Android, iPhone, Windows Phone, BlackBerry smartphones and BlackBerry Playbook tablet from the respective App Stores. Poynt is also available via mobile browser as a free download at m.poynt.com.
About the Poynt Platform
Poynt is a convenient and timesaving GPS-enabled mobile local search and advertising platform that connects consumers to local offers, businesses, events, restaurants, movie theatres, gas prices and weather information at the moment they are looking to buy or acquire products or services. Poynt provides consumers with the ability to move beyond discovery of their local area to view movie trailers and reviews, buy movie tickets, click-to-call businesses, get directions, browse listing websites, read reviews and book dining reservations or find and interact with local coupons and offers.
Poynt provides contextual and relevant advertising to users performing local queries and its revenue model is based on user queries, page views, advertising and transactions within the platform. Each user query generates several page views, which are monetized through display advertising and sponsored listings paid for by advertisers. These advertising placements generate revenues on a cost per thousand impressions (CPM) basis or on a cost per click (CPC) basis. Transactions, such as ticket sales and restaurant reservations, also contribute to revenues on a fee for service basis.
About Poynt Corporation
Poynt Corporation (about.poynt.com) (OTCQX:PNYTF) (TSX VENTURE:PYN) is a global leader in the mobile local advertising space. Its Location Based Search (LBS) and advertising platform, Poynt (www.poynt.com), enhances a user's ability to connect with the people, businesses and events most important to them. Poynt is available on all major smartphone and tablet platforms in nine countries. Poynt Corp. entered the mobile publishing space with the acquisition of an advertising publishing platform in January 2011. Whether through the Poynt Local Search Platform or the Ad Publishing Platform, Poynt Corp. simplifies connecting consumers with businesses, retailers and events. Headquartered in Calgary, Alberta, Canada, Poynt Corp. trades on the TSX Venture Exchange under the symbol PYN and in the United States on the OTCQX under the symbol PNYTF.
About ROTH Capital Partners
ROTH Capital Partners, LLC is a relationship-driven investment bank focused on identifying opportunities for institutional investors in U.S.-listed equity securities of companies based in the U.S. and China. Headquartered in Newport Beach, CA, with offices throughout the U.S., Hong Kong and a Shanghai Representative Office, the employee-owned firm provides analytical research, trading, capital raising, and business combination advisory services. ROTH seeks to implement innovative financing strategies to efficiently meet the liquidity and valuation requirements of both its corporate and institutional investor clients. For more information, go to www.roth.com.
Contacts:
Poynt Corp. Company Contact:
Andrew Osis
CEO
403-313-3719
www.poynt.com

Investor Relations Contact:
Liolios Group, Inc.
Scott Liolios or Matt Glover
949-574-3860
[email protected]


Copyright @ Marketwire
Page: 1
Related Keywords:
Poynt Corporation , Displays,Communications,Digital Audio,Movies & Music,Smart Phone,PDA,iPods,iphone,Movies by Genre,Sales,Advertising,Sales & Marketing,Sales,Sales,Pro AV,Presentors,Display,Business,PDA/Smartphone,Internet Media, webcast,Canada,France,Germany,USA,India,China,Hong Kong,Australia,Italy,Spain,Marketwire, ,Apple Computer,Restaurants,Business,china,india,england,
---