Poynt Corporation Reports First Quarter 2012 Results
(May 30, 2012)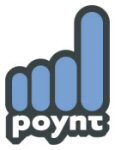 CALGARY, ALBERTA -- (Marketwire) -- 05/31/12 -- Poynt Corporation (TSX VENTURE:PYN) (OTCQX:PNYTF) ("Poynt Corp." or the "Company"), a global leader in mobile local search and advertising, reported results for its first quarter ended March 31, 2012. All dollar figures below are in Canadian dollars.
Q1 2012 Operational Highlights
-- Surpassed 14.9 million unique users of the Poynt Platform (or the "Platform") -- Announced a joint venture with the People's Republic of China's China Youth Goyor Technology (Beijing) Co., Ltd. to expand the Poynt Platform into China -- Added Gas Prices feature to the Poynt Platform for Canadian users -- Launched restaurant booking in France and Spain -- Expanded features in United Kingdom to include Petrol Prices powered by Whatgas.com -- Entered into a joint venture agreement with Intertainment Media to integrate Intertainment's real-time experiential language platform, Ortsbo, into the Poynt platform -- Common shares began trading on OTCQX under the symbol "PYNTF"
First Quarter 2012 Results
Revenue was $483,511, down 10% from $534,744 in the first quarter of 2011. The decrease was primarily due to no revenues being realized on the platform acquired from go2 Media, Inc. In 2011, approximately $74,000 of revenue was recorded in the first quarter from this area.
Net loss totaled $5.9 million or $(0.01) per basic share, compared to a net loss of $3.8 million or $(0.01) per basic share in the first quarter of 2011. The increase was primarily due to cost associated with the formation of the Company's China joint venture with the People's Republic of China's China Youth Goyor Technology (Beijing) Co., Ltd. Contributing to the increase were investments in continued engineering of the Poynt Platform, additional marketing initiatives that address user growth and retention opportunities in global geographies and to increase Poynt Platform advertising.
Management continues to pursue opportunities to increase the user base for the Poynt Platform, to increase monetization of this user base and to reduce costs with the goal of achieving positive cash flow in 2012. After adjusting for the strategic initiatives costs of $999K and non-cash items totaling $1.6M including depreciation of $120K, amortization of $505K, stock based compensation of $963K and the accretion on the secured loan of $14K, the net cash operating costs have averaged approximately $1,083K per month over the three months ended March 31, 2012. This is higher than the average net cash operating costs of $675K first quarter of 2011. This can be attributed to increased investment in marketing designed to build Company, brand and product recognition, increased human capital and the Company's expenditures related to its strategic initiatives. Management is reviewing these expenditures with an intent to reprioritize its initiatives.
Poynt Platform User Stats
Total unique users increased 20% sequentially to 14.9 million from 12.4 million in the previous quarter and increased 100% year over year. As of May 30, 2012 the Platform's unique user base exceeded 16 million.
Poynt Corp.'s revenue model includes user queries, page views, display advertising and transactions within the Platform, with user growth a key metric that drives the Company's revenues. Each user query generates several page views, which are monetized through display advertising and sponsored listings paid for by the Company's advertisers. These advertising placements generate revenues on a cost per thousand impressions, or CPM, basis or on a cost per click, or CPC, basis. Transactions, such as ticket sales and restaurant reservations, also contribute to revenues on a fee for service basis.
Management Commentary
"Q1 was an important quarter operationally as we finalized the structuring of the Joint Venture with the People's Republic of China's China Youth Goyor Technology (Beijing) Co., Ltd," said Andrew Osis, CEO, Poynt Corp. "Through dedicated efforts on behalf of China Youth Poynt Limited, an initial version of the Poynt China app is available for download for Android devices. China Youth Poynt Limited will be developing launch and monetization plans for the Poynt China platform in the near future."
Mr. Osis added, "Our top priority is to monetize our user base through strategic relationships with ad partners as well as increasing direct ad sales in the U.S. and internationally. Providing the user base with the highest quality data and functionality differentiates the Poynt Platform, driving recurring use and ultimately, revenue. This is reflected by the fact that the user base continues to grow at an accelerated rate, on average 27,000 per day. Not including China, and considering our current growth rate, we expect our user base to grow organically in North America, western Europe and India to exceed 21 million users by the end of 2012. We anticipate this scale will broaden our revenue streams and allow us to move towards cash flow profitability by year's end, which could be further strengthened by the initial monetization of our expanding IP portfolio."
Financing Update
As previously announced, the Company has been working on a secured debenture unit financing. Discussions regarding the terms of the financing are ongoing with a group of interested parties in light of the current market conditions and the Company expects to have the financing finalized in the near future. The Company will provide further guidance as it becomes available.
Changes to Management
Effective Immediately, Dr. Amit Monga has stepped down as a Director of the Company. Dr. Monga has requested the change of role to accommodate his increased responsibilities and commitments as the CEO of a public company.
As part of the streamlining of the management team, Yves Millette, formerly president, is no longer with the Company. Andrew Osis, CEO, Poynt Corp., will re-assume the role of President and CEO until such time as a suitable candidate can be hired to assume the role of President. In addition, Tony Bristol, SVP Business Development, Bart McCormick, VP Global Distribution, and Ben Banerjee, VP Southeast Asia are also no longer Officers of the Company.
Poynt Corp. would like to thank Dr. Monga and Messrs. Millette, Bristol, McCormick, and Banerjee for their service to the Company and wishes them all the best in their future pursuits.
Conference Call
Poynt Corp. will hold a conference call tomorrow, May 31, 2012, at 10:30 a.m. Eastern time (8:30 a.m. Mountain time) to discuss these financial results. The Company's CEO Andrew Osis will host the presentation followed by a question and answer period.
Date: Thursday, May 31, 2012 Time: 10:30 a.m. Eastern time Dial-in number: 1-877-941-4774 International: 1-480-629-9760 Conference ID#: 4543795
Please call the conference telephone number 5-10 minutes prior to the start time. An operator will register your name and organization. If you have any difficulty connecting with the conference call, please contact Liolios Group at 1-949-574-3860.
To listen to the live webcast please go to http://public.viavid.com/index.php?id=100646.
A telephone replay of the call will be available after 1:30 p.m. Eastern time (11:30 a.m. Mountain time) and until June 30, 2012.
Toll-free replay number: 1-877-870-5176 International replay number: 1-858-384-5517 Replay PIN #: 4543795
About Poynt Corporation
Poynt Corp. (about.poynt.com) (TSX-V: PYN, OTCQX: PNYTF) is a global leader in the mobile local advertising space. Its Location Based Search (LBS) and advertising platform, Poynt (www.poynt.com), enhances a user's ability to connect with the people, businesses and events most important to them. Poynt is available on Android, iPhone, Windows Phone and Nokia devices, along with BlackBerry smartphones and BlackBerry PlayBook Tablets in Canada, the United States, Europe, India and Australia. Poynt Corp. entered the mobile publishing space with the acquisition of an advertising publishing platform in January 2011. Whether through the Poynt Local Search Platform or the Ad Publishing Platform, Poynt Corp. simplifies connecting consumers with businesses, retailers and events. Headquartered in Calgary, AB, Canada, Poynt Corp. trades on the TSX-V under the symbol PYN and in the United States on the OTCQX under the symbol PNYTF.
Important Cautions Regarding Forward-looking Statements
This news release contains forward-looking statements relating to, but not limited to, the Company's revenue model including the addition of new users, increased advertising inventory, the ability to attract more advertisers and the Company's monetization efforts; expectations regarding increased user growth, including user growth from the China Joint Venture; anticipated timing of launch of the Poynt Platform in China and the receipt of revenues therefrom; ability of the Company to achieve positive cash flow and the anticipated timing thereof; ability of the Company to monetize their intellectual property portfolio; effect of user growth on revenue streams; anticipated funding requirements; status of financing and expected timing of finalizing the financing; and the Company's focus on strengthening its executive team and the anticipated effect on feature set expansion, user growth and revenues. Such forward-looking statements are subject to important risks, uncertainties and assumptions. The results or events predicated in these forward-looking statements may differ materially from actual results or events. As a result, you are cautioned not to place undue reliance on these forward-looking statements.
These forward-looking statements are based on certain key assumptions regarding, among other things: the ability of the Company to monetize the Poynt Platform; the continued successful development, implementation and execution of the Poynt Platform; the ability of the Company to protect its intellectual property; conditions in general economic and financial markets; future technological developments; the cost of expanding product lines; the impact of increasing competition; acceptance rate of the Poynt Platform by users; continued growth in number of active users of the Platform; the continuity of existing business relationships; the ability to complete previously announced transactions; ability to obtain all necessary regulatory approvals; the ability of the Company to close the financing; and ability to obtain financing on acceptable terms. Material risk factors that could cause actual results to differ materially from the forward-looking information include, but are not limited to: risks that the Company will not be able to successfully monetize the Poynt Platform; risk that the Company will not be able to achieve positive cash flow in 2012; risk that the Company is unable to complete the financing on the terms currently proposed or at all; risk of delays in launching the Poynt Platform in China; that the deteriorating economic and market conditions that could lead to reduced spending on information technology products; competition in the Company's target markets; potential capital needs; management of future growth and expansion; the development, implementation and execution of the Company's strategic vision; risk of third-party claims of infringement; protection of proprietary information; customer acceptance of the Company's existing and newly introduced products and fee structures; the success of the Company's brand development efforts; risks associated with strategic alliances; reliance on distribution channels; product concentration; need to develop new and enhanced products; potential product defects; ability to hire and retain qualified employees and key management personnel; risks associated with changes in domestic and international market conditions and the entry into and development of new for the Company's products; failure of counterparties to perform on contracts; failure to successfully negotiate contracts; failure to obtain necessary regulatory approvals; failure to obtain required funding; and the risks described under "Risk Factors" in our Annual Information Form for the year ended December 31, 2010 which is available on our SEDAR profile (www.sedar.com).
The forward-looking statements contained in this press release are made as of the date of this press release. Except as required by law, the Company disclaims any intention and assumes no obligation to update or revise any forward-looking statements, whether as a result of new information, future events or otherwise.
The BlackBerry and RIM families of related marks, images and symbols are the exclusive properties and trademarks of Research In Motion Limited. Apple App Store and iPhone are trademarks of Apple Inc., registered in the U.S. and other countries. Windows is a registered trademark of Microsoft Corporation in the United States and other countries. Android is a registered trademark of Google Inc. Nokia is a registered trademark of Nokia Corporation.
Poynt Corporation Consolidated Statement of Financial Position (Unaudited - Expressed in Canadian Dollars) March 31, December 31, 2012 2011 Notes $ $ ---------------------------------------------------------------------------- ASSETS 12 Current Assets Cash and cash equivalents 432,752 267,007 Accounts receivable 341,791 875,192 Goods and services taxes recoverable 42,883 72,520 Prepaid expenses and deposits 298,528 456,186 Other current asset 4 4,510,397 4,938,434 ------------------------------ 5,626,351 6,609,339 ------------------------------ Non-current Assets Prepaid expenses and deposits 66,544 78,482 Other asset 4 1,953,500 1,953,500 Property and equipment 5 1,320,715 1,426,882 Intangible assets 6 15,035,081 15,455,638 ------------------------------ 18,375,840 18,914,502 ------------------------------ Total Assets 24,002,191 25,523,841 ------------------------------ ------------------------------ LIABILITIES AND SHAREHOLDERS' EQUITY Current Liabilities Accounts payable 4,346,362 3,438,591 Deferred revenue 125,000 - Secured loan 12 1,433,257 - Provision 7 64,711 72,325 Current portion of obligation under finance lease 8 247,093 243,608 ------------------------------ 6,216,423 3,754,524 ------------------------------ Non-current Liabilities Provision 7 9,639 24,468 Obligation under finance lease 8 308,503 371,600 ------------------------------ 318,142 396,068 ------------------------------ Shareholders' Equity Share capital 9 68,374,253 66,875,208 Shares to be issued 12 2,787,875 2,787,875 Warrants 12 1,152,132 1,144,155 Compensation options and warrants 9 2,179,301 2,869,121 Contributed surplus 9 5,243,072 4,115,269 Deficit (62,269,007) (56,418,379) ------------------------------ 17,467,626 21,373,249 ------------------------------ Total Liabilities and Shareholders' Equity 24,002,191 25,523,841 ------------------------------ ------------------------------ Poynt Corporation Consolidated Statement of Operations (Unaudited - Expressed in Canadian Dollars) 2012 2011 Notes $ $ ---------------------------------------------------------------------------- Revenue Sales 483,511 515,445 Rental income 7,089 19,299 Interest income 41 972 ------------------------------ 490,641 535,716 ------------------------------ Expense Salary and consulting fees 2,102,598 1,278,539 Administration, occupancy and insurance 361,856 475,358 Share-based payment compensation 10 963,148 240,967 Advertising and marketing 1,058,623 182,749 Professional fees 202,143 71,497 Strategic initiative fees 4 998,796 - Depreciation of tangible assets 5 120,452 33,398 Amortization of intangible assets 6 505,093 674,963 ------------------------------ Operating loss (5,822,068) (2,421,755) Impairment of intangible assets - (1,338,854) Finance costs (28,560) (1,470) ------------------------------ Net loss and total comprehensive loss (5,850,628) (3,762,079) ------------------------------ ------------------------------ Loss per share Basic and diluted 11 (0.01) (0.01) ------------------------------ ------------------------------
Neither the TSX Venture Exchange nor its Regulation Services Provider (as that term is defined in the policies of the TSX Venture Exchange) accepts responsibility for the adequacy or accuracy of this release.
Contacts:
Poynt Corporation
Andrew Osis
CEO
403-313-3719
www.poynt.com

Liolios Group, Inc.
Scott Liolios or Matt Glover
949-574-3860
[email protected]


Copyright @ Marketwire
Page: 1
Related Keywords:
Poynt Corporation , Displays, Family, Communications, Digital Audio, Web, Smart Phone, PDA, iPods, iphone, Search, Research, Images, Google, Office Equipment, Sales, Advertising, Marketing, Finance, Insurance, Sales & Marketing, Internet, Administration, Search, Search Engines, Management, Finance/Accounting, Sales, CEO/CFO, Finance/Accounting, Sales, Canada, Western Europe, France, USA, India, China, Australia, Spain, Marketwire, Inc., IT (Information Technology), Apple Computer, Financial, Computer Science, Business, china, india, england, Other,
---