Poynt Corporation Provides Update Regarding the Filing of a Proposal to Creditors
(July 06, 2012)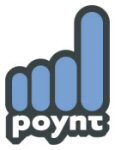 CALGARY, ALBERTA -- (Marketwire) -- 07/06/12 -- Poynt Corporation (TSX VENTURE:PYN) (OTCQX:PNYTF) ("Poynt Corp." or the "Company") announced today an update regarding the Company's Notice of Intention to File a Proposal under the Bankruptcy and Insolvency Act (Canada) ("BIA").
By filing the Notice, Poynt Corp. is now in a position to address its obligations to its secured and unsecured creditors in an orderly and efficient manner. The filing provides an initial 30-day period for Poynt Corp. to develop a proposal ("Proposal"), to be sent to creditors for review and approval, during which period the existing claims of creditors are stayed. Poynt Corp.'s ongoing operations and business will continue in the normal course during the Proposal process. Poynt Corp.'s Board of Directors and management team are evaluating several opportunities for strategic investment or possible business combinations as part of developing the Proposal, with the focus of the Proposal being to satisfactorily address all creditor obligations and to maximize shareholder value.
"Under the Proposal process, the Company will continue to operate, expand its business and execute on opportunities for growth and monetization," said Andrew Osis, President and CEO, Poynt Corp. "With almost 17 million users globally and a user growth rate of 20,000 to 25,000 new users daily, the Company is in a strong position moving forward to consider a number of strategic investment and combination opportunities that have been presented. These opportunities will allow the Company to maximize our market position and provide increased value for shareholders while dealing with our creditors in an orderly manner."
Poynt Corp. expects to file a formal Proposal, setting forth a comprehensive plan regarding its obligations to creditors, in due course. The trustee named in the notice of intention is Hardie & Kelly Inc., of Calgary, Alberta.
About the Poynt Platform
Poynt is a convenient and timesaving GPS-enabled mobile local search and advertising platform that connects consumers to local offers, businesses, events, restaurants, movie theatres, gas prices and weather information at the moment they are looking to buy or acquire products or services. Poynt provides consumers with the ability to move beyond discovery of their local area to view movie trailers and reviews, buy movie tickets, click-to-call businesses, get directions, browse listing websites, read reviews and book dining reservations or find and interact with local coupons and offers.
Poynt provides contextual and relevant advertising to users performing local queries and its revenue model is based on user queries, page views, advertising and transactions within the platform. Each user query generates several page views, which are monetized through display advertising and sponsored listings paid for by advertisers. These advertising placements generate revenues on a cost per thousand impressions (CPM) basis or on a cost per click (CPC) basis. Transactions, such as ticket sales and restaurant reservations, also contribute to revenues on a fee for service basis.
About Poynt Corporation
Poynt Corp. (about.poynt.com) (TSX VENTURE:PYN) (OTCQX:PNYTF) is a global leader in the mobile local advertising space. Its Location Based Search (LBS) and advertising platform, Poynt (www.poynt.com), enhances a user's ability to connect with the people, businesses and events most important to them. Poynt is available on Android, iPhone, Windows Phone and Nokia devices, along with BlackBerry smartphones and BlackBerry PlayBook Tablets in Canada, the United States, Europe, India and Australia. Poynt Corp. entered the mobile publishing space with the acquisition of an advertising publishing platform in January 2011. Whether through the Poynt Local Search Platform or the Ad Publishing Platform, Poynt Corp. simplifies connecting consumers with businesses, retailers and events. Headquartered in Calgary, AB, Canada, Poynt Corp. trades on the TSX Venture Exchange under the symbol PYN and in the United States on the OTCQX under the symbol PNYTF.
Reader Advisory: The press release may contain certain forward looking statements which may include plans, expectations, forecasts, projections, guidance or other statements that are not statements of fact, including without limiting the generality of the foregoing, meeting the terms, conditions and approval requirements under the BIA, the effect of the notice of intention filed under the BIA and the Company's intentions to prepare and file a Proposal under the BIA. Although Poynt Corp. believes that the expectations reflected in such forward looking statements are reasonable, it cannot give any assurance that such expectations will prove to be correct. The effect of the stay of creditors and the formal proposal are subject to a number of conditions which Poynt Corp. cannot give any assurance that such conditions will be met on a timely basis, or if at all, as certain of the conditions are in the control of other parties. As such, the future plans and objectives of Poynt Corp. are forward looking statements that involve risks and uncertainties that may be based on assumptions that could cause actual results to differ materially from those anticipated or implied in such statements. The foregoing list of risk factors is not exhaustive. Additional information on risk factors is included in other public documents available under Poynt Corp.'s profile on SEDAR. Although Poynt Corp. has attempted to identify important factors that could cause actual actions, events or results to differ materially from those described in the forward looking statements, there may be other factors that cause actions, events or results to differ from those anticipated, estimated or intended. In making its forward looking statements, Poynt Corp. used, among others, the following material factors or assumptions to develop a forward looking information enumerated above: the protections under the BIA are available to Poynt Corp. and Poynt Corp. will be able to formulate a suitable creditor proposal in the timelines required under the BIA. Poynt Corp.'s forward looking statements are expressly qualified in their entirety by this cautionary statement. Unless otherwise required by applicable securities laws, Poynt Corp. does not intend, nor does it undertake any obligation, to update or review any forward looking statements to reflect subsequent information, events, results or circumstances or otherwise.
Neither the TSX Venture Exchange nor its Regulation Services Provider (as that term is defined in the policies of the TSX Venture Exchange) accepts responsibility for the adequacy or accuracy of this release.
Contacts:
Poynt Corp.
Andrew Osis
President & CEO
403-313-3719
www.poynt.com


Copyright @ Marketwire
Page: 1
Related Keywords:
Poynt Corporation , Displays,Communications,Digital Audio,Movies & Music,Smart Phone,PDA,iPods,iphone,Movies by Genre,Canada,USA,India,Australia,Marketwire, Inc.,Apple Computer,Restaurants,Business,india,Other,
---