Poynt Corporation Confirms Conference Call Information to Discuss Asian Expansion with Formation of Joint Venture with the People's Republic of China's China Youth League
Conference Call scheduled for 4:30 Eastern time / 2:30 Mountain Time February 13, 2012
(February 13, 2012)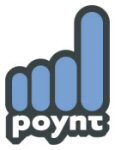 CALGARY, ALBERTA -- (Marketwire) -- 02/13/12 -- Poynt Corporation (TSX VENTURE:PYN) (OTCQX:PNYTF) ("Poynt Corp." or the "Company"), announced today that the Company has finalized the structuring of its first Asian operating entity, Poynt Asia (Hong Kong) Limited ("Poynt HK") and the formation of a joint venture (the "China JV") between Poynt HK and China Youth League's affiliated entity, China Youth Goyor Technology (Beijing) Co., Ltd.
Poynt Corp. would like to confirm that the investor conference call to discuss the details of the China JV will be held this afternoon (February 13, 2012) at 4:30 p.m. Eastern Time (2:30 p.m. Mountain Time). The Company's CEO, Andrew Osis, will host the presentation followed by a question and answer period.
Date: Monday, February 13, 2012 Time: 4:30 p.m. Eastern time (2:30 p.m. Mountain time) Dial-In Number: 1-877-941-8416 International: 1-480-629-9808 Conference ID#: 4512702
Please call the conference telephone number 5-10 minutes prior to the start time. An operator will register your name and organization. If you have any difficulty connecting with the conference call, please contact Liolios Group at 1-949-574-3860.
To listen to the live webcast please go to http://viavid.net/dce.aspx?sid=0000937C. A replay of the webcast will be available following the conclusion of the call via Poynt's website at http://about.poynt.com.
A telephone replay of the call will be available after 7:30 p.m. Eastern time (5:30 p.m. Mountain time) and until March 13, 2012.
Toll-free replay number: 1-877-870-5176 International replay number: 1-858-384-5517 Replay pin #: 4512702
About Poynt Corporation
Poynt Corporation (about.poynt.com) (OTCQX:PNYTF) (TSX VENTURE:PYN) is a global leader in the mobile local advertising space. Its Location Based Search (LBS) and advertising platform, Poynt (www.poynt.com), enhances a user's ability to connect with the people, businesses and events most important to them. Poynt is available on all major smartphone and tablet platforms in nine countries. Poynt Corp. entered the mobile publishing space with the acquisition of an advertising publishing platform in January 2011. Whether through the Poynt Local Search Platform or the Ad Publishing Platform, Poynt Corp. simplifies connecting consumers with businesses, retailers and events. Headquartered in Calgary, AB, Canada, Poynt Corp. trades on the TSX Venture Exchange under the symbol PYN and in the United States on the OTCQX under the symbol PNYTF.
Contacts:
Poynt Corporation
Andrew Osis
CEO
403-313-3719
www.poynt.com

European Media Communications Contact:
Nicole Littlewood or Howard Jones
CC-Group Communications Ltd., for Poynt Corporation
+44 118 920 7650
[email protected]

North American Public Relations Contact:
Global Results PR for Poynt Corporation
Valerie Christopherson
949-608-0276
[email protected]

Investor Relations Contact:
Liolios Group, Inc.
Scott Liolios or Matt Glover
949-574-3860
[email protected]


Copyright @ Marketwire
Page: 1
Related Keywords:
Poynt Corporation , Communications,Smart Phone,Sales,Advertising,Public Relations,Business Issues,Public Relations,Pro AV,Presentors,Internet Media, webcast,Canada,USA,China,Marketwire, ,china,
---