Podio Launches Dropbox Integration for Easy Content Sharing Across Its Online Work Platform
Users Can Now Bring Dropbox Files Into Podio's Collaborative Workspaces and Apps
(April 04, 2012)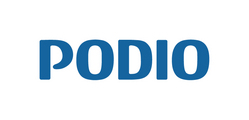 SAN FRANCISCO, CA -- (Marketwire) -- 04/04/12 -- Podio, the online work platform where anyone can build apps to get their work done, now supports file sharing from Dropbox, enabling users to bring content from Dropbox into projects and workflows on Podio, both on the web and using the Podio iPhone app.
"We are so excited to get this integration out the door," said Phil Chambers, Podio CTO. "There is significant crossover between Dropbox and Podio for segments of our user base, especially in design and advertising agencies, so we know people are seriously anticipating this connection to our platform. It's all about providing context and supporting workflows around content -- a lot of which, is stored on Dropbox."
With this new integration, Podio users can bring their Dropbox content into workflow structures they define -- using workspaces for collaborating with teams, and custom built apps for executing projects and managing ongoing work processes. Now, rather than sending Dropbox files over email, users can simply add these files to Podio, connecting them to their entire workflow, giving files critical business context, and enabling social, collaborative communication around content-centric projects. The Dropbox integration also extends to Podio's iPhone app -- providing seamless sharing of Dropbox files with Podio on-the-go.
"We store absolutely all our team and client assets on Dropbox and use Podio to manage basically everything else in our business," said Galen King, Podio user and founder of boutique design firm Lucid Design. "Having a seamless connection between Dropbox and Podio will eliminate the workarounds we have in place and make content sharing and collaboration around files much more efficient."
In addition to its latest integration with Dropbox, Podio has existing platform integrations with Google Apps, Google Docs, Box, Evernote, Zendesk, FreshBooks, Instapaper, and Campaign Monitor.
About Podio
Podio is an online platform with a new take on work and how it gets done. For the first time ever you can create your own work tools and shape the way you work. No technical skills required. No dependency on IT. Podio gives people more power than they've ever had before to do everyday work better, smarter and in their own way.
Embedded Video Available: http://www2.marketwire.com/mw/frame_mw?attachid=1939374

Contact Information

Lilly Hanscom
Communications Manager
San Francisco, US
T: +1 (415) 670-0542
E: [email protected]

Jon Froda
Co-Founder
Copenhagen, EU
T: +45 20 94 88 98
E: [email protected]
W: http://podio.com


Copyright @ Marketwire
Page: 1
Related Keywords:
collaboration software, project management software, App Market, future of work, social software, Marketwire, , Apple Computer, Advertising Agencies, Internet Technology, Business, Email,
---