PlayhouseSquare Renews Partnership With Paciolan
Adds Paciolan's CRM to Enrich Patron Engagement
(January 16, 2012)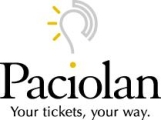 IRVINE, CA and CLEVELAND, OH -- (Marketwire) -- 01/16/12 -- Paciolan, a leading provider of ticketing, marketing and fundraising solutions in performing arts, today announced that PlayhouseSquare, a not-for-profit organization and the country's largest performing arts center outside of New York, has renewed its partnership with the company. With the renewal, PlayhouseSquare will continue leveraging all of Paciolan's industry-leading solutions, as well as adding its Customer Relationship Management (CRM) system to its product portfolio. PlayhouseSquare, which has been working with Paciolan since 2007, presents a diverse performance schedule consisting of Broadway, concerts, dance, plays, comedy, speakers, family shows and draws more than one-million people annually to its more than 1,000 events.
"Paciolan is a true partner that provides the ultimate in flexibility, products and services that allow us to provide our guests a world-class experience and drive bottom line results," said Art Falco, president and CEO of PlayhouseSquare.
With the partnership renewal, PlayhouseSquare will be adding and integrating Paciolan's CRM system to its already progressive customer relationship management efforts. With Paciolan CRM, PlayhouseSquare will be able to manage every point of contact with each guest, including ticketing, donations and purchase history, to enhance customer services, grow lifetime relationships and maximize revenue potential.
"Our goal with CRM is to have a comprehensive view and understanding of our guests to provide enhanced customer services. Knowing who they are, what they are buying or donating, and when they are engaged with us is extremely valuable. We're transitioning to Paciolan's CRM system since it is fully integrated into our ticketing, fundraising and marketing platform, which enables our entire organization to personalize each interaction with our guests," said Brian P. Sayre, director of ticket services at PlayhouseSquare.
Leveraging Paciolan's ticketing system, PlayhouseSquare streamlined and improved the online purchase process resulting in increased online ticket sales each year. For example, PlayhouseSquare was able to create a Cyber Monday promotion this year, which yielded 2,500 in additional ticket sales and more than $91,000 in incremental revenue in a single day. Additionally, leveraging Paciolan's eVenue online ticketing solution, PlayhouseSquare was able to significantly grow its CEO Program to more than 500 Cleveland-area corporations, resulting in more than $1.8 million in corporate ticket sales.
"With Paciolan, we're able to offer our guests a more efficient online ticketing process with everything they need. This includes special VIP packaging, subscriptions, renewals, single ticket sales and designer series offers that have led to increased ticket sales," added Sayre.
Additionally, PlayhouseSquare achieved success with Paciolan's fundraising system, which enables guests to support the organization through several convenient online donation programs. Recently it implemented a unique "round up" program that enables guests to round up the cost of their ticket purchase and donate these funds to the Education Fund, creating incremental revenue.
PlayhouseSquare was also an early adopter of Paciolan's mobile ticketing platform, which makes it easy for patrons to buy tickets to PlayhouseSquare events on their smart phone devices. In just three months of rolling out the platform, PlayhouseSquare sold more than $60,000 of tickets through this channel.
"It's an honor to be working with such an acclaimed performing arts center as PlayhouseSquare, which continues to push the boundaries of innovation and promotes quality performing arts," said Dave Butler, chief executive officer of Paciolan. "We look forward to continuing our partnership and to taking their success to new levels with the addition of our CRM system."
About PlayhouseSquare
PlayhouseSquare is the country's largest performing arts center outside of New York. The not-for-profit performing arts center presents and produces a wide variety of quality performing arts, advances arts education and creates a neighborhood that is a superior destination for entertainment, business and residential, thereby strengthening the economic vitality of the region. PlayhouseSquare utilizes the arts to engage individuals and attract over one million guests per year to its 1,000+ annual events. These audiences act as the catalyst for economic growth and vitality within the region.
For more information about PlayhouseSquare, visit www.playhousesquare.org.
About Paciolan
Founded in 1980, Paciolan is the leader in venue enablement, powering ticketing, fundraising and marketing technology solutions for leading organizations across North America. Collectively, Paciolan powers over 500 live entertainment organizations that sell over 100 million tickets annually. Primary markets include college athletics, professional sports, performing arts, arenas and museums. Paciolan is a wholly owned subsidiary of Comcast-Spectacor.
Visit www.paciolan.com for additional company information.
Add to Digg Bookmark with del.icio.us Add to Newsvine
Copyright @ Marketwire
Page: 1
Related Keywords:
Paciolan, Sales, Marketing, CRM - Customer Relationship Management, Sales & Marketing, Education, Management, Sales, CEO/CFO, Sales, Marketwire, , Sports, Business, Entertainment, Sports, Family,
---