Pivot 2012 to Explore Shift From Social Brands to Social Business
(April 12, 2012)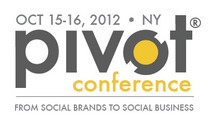 NEW YORK, NY -- (Marketwire) -- 04/12/12 -- Pivot, the only conference that delivers the insight and strategies to help top brands and agencies succeed in the business landscape altered by Social Consumers and the powerful Social Construct they have created, today announced that this year's focus will be: "From Social Brands to Social Business."
Pivot 2011 introduced the Social Consumer and how brands needed to engage them for marketing and advertising, and advocacy. In 2012, the evolution of Social Consumerism leads brands to the intersection of business objectives, customer expectations and disruptive technology. "The impact of Social Consumerism challenges businesses to rethink among many things," said Pivot host and executive producer Brian Solis. "These include commerce, marketing, service, product development, employee engagement and customer experiences. This is not only a time for champions, but for leaders who will drive transformation from the inside out and the outside in. The result, a holistic business that is adaptive to new opportunities and unified in vision, mission and purpose."
Pivot 2012 will focus on how brands can successfully manage this transformation. Key topics will include:
The Transformative Power of Trust and Transparency
Inpowered and Intraprenuerial -- The New Workforce Rises
Creative Destruction and Renewal In the Age of Digital Darwinism
The New Customer Journey -- How Shared Experiences Power Buying Behavior
Customer Service -- Not Yet Marketing, but It Should Be!
The API of Me -- The Power of the Quantified Self and How Brands Can Create New Experiences Around it
The H Factor: How Big Data Can Spur Creativity
The 4 Core Models for New Customer Engagement
The New Hollywood and The Multitasking Audience
Pivot 2012 will bring together innovators at the apex of entertainment such as Jermaine Dupri., the hip hop impresario who created his own private Social network to interact with his fans, and Daria Musk, the breakout star of Google+ Hangouts, with dominant brands like Unilever, Kraft Foods, Citibank, GE, Barclay's Bank and senior executives of Social powerhouses such as Twitter, Facebook, LinkedIn and Google. With a unique and powerful on-stage experience that blends bold presentations, deep conversations and live performances and multi-media experiences, Pivot is a singular platform where brands and agencies can discover the ideas, technologies, people and partners they need to find new paths to success in a Social era.
For more information about Pivot or to register, visit http://2012.pivotcon.com or contact Mike Edelhart, mike@pivotcon.com. Innovator pricing ends April 14.
About The Pivot Conference
The Pivot Conference is a uniquely powerful marketing conference, held October 15-16, 2012 at the Crowne Plaza in NYC, singularly focused on helping brand marketers gain essential confidence in their power to inhabit the culture, conventions, and conversations of Social Consumers and the emerging Social Construct. Pivot is limited to 500 of the top minds from major brands and agencies to ensure the most powerful possible interaction and sold out in 2011. Visit www.pivotcon.com for more information or to secure your place.
Add to Digg Bookmark with del.icio.us Add to Newsvine
CONTACT:
Mike Edelhart
President
The Tomorrow Project
Phone: 415-699-7646
E-mail: mike@pivotcon.com


Copyright @ Marketwire
Page: 1
Related Keywords:
social consumer, advertising, marketing, conference, brands, social advertising, fortune 500, Pro AV, Presentors, Prosumer/Consumer, Business, Marketing, Business Issues, Presentation, Marketing, People, Advertising, Marketwire, , Biology, Business, Entertainment,
---