Pivot 2012 Announces Initial Speakers
Facebook, Google, GE, NBC Universal, Kraft, Humorist Baratunde Thurston, Adam Duritz of Counting Crows, Lead Lineup of Brand/Agency Leaders and Stars
(June 12, 2012)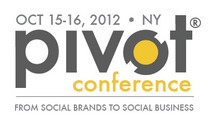 NEW YORK, NY -- (Marketwire) -- 06/12/12 -- Pivot, the only conference that delivers the insight and strategies to help top brands and agencies succeed in a business landscape altered by Social Consumers, today announced an initial set of speakers for the Conference, which takes place in New York October 15-16, 2012.
Pivot speakers are selected by Brian Solis, Pivot's host, as the most powerful, engaging and unique possible illuminators of Pivot's theme of "From Social Brands to Social Business."
"Pivot is a unique event," Solis said. "It's not a social media conference, nor is it merely another marketing event. Each year, we focus Pivot on the point of greatest concern and opportunity for brands and agencies in their development of responses to the Social revolution. Executives and market-making thinkers come together at Pivot to share what they have learned, why it's important, and what to do about it. This isn't just about having speakers talk to an audience; this is live community where everyone learns and shares all day over two days."
Brian will be joined at Pivot 2012 by:
Charlene Li, CEO Altimeter Group
Paul Adams, Global Head of Brand Design, Facebook
Tim Reis, Head of Mobile & Social Solutions, Americas Google
Aaron Ray, LA Collective
Adam Duritz, Counting Crows
Jermaine Durpe, hip hop mogul and Twitter innovator
Daria Musk, Google+ music phenomenon
Jesse Redniss, SVP Digital at NBC Universal
Linda Boff, Exec. Dir. Global Digital Marketing, GE
Martin Nisenholtz, SVP Digital, NY Times Co.
Baratunde Thurston, humorist and author of How To Be Black
Simon Bond, CMO BBDO and Proximity
Phoebe Venkat, Global Communications Manager, Tyco Industries
Bonin Bough, Vice President of Global Digital and Consumer Engagement Kraft Foods
David Berkowitz, VP Emerging Media 360i
Michael Lazerow, CEO Buddy Media
Deanna Brown, CEO Federated Media
Paul Wilmore, Managing Director-Consumer Markets, Barclaycard US
Frank Eliason, SVP of Social Media, Citicorp
Donna Sturgess, CEO Buyology and former SVP Marketing Glaxo
Neil Young, CEO ngmoco
Additional speakers, as well as more information about Pivot's on-stage experience, will be announced in the weeks ahead.
About The Pivot Conference
The Pivot Conference is a uniquely powerful marketing conference, held October 15-16, 2012 at the Crowne Plaza in NYC, singularly focused on helping brand marketers gain essential confidence in their power to inhabit the culture, conventions, and conversations of Social Consumers and the emerging Social Construct. Pivot is limited to 500 of the top minds from major brands and agencies to ensure the most powerful possible interaction, and sold out in 2011. Visit www.pivotcon.com for more information or to secure your place.
Add to Digg Bookmark with del.icio.us Add to Newsvine
PIVOT CONTACT:
Mike Edelhart
President
The Tomorrow Project
Phone: 415-699-7646
E-mail: [email protected]

PRESS CONTACT:
Danielle Mancano
SHIFT Communications
Phone: 646-756-3703
E-mail: [email protected]


Copyright @ Marketwire
Page: 1
Related Keywords:
social consumer, advertising, marketing, conference, brands, social advertising, fortune 500 , Marketwire, Music, Business,
---