Picnik.com Launches 'Picnik Basket' With Tools for Batch Uploading, Photo Collage and Photo Layering
Award-Winning Photo Site Builds on Rapid Growth With More Than 500,000 Daily Visits and Expanded Capabilities for Photo Enhancement on the Web
(October 02, 2008)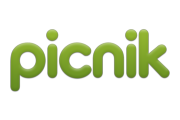 SEATTLE, WA -- (Marketwire) -- 10/02/08 -- Picnik.com (www.picnik.com), the world's most popular online photo editor, today announced that it has launched its Picnik Basket feature, which opens up a whole new world of functionality and creative possibilities for working with multiple photos. Included are tools for batch uploading, photo-layering and photo collages.
Selected features of the new functionality, which was recently rolled out exclusively to Picnik Premium users, are now available for free at Picnik.com. Picnik users can try each feature individually, or combine them together for even more fun and photo awesomeness. Among the new features that Picnik offers are:
-- Multi-file Uploading - Picnik users can upload up to five photos at a time. With a Picnik Premium subscription, users can upload up to 100 photos at one time. -- Collage - lets Picnik users create digital collages and projects using multiple photos. Picnik users can work with any of the twelve built-in collage templates, while Picnik Premium users can work with more than 40 more sophisticated premium collage templates. With collages, Picnikers can drag and drop pictures from the Picnik Basket using preset grids, and then adjust pacing, proportions and 'kookiness' to fine-tune the final result. -- Photo-Layering - which will remain a Picnik Premium feature, allows Picnik users to create stunning works of art by layering multiple images from their Picnik Basket. To create a layered image, simply drag and drop images from the Picnik Basket.
"Our goal with Picnik Basket is to completely re-invent the way people work with photos, allowing for easy creation of the most beautiful photo montages users have ever seen of their own photos," said Jonathan Sposato, chief executive officer of Picnik.com. "Picnik Basket is extremely powerful, but light and has little to no learning curve attached. Our Picnik Premium users have been ecstatic about Picnik Basket and we're pumped to offer highlights of the magic of collages and layering to our users."
Picnik users are also excited about the new features and artistic capabilities:
"I love collage! It's basically the reason I upgraded to premium," said Rachel Joy Baransi of Ohio. "I absolutely LOVE Picnik, but the collage is a really nice added benefit."
"As a teacher, mommy, and photo junkie... I CANNOT GET ENOUGH OF PICNIK! Thanks for feeding my addiction with even more wonderful extras," said Chrystal Tompkins of Louisiana.
Natasha Ayers of Newfoundland said, "I LOVE IT! [Collage] has to be my absolute favorite feature of Picnik! Thank you so much for adding this! I can't wait to see what other goodies you'll be adding to Picnik in the future."
Over the last six months, Picnik has grown extraordinarily fast and now hosts more than 14 million visits a month, with double-digit month to month growth. The ad-supported free version is available to anyone with an Internet browser. The Premium version, which includes an ad-free experience and an even broader range of fun and functionality, is available for $24.95.
About Picnik
Picnik.com gives real people photo-editing superpowers. Because Picnik lives online, users get fast, easy access to a powerful set of photo editing tools for editing, sharing, and printing images using any Internet browser (Internet Explorer, Firefox, Safari, Mozilla, etc.) on any computer platform (PC, Mac, Linux).
Picnik is fast, fun, and easy-to-use and is fully integrated with a wide variety of websites including Flickr, Facebook, Photobucket, MySpace, Webshots, Box.net, Picasa Web Albums and Lexmark. With Picnik, you can edit your photos wherever they are from wherever you are.
The Picnik team, headquartered in Seattle, is dedicated to making great, affordable software for real people. Picnik is also committed to leaving a light carbon footprint by encouraging environmentally conscious business practices and keeping it green in all we do.
For more information, screenshots of the new features or a reviewer's guide please visit: http://press.picnik.com.
Picnik Press Contact:
Erica Chandler
MWW Group
201.658.4037
Email Contact


Copyright @ Marketwire
Page: 1
Related Keywords:
Picnik.com, Mac,OS9,OSX,Marketwire,Internet Technology,Business,Internet,Other,
---