Picnik.com Continues Innovation, Incorporates Flash Player 10 and "Pixel Bender" Technology
'Picnikers' Can Now Utilize Enhanced Capabilities Previously Only Available to Developers, as Well as the Ability to Build Their Own Effects Directly at Picnik.com
(October 15, 2008)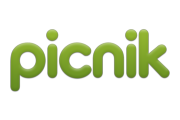 SEATTLE, WA -- (Marketwire) -- 10/15/08 -- Picnik.com (www.picnik.com), the world's most popular online photo editor, today announced a major leap forward with the adoption of the latest Flash Player 10 and its "Pixel Bender" technology.
Picnik remains at the leading edge of all rich Internet applications on the Web. With the addition of this technology, Picnik will run faster and has more mind-blowing effects. Also, with this update, Picnik has added the ability for third parties to create new effects for use in Picnik.
"Migrating Picnik's already robust application to Flash Player 10 moves Picnik forward another giant step in delivering truly rich and sophisticated photo-editing effects to our users," said Darrin Massena, chief technology officer of Picnik. "Picnik will run faster and will blow users away with effects that they've never seen before."
With this update, Picnik moves closer to fulfilling its mission of bringing rich, sophisticated photo experiences onto the Web in such a way that users will forget they are no longer on the desktop.
Using "Pixel Bender," software developers will have the ability to create any number of new effects like Circle Splash and Ripple Blocks. Developers are able to manipulate images down to the individual pixel, at high speed, allowing for more sophisticated editing and effects. Picnik supports the loading of these effects for use in editing photos directly on Picnik.com. Users can find the new features in the Sandbox at: http://www.picnik.com/app#/create/sandbox.
Future plans with Flash Player 10 include the addition of super high-resolution photo capabilities, more sophisticated editing features and the ability to load and save photos without involving an upload to a server.
This announcement comes on the heels of Picnik's most recent release of its newest features including batch uploading, photo layering and photo collage templates.
Over the last six months, Picnik has grown extraordinarily fast and now hosts more than 16 million visits a month, with double-digit month-to-month growth. The ad-supported free version is available to anyone with an Internet browser. The Premium version, which includes an ad-free experience and an even broader range of fun and functionality, is available for $24.95/year.
For more information, demos, screenshots of the new features or a reviewer's guide please visit: http://press.picnik.com.
About Picnik
Picnik.com gives real people photo-editing superpowers. Because Picnik lives online, users get fast, easy access to a powerful set of photo editing tools for editing, sharing, and printing images using any Internet browser (Internet Explorer, Firefox, Safari, Mozilla, etc.) on any computer platform (PC, Mac, Linux).
Picnik is fast, fun, and easy-to-use and is fully integrated with a wide variety of websites including Flickr, Facebook, Photobucket, MySpace, Webshots, Box.net, Picasa Web Albums and Lexmark. With Picnik, you can edit your photos wherever they are from wherever you are.
The Picnik team, headquartered in Seattle, is dedicated to making great, affordable software for real people. Picnik is also committed to leaving a light carbon footprint by encouraging environmentally conscious business practices and keeping it green in all we do.
For more information, demos, screenshots of the new features or a reviewer's guide please visit: http://press.picnik.com.
Picnik Press Contact:
Erica Chandler
MWW Group
206.689.8505
Email Contact


Copyright @ Marketwire
Page: 1
Related Keywords:
Picnik, Mac, OS9, OSX, Marketwire, Internet Technology, Business, Internet,
---