Picnik.com Announces Record-Breaking Growth and More Than Eight Million Monthly Visits
Revolutionary Online Photo Editor Continues Momentum, Sees Rapid Customer Growth and Receives 'Industry Best in Class' Honors
(June 24, 2008)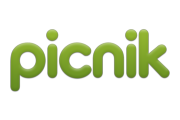 SEATTLE, WA -- (MARKET WIRE) -- 06/24/08 -- Picnik.com (www.picnik.com), the leading online photo-editing service, today announced that it is attracting more than eight million visits a month, and is continuing to see double-digit month-to-month growth. Picnik is also celebrating recent industry honors from TIME magazine, I.D. Magazine and the American Business Awards, also known as "the Stevies."
"Surpassing the eight-million mark is a big step for Picnik and we attribute much of our growth to the fact that Picnikers have been fantastic about telling their friends about Picnik," said Jonathan Sposato, chief executive officer of Picnik.com. "We are seeing these wonderful patterns where people discover Picnik and then feel compelled to tell everyone in their social network to try us out."
Over the last year, Picnik has established a series of partnerships that will continue to expand its reach. Picnik is the editing solution for Flickr and was launched with PhotoBox, Europe's leading photo-sharing network, in April. Picnik is also tightly integrated into Facebook, MySpace, Photoworks, Webshots, Freewebs and Picasa Web Albums. Other major partnerships are in the works and will be announced in the months to come.
Among the many honors and awards Picnik has won are:
-- TIME magazine 50 Best Websites of 2008 - Picnik was the only photo site to make the list and its review touted that, "only Picnik offers (photo-editing features) with such elegant simplicity." -- American Business Awards "the Stevie" - Picnik was honored for "Best overall Web site Design" by the Dow Jones-sponsored award, where winners were selected from over 2,600 entries submitted. -- Named a "Top Ten Facebook Application" - in the guidebook written by Facebook insiders, "Facebook for Dummies." -- I.D. Magazine - Picnik won the magazine's "Best of Class Award" in the Interactive category. Other winners in this juried competition for world- class design excellence included the Apple iPhone and Seattle's Olympic Sculpture Park. The I.D. Magazine winners are featured in the August issue of the magazine and will be showcased in a special exhibit at the Parsons School of Design. -- Macworld "Eddy" Award - Picnik was selected alongside Google and Amazon.com for an "Eddy" in the Web category as part of the 23rd Annual Editors' Choice awards. -- Interactive Media Award - Picnik received a "Best in Class Award" in the Photography category. These awards were judged by leaders in the Web design, advertising, public relations, publishing and news industries.
In addition to its free service, Picnik also offers Picnik Premium, a subscription-based, ad-free service giving users access to higher-end photo-editing tools, plus an ongoing stream of new features and improvements, for $24.95 annually.
Picnik is available in nine languages including English, German, French, Spanish, Traditional Chinese, Korean, Japanese, Portuguese and Italian.
The Picnik-in-a-Box API, available through Picnik.com, makes it possible for any Web site to incorporate Picnik's free editing tools. The Picnik API is being used by hundreds of Web sites around the world like Hallmark.com, Box.net, Lexmark.com, Synthasite.com, Flogao (Brazil), and Partyface.de (Germany). The Picnik API also powers plug-ins for popular platforms such as; Firefox, Wordpress and Movable Type. Picnik is also starting to license special versions of Picnik so that Web sites can offer an ad-free version and/or Picnik Premium services to their own customer bases.
About Picnik
Picnik.com gives real people photo-editing superpowers. Because Picnik lives online, users get fast, easy access to a powerful set of photo editing tools for editing, sharing, and printing images using any Internet browser (Internet Explorer, Firefox, Safari, Mozilla, etc.) on any computer platform (PC, Mac, Linux).
Picnik is fast, fun, and easy-to-use and is fully integrated with a wide variety of websites including Flickr, Facebook, Photobucket, MySpace, Webshots, Box.net, Picasa Web Albums and Lexmark. With Picnik, you can edit your photos wherever they are from wherever you are.
The Picnik team, headquartered in Seattle, is dedicated to making great, affordable software for real people. Picnik is also committed to leaving a light carbon footprint by encouraging environmentally conscious business practices and keeping it green in all we do. For more information please visit: http://press.picnik.com.
Picnik Press Contact:
Erica Chandler
MWW Group
201.658.4037
Email Contact


Copyright @ Marketwire
Page: 1
Related Keywords:
Picnik, Mac, OS9, OSX, Marketwire, Internet Technology, Business, Internet, Olympics, Other,
---