PhoneFactor Introduces a Smarter Authentication App for Smartphones and Tablets
Unique Approach Provides Unparalleled Convenience for Users and Out-of-Band Security for Enterprises and Banks
(December 05, 2011)

OVERLAND PARK, KS -- (Marketwire) -- 12/05/11 -- PhoneFactor, Inc., a leading global provider of multi-factor authentication, today launched its authentication app for smartphones and tablets. The PhoneFactor App is now available for iPhones and iPads, and will be available soon for Android devices. The App leverages the innovative out-of-band architecture that is a hallmark of the PhoneFactor platform to provide a different kind of authentication app.
While most mobile authentication apps output a one-time-passcode (just replicating the functionality of a hardware token), the PhoneFactor App takes a unique approach. PhoneFactor pushes a notification to the user's smartphone or tablet. Instantly, an alert pops up on the user's device. The user simply taps "Authenticate" (or enters a PIN and taps "Authenticate") in the PhoneFactor App to verify account logins and transactions.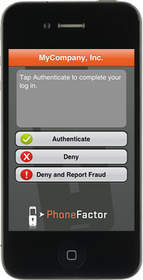 The PhoneFactor App offers a number of benefits, particularly when compared to one-time passcode apps, including:
Out-of-Band Authentication - By leveraging a separate device -- the phone -- PhoneFactor protects against malware running on the user's computer. Passcodes from mobile apps, which are entered into the user's computer, are not out-of-band and as such are vulnerable to attack.
Real-Time Fraud Alerts - If an attacker tries to log in with stolen credentials or transfer funds from an account, the legitimate user receives a notification and can report fraud instantly from the PhoneFactor App.
Transaction Verification - In accordance with the 2012 FFIEC Authentication Guidance, the app can be used to verify transaction details by displaying them in the PhoneFactor App.
Ease of Use - With no one-time passcodes to enter, authenticating with the PhoneFactor App is quicker and easier. It works instantly with any enterprise or web application, including those running on the user's phone.
One App, Countless Uses - The PhoneFactor App can be enabled for multiple accounts. For example, a controller may use the PhoneFactor App to verify online banking transactions while also using it to authenticate to the company VPN.
"There is a reason people use mobile apps to pay bills, check movie show times, and connect with friends: they are incredibly convenient," said Timothy Sutton, PhoneFactor CEO. "The same is true for using the PhoneFactor App for authentication. Users always have their phones with them and simply tapping 'Authenticate' when prompted by the app just could not be any easier. Users aren't even aware of the security benefits of PhoneFactor versus security tokens, but they know that they like it better."
The PhoneFactor App works anywhere the user's mobile device is connected to a cellular or Wi-Fi network. It is built into the core PhoneFactor platform, which provides out-of-the-box integration with all leading remote access VPNs, web applications, cloud services, and banking systems. It synchronizes with Active Directory and LDAP servers to automate enrollment and centralize user management. Robust reporting and logging is available for auditing and compliance. The PhoneFactor platform is trusted by thousands of organizations to secure millions of logins and transactions each month.
Supporting Quote
"Enterprises are proactively re-evaluating their strategies for authenticating end-users with methods that are stronger than username and password, and Aberdeen's research confirms strong interest in phone-based approaches such as PhoneFactor. Unlike software implementations of traditional one-time password tokens, the PhoneFactor mobile app provides an out-of-band solution to authenticate end-users or verify the legitimacy of online transactions -- which means effective protection against man-in-the-middle attacks, while leveraging the portability and usability of the mobile phones most end-users already carry and use. Organizations that are looking at phone-based authentication should put out-of-band solutions such as PhoneFactor on their respective short lists." -- Derek Brink, Vice President and Research Fellow for IT Security and IT GRC at the Aberdeen Group, a Harte-Hanks Company.
Supporting Links
Video:
http://youtu.be/fSmoHsCMxqc
Online Demo:
http://www.phonefactor.com/demo
Photos:
http://www.phonefactor.com/images/PhoneFactorApp.jpg
http://www.phonefactor.com/images/PhoneFactorApp2.jpg
About PhoneFactor
PhoneFactor is a leading provider of multi-factor authentication. The company's award-winning platform uses any phone as a second form of authentication. PhoneFactor's out-of-band architecture and real-time fraud alerts provide strong security for healthcare, enterprise, banking, and website applications. It is easy and cost-effective to set up and deploy to large numbers of geographically diverse users. PhoneFactor has been named to the Bank Technology News FutureNow list of the top 10 technology innovators securing the banking industry today and recently earned a prestigious five stars in the SC Magazine multi-factor authentication group test. Learn more at www.phonefactor.com or follow PhoneFactor on twitter at @phonefactor.
Embedded Video Available: http://www2.marketwire.com/mw/frame_mw?attachid=1820911
Image Available: http://www2.marketwire.com/mw/frame_mw?attachid=1820898

Add to Digg Bookmark with del.icio.us Add to Newsvine
Contact:
Alison Hill
Marketing Manager
[email protected]
(913) 499-4146


Copyright @ Marketwire
Page: 1
Related Keywords:
multi-factor authentication, out-of-band, authentication app, security tokens, phone authentication, Internet,Digital Media Software,Communications,WiFi,Movies & Music,Web,Smart Phone,Home Networks,Movies by Genre,Applications,Security,Research,Video,Social Media,Applications,Sales & Marketing,Security,Internet,Hardware,Authentication,Authentication,Architecture,Security,Internet Server Applications,Management,CEO/CFO,Marketwire, Inc., ,IT (Information Technology),Security,Communications Technology,Internet Technology,
---