Persistent Systems Announces Strategic Solutions With IBM InfoSphere BigInsights
(February 14, 2012)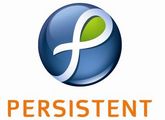 SAN JOSE, CA -- (Marketwire) -- 02/14/12 -- Persistent Systems (BOMBAY: PERSISTENT) (NSE: PERSISTENT), a leader in outsourced software product development services, announced today strategic solutions around Email Analytics and Social Media Analytics that run on top of IBM's InfoSphere BigInsights. Persistent Systems is an IBM Business Partner, providing professional services and solutions leveraging IBM's Big Data platform. IBM's Big Data platform allows enterprises of all sizes to cost effectively manage and analyze the massive volume, variety and velocity of data that consumers and businesses create every day.
Enterprises have amassed large amounts of digital data which contain a wealth of information that can provide insights into their business and the market. However, this information often resides in untapped data sources in an unstructured, semi-structured or structured form. Persistent Systems is helping companies access this data and extract valuable insights which companies can use to improve their business processes and customer offerings. Persistent Systems has invested in algorithms, data-connectors and solutions that aim to accelerate the time to deliver business results on IBM's BigInsights platform.
"Persistent Systems brings strong capabilities on the BigInsights platform and proven expertise in analytics solutions using both structured and unstructured data. Their experience working with IBM BigInsights over the past two years makes them well positioned to serve our clients," said Bruce Weed, Program Director of Big Data Business Development, IBM Information Management. "We look forward to their future innovations on the BigInsights platform and the business insights they are able to help bring to our customers."
"Persistent Systems has heavily invested in Big Data and Hadoop over the past two years, laying the groundwork for unleashing this powerful platform," said Hari Haran, President of Persistent Systems, Inc. "Persistent System's solutions for IBM BigInsights help customers unlock the value of their most important asset, 'their data.' We firmly believe that IBM BigInsights will be a platform of choice for many Fortune 1,000 enterprises."
Persistent System's Big Data practice is focused on building tools and accelerators that substantially reduce the effort required for building Big Data applications. Persistent Systems makes Big Data technology accessible to companies who are just getting started with Big Data and building domain specific solutions that leverage the raw power of the Big Data platform for solving key business problems.
To learn how companies can derive benefits from the Big Data platform, join the Persistent Systems and IBM webinar: 'Big Data on BigInsights' on February 23rd 2012 at 10.00 am - 11.00 am PST.
About Persistent Systems:
Established in 1990, Persistent Systems (BOMBAY: PERSISTENT) (NSE: PERSISTENT) is a global company specializing in software product development services. For more than two decades, Persistent has been an innovation partner for the world's largest technology brands, leading enterprises and pioneering start-ups. With a global team of 6,700+ employees, Persistent has 300+ customers spread across North America, Europe, and Asia. Today, Persistent focuses on developing best-in-class solutions in four key next-generation technology areas: Cloud Computing, Mobility, BI & Analytics, Collaboration across technology, telecommunications, life sciences, consumer packaged goods, banking & financial services and healthcare verticals. For more information, please visit: www.persistentsys.com
About IBM InfoSphere BigInsights:
IBM InfoSphere BigInsights brings the power of Hadoop to the enterprise. Apache Hadoop is the open source software framework, used to reliably managing large volumes of structured and unstructured data. BigInsights enhances this technology to withstand the demands of your enterprise, adding administrative, workflow, provisioning, and security features, along with best-in-class analytical capabilities from IBM Research. The result is that you get a more developer and user-friendly solution for complex, large scale analytics.
InfoSphere BigInsights allows enterprises of all sizes to cost effectively manage and analyze the massive volume, variety and velocity of data that consumers and businesses create every day. Please visit: www.ibm.com/software/data/infosphere/biginsights
Forward-looking and Cautionary Statements: For risks and uncertainties relating to forward-looking statements, please visit: www.persistentsys.com/Portals/0/forward_looking_cautionary_statement.shtml
Add to Digg Bookmark with del.icio.us Add to Newsvine
Media Contacts:
Pinal Patil
Persistent Systems Ltd.
Tel: 099229.27191
Email: Email Contact

Ilona Mohacsi
PenVine for Persistent Systems
Tel: +1 631.764.3729
Email: Email Contact


Copyright @ Marketwire
Page: 1
Related Keywords:
IBM InfoSphere BigInsights, Persistent Systems, Big Data, Hadoop, unstructured data, BI, analytics, Marketwire, Inc., ,Financial,Computer Science,Business,Email,
---