Perry Belcher Book How To Start a Business is at Amazon
(April 18, 2011)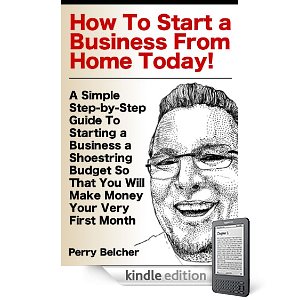 Austin, TX (PRWEB) April 18, 2011
Perry Belcher has released his first book How to Start a Business From Home in Amazons Kindle format. When asked why Belcher commented:
"I think that the Kindle, and its apps for the iPad and iPhone is the future of the ebook publishing business. Belcher also suggested that the digital publishing business will surpass traditional publishing easily within the next 5 years.
Perry Belcher has started, sold and ran dozens of companies and has consulted for hundreds in his career.
This is a simple book about getting off on the right foot, Belcher said on his blog, at Perry Belcher. So many people make common mistakes they wish they could correct but cant after the ball is rolling
You can get Belchers book free for a short time.
Belcher placed a free copy of the rough manuscript up at Scribd How To Start A Business so anyone can download it and try it out without spending any money.
Perry Belcher is a speaker, author and an expert on business and sales development from Austin, TX.
# # #
Read the full story at http://www.prweb.com/releases/2011/4/prweb8312066.htm.
Page: 1
Related Keywords:
economy, business and finance,financial and business service,business enterprises,business (general),economy, business and finance,waste management and pollution control,financial and business service,business enterprises,management change,business (general),economy, business and finance,financial and business service,business enterprises,online,marketing,business (general),mass media,news media,fishing industry,media,cinema industry,radio industry,television industry,music industry,process industry,mass media,news media,media,
---