Pentaho and MapR Put Big Data to Work
Technology Partnership Delivers Powerful Big Data Tools for Enterprises
(March 21, 2012)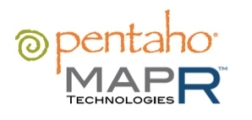 NEW YORK, NY -- (Marketwire) -- 03/21/12 -- GigaOM Structure: Data -- Pentaho Corporation, delivering the future of business analytics, and MapR Technologies, Inc., the provider of the industry's most advanced distribution for Apache Hadoop, today announced an alliance partnership to provide direct integration between Pentaho Kettle and the MapR Distribution for Hadoop. With native integration, enterprises can easily combine business analytics with Hadoop and benefit from both products' ease of use and high performance, enabling them to put their big data to work.
Together Pentaho and MapR help enterprises overcome many of the obstacles common with big data deployments. The partnership delivers improved:
Ease of use: Without having to write complex code, developers can use Pentaho Kettle's visual interface to pull data from different data sources and input, output, process, manipulate, report, visualize and explore this data in MapR, including support for NFS as well as HDFS, HBase, Hive and Pig.
Future-readiness: Both available under the Apache license, Pentaho and MapR are tested and certified for compatibility and fast integration with other standard, open technologies.
Support for multiple databases and data stores: Though big data is exploding, many enterprises will continue to use traditional databases, and therefore need to seamlessly integrate their corporate, relational data sources with MapR's Distribution for Hadoop. Pentaho Kettle not only integrates with MapR, but also with traditional databases so that enterprises are not limited to specific data sources. This enables enterprises to analyze a more complete view of the information needed for insightful decision-making.
Pentaho continues to lay the foundation for the future of big data through:
Tight integration with big data vendors: Both Pentaho and MapR have created strong partner networks that ensure tight integration and connectivity with leading vendors in the big data ecosystem. Pentaho's big data partnerships include: Actian, Cloudera, DataStax, EMC Greenplum, Hadapt, Hortonworks, HPCC Systems, Infobright and Vertica.
Complete business analytics suite proven for big data environments: MapR users can easily extend to Pentaho Business Analytics, the broadest analytics suite that includes data integration, reporting, dashboards, analysis, data mining and predictive analysis. Pentaho's analysis and reporting capabilities have been successfully proven in big data environments by customers and OEM partners such as ExactTarget, ideeli, Shareable Ink and TravelTainment.
"The integration of Pentaho and MapR provides comprehensive data connectivity and analysis," said Jack Norris, vice president of marketing for MapR. "Customers gain instant ROI on their big data investments, as well as access to Pentaho's end-to-end analytics for quick data analysis that delivers insight and business value."
"The partnership between Pentaho and MapR Technologies is a natural fit, providing excellent performance and easy-to-use tools for big data integration, data discovery, reporting and analytics," said Eddie White, executive vice president, business development, Pentaho. "Together, Pentaho and MapR help put big data to work."
"In our Hadoop and Information benchmark research, over ninety percent of organizations reported that big data technologies enabled them to analyze their data at a greater level of detail than was previously possible," said David Menninger, vice president and research director, Ventana Research. "The combination with MapR extends Pentaho support for Hadoop to perform these new types of analyses."
About Pentaho Corporation
Pentaho is delivering the future of business analytics. Pentaho's open source heritage drives our continued innovation in a modern, integrated, embeddable platform built for the future of analytics, including diverse and big data requirements. Powerful business analytics are made easy with Pentaho's cost-effective suite for data access, visualization, integration, analysis and mining. For a free evaluation, download Pentaho Business Analytics at www.pentaho.com/get-started.
Add to Digg Bookmark with del.icio.us Add to Newsvine
Copyright @ Marketwire
Page: 1
Related Keywords:
big data, mapR, Pentaho, partnership, analytics, apache hadoop, big data tools, hadoop integration, Marketwire, Inc., , Business, Other,
---