Pennzoil(R), MediaCom and Tim McGraw Strike a Chord With Music Marketing Program
Country Music Superstar Tim McGraw and Social Engagement Lead the New Marketing Efforts to Connect With Car Lovers Around the Country
(March 09, 2012)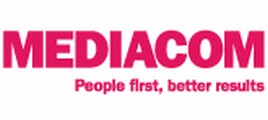 HOUSTON, TX -- (Marketwire) -- 03/09/12 -- MediaCom, one of the world's largest media services agencies, and Pennzoil, America's most trusted motor oil brand*, are leveraging the brand's "Long Love Cars" campaign to celebrate the special relationship that drivers have with their cars and music. As part of the campaign, Pennzoil is proud to announce a new sponsorship and brand ambassador with "Artist of the Decade" Tim McGraw. MediaCom identified Tim McGraw's life-long passion for cars and music as a strong fit with the Pennzoil brand and the new Long Love Cars campaign. Morgan Buksbaum, Vice President at MediaCom's Entertainment and Sports Partnership (ESP) division, planned and negotiated all aspects of the artist's participation on behalf of Pennzoil, including the Pennzoil sponsorship of McGraw on the "Brothers of the Sun" summer tour. Creative Artists Agency, which represents McGraw, brokered the deal on his behalf.
"Music has always been associated with cars for me," said Tim McGraw. "There's a bond that forms between a guy and a car, and it starts when you're young. It's always been the way I've listened to music. It represents freedom."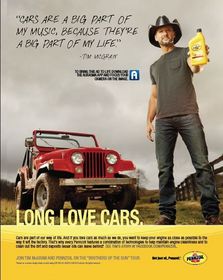 The Pennzoil Long Love Cars campaign, developed by creative agency Doner, focuses on common themes associated with automotive passion, including music and freedom. The campaign brings these themes to life through the iconic stories that consumers tell about their close relationships with music and driving.
"In order to engage with consumers on a more emotional level, we worked with MediaCom to develop a platform that would complement the creative advertising and reach a broader base of consumers in a unique way for the motor oil category," said Aimee Cronfel, Public Relations and Media Planning Manager for Pennzoil. "Tim McGraw brings to life the strong link people have with their cars and music."
The music sponsorship is a way for Pennzoil to forge new ground in the motor oil industry, a highly competitive, crowded category in which brands often look to sports heroes as spokespeople. "Pennzoil and MediaCom are jumping on a new road with Long Love Cars," said Duncan Smith, Managing Partner and Group Client Leader at MediaCom. "Instead of interrupting people with unwelcome messages, brands need to become the very thing that people care about. We think we've accomplished that for Pennzoil by bringing both the brand and Tim McGraw closer to his millions of fans."
Throughout 2012, Pennzoil will activate Tim McGraw as a brand ambassador through an integrated program designed to reach America's car lovers:
Tim McGraw's name and likeness will be attached to the Long Love Cars advertising campaign via print, digital, TV tags, radio, retail and social media channels, including customized programs for Pandora and Rolling Stone.
Pennzoil will be offering fans exclusive Tim McGraw content, including behind-the-scenes videos from the road, and strategic online promotions. All of this content will be available only to "fans" of the brand on the Pennzoil Facebook, Twitter and YouTube pages.
Pennzoil and Rolling Stone will be launching the "Ultimate Pennzoil Roadie" contest later this month, giving consumers the chance to hit the road with Tim McGraw this summer.
The Long Love Cars integrated marketing campaign will offer meaningful ways for drivers to connect with their passion for cars by being everywhere cars are celebrated throughout 2012. For more information on the Pennzoil Long Love Cars campaign, social media sites and upcoming Pennzoil Road Shows, visit www.Pennzoil.com.
*Based on a survey of licensed drivers conducted by a leading research firm from January 2005 to December 2010.
About MediaCom
MediaCom is one of the world's largest Media Communication Specialists, with billings exceeding US$23 billion (Source: RECMA) and 116 offices in 89 countries around the globe. Our "People first, better results" philosophy drives our strategy and reflects our belief that putting People -- employees, clients and consumers -- at the core of our business leads to optimum business results. The MediaCom family of companies includes such leaders in their fields as: MediaCom Interaction, our global digital and interactive marketing agency, with future-forward proprietary technology that works to grow clients' businesses; MediaCom Direct, our direct response experts, creating close, measured connections with consumers; MediaCom Entertainment & Sports Partnerships (ESP), our strategic consultancy specializing in helping brands engage consumers through their passion points; and MediaCom Business Science, focused on helping clients achieve maximum sales return. MediaCom Worldwide is a member of WPP, the world's largest marketing communications services group, and is a part of GroupM, WPP's media agency group, which is the largest worldwide. For more information, visit www.mediacom.com.
About Pennzoil
At Pennzoil, we're car people. We love cars and the role they play in our lives. Some of our most cherished memories are made possible by cars. That's why we tirelessly pursue the latest advances in oil technology -- to provide car lovers, just like us, with state-of-the-art motor oils that can help keep engines running strong for a long, long time. At Pennzoil, motor oil is our passion, but cars are our way of life. Long love cars.
Pennzoil® is the most trusted motor oil brand in America.* Each Pennzoil motor oil is formulated with special Active Cleansing Agents™ that not only help prevent, but also clean out existing sludge. The full line of Pennzoil quality products includes Pennzoil Ultra™ motor oil with Hyper Cleansing Technology™, Pennzoil Platinum® Full Synthetic motor oil, Pennzoil® motor oil, Pennzoil Gold™ motor oil, Pennzoil® High Mileage Vehicle® motor oil, and Pennzoil Marine® engine oil. For more information about Pennzoil products, please visit www.pennzoil.com.
* Based on a survey of licensed drivers conducted by a leading research firm January 2005 - December 2010.
About Tim McGraw
Tim McGraw has sold over 40 million albums and dominated the charts with 32 No. one singles. He's won three GRAMMY® Awards, 14 Academy of Country Music Awards, 11 Country Music Association Awards, 10 American Music Awards, three People's Choice Awards and numerous other honors. With 7.8 million spins at radio, McGraw was deemed "Artist of the Decade" (2000-2010) by Nielsen Broadcast Data Systems. McGraw's 11th studio album EMOTIONAL TRAFFIC debuted at No. one on the Billboard Country Chart, making it his 13th career No. one debut. His current single, "Better Than I Used To Be," continues to steadily climb the charts. This June, McGraw will kick off what is anticipated to be the biggest stadium tour in country music history with old friend Kenny Chesney. The 'Brothers of the Sun' Tour kicks off on June 2 in Tampa and will hit the nation's biggest stadiums through August. McGraw is also an accomplished actor, having starred in films such as the Oscar-nominated blockbuster The Blind Side and the critically acclaimed Friday Night Lights.
Image Available: http://www2.marketwire.com/mw/frame_mw?attachid=1913403

Add to Digg Bookmark with del.icio.us Add to Newsvine
Contact:
Sally O'Dowd
DiGennaro Communications
(212) 966-9525
[email protected]


Copyright @ Marketwire
Page: 1
Related Keywords:
music sponsorship, music marketing, social engagement, music, motor-oil, media buying , Marketwire, ,Sports,Television,Music,Business,Entertainment,Science,Sports,Outdoor Sports,Family,Other,
---