Pegasystems Recognized as a Leader in CRM Suites for Large Organizations by Independent Analyst Firm
Ranked Highest in Architecture and Platform With Strong Marketing, Sales, and Business Intelligence Functionality
(July 16, 2012)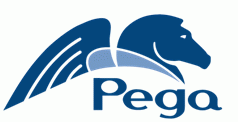 CAMBRIDGE, MA -- (Marketwire) -- 07/16/12 -- Pegasystems Inc. (NASDAQ: PEGA), the leader in Business Process Management (BPM) and software for customer centricity, today announced it was named a leader in the Q3 2012 The Forrester Wave™: CRM Suites for Large Organizations. The report ranked 17 vendors based on extensive vendor survey evaluations across and customer reference interviews. Forrester defines large organizations as 1,000 or more employees.
Pegasystems was ranked amongst the top for all three of the primary components of the CRM Suite -- sales, marketing, and customer service. Pega is the only product ranked in The Forrester Wave™: CRM Suites for Large Organizations, Q3, 2012 to also be ranked as a leader in the Q1 2011 The Forrester Wave™: Dynamic Case Management(2).
According to the report, "With its recent unification of predictive and adaptive analytics and new support for social and mobile, the company has invested heavily to help organizations deliver uniquely differentiating customer experiences. Pega CRM offers a very strong architecture and platform as well as very strong customer service functionality. It also offers strong marketing, sales, and business intelligence functionality as well as strong usability. Compared with other CRM vendors, it offers strong support for mobile CRM."(1)
The report describes a CRM industry that has "experienced considerable growth and turmoil, including significant vendor consolidation and a rapid rise in the popularity of cloud solutions. In addition, quickly evolving technologies such as multichannel digital customer engagement, real-time decisioning, social computing, business process management (BPM), and mobility are creating new ways for organizations to deliver differentiated customer experiences."(1) The report continues to state, "More organizations are focusing on renovating poorly managed customer-facing processes, which remain, in many ways, the last frontiers of business process automation. As a result, solutions with a strong BPM backbone are attracting increased attention from organizations seeking to better manage fragmented customer interaction processes."(1)
The report also helps to re-define customer-centricity, "While companies have always, to a greater or lesser extent, called themselves 'customer-centric,' this is different. This is not about customer-centric thinking or taking the attitude that the customer is always right. Instead, the new power of customers means that a focus on the customer now matters more than any other strategic imperative."(1)
"Pega's future-proof platform and architecture -- which Forrester ranks as #1 -- helps our clients meet their strategic business imperatives," commented Pegasystems' Founder and CEO Alan Trefler. "Unlike the competition, our multi-channel sales force automation, marketing and customer service solutions are built in and on a unified BPM and dynamic case management platform. Our clients would agree with Forrester that to succeed in 'the age of the customer' you need all of these capabilities. That is why they are choosing Pega -- to revolutionize how they both engage customers and optimize operations."
To find out more about Pega CRM and to view a complimentary copy of The Forrester Wave™: CRM Suites for Large Organizations, Q3, 2012 please visit http://www.pega.com/resources/the-forrester-wave-crm-suites-for-large-organizations-q3-2012. Pegasystems will be showcasing its unified CRM solution for sales, marketing and services at Booth #300 at the CRM Evolution industry conference in New York City, August 13-15, 2012.
Supporting Resources:
(1) Forrester Research, Inc., "The Forrester Wave™: CRM Suites for Large Organizations Q3 2012," July 6, 2012
(2) Forrester Research, Inc., "The Forrester Wave™: Dynamic Case Management Q1 2011," Jan. 31, 2011
RSS Feeds for Pegasystems Press Releases, Pegasystems Media Coverage and Pegasystems Events
About Pegasystems
Pegasystems, the leader in business process management and software for customer centricity, helps organizations enhance customer loyalty, generate new business, and improve productivity. Our patented Build for Change® technology speeds the delivery of critical business solutions by directly capturing business objectives and eliminating manual programming. Pegasystems flexible on-premise and cloud-based solutions enable clients to quickly adapt to changing business conditions in order to outperform the competition. For more information, please visit us at www.pega.com.
All trademarks are the property of their respective owners.
The information contained in this press release is not a commitment, promise, or legal obligation to deliver any material, code or functionality. The development, release and timing of any features or functionality described remains at the sole discretion of Pegasystems. Pegasystems specifically disclaims any liability with respect to this information.
Press Contacts:
Brian Callahan
Pegasystems Inc.
[email protected]
(617) 866-6364
Twitter: http://twitter.com/pega

Christa Conte
Hotwire PR
[email protected]
(646) 738-8962


Copyright @ Marketwire
Page: 1
Related Keywords:
Pegasystems, Pega, Forrester, CRM, Customer Relationship Management, Customer Service, Sales,Marketing,CRM - Customer Relationship Management,Sales Force Automation,Sales & Marketing,Management,Sales,CEO/CFO,Sales,Marketwire, Inc.,Biology,Business,Other,
---