Paul Silverstein Joins WordLogic as Chief Operating Officer
(April 18, 2012)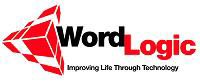 VANCOUVER, BRITISH COLUMBIA -- (Marketwire) -- 04/18/12 -- Frank Evanshen, CEO of WordLogic Corporation (OTCQB:WLGC), a predictive intelligence technology company that markets patented solutions for the mobile, tablet, and computer industry, has appointed Paul Silverstein as the Company's Chief Operating Officer worldwide.
"With our recent licensing deal of $5 million, reaffirming the validity of our patent portfolio, WordLogic is now well financed to deliver our advanced predictive intelligence platform across multiple technologies and services globally," states Mr. Evanshen. "And Paul Silverstein has a strong track record of building and leading high performance sales and operational teams, driving international businesses, developing highly-effective strategies, including major restructurings and delivering bottom-line revenue growth."
Paul Silverstein brings over 20 years of experience with successful management and development of innovative technology companies. Most recently, Mr. Silverstein served as President of a group of professional services and software companies based in India and the United States. He has been a keynote speaker at industry conferences throughout the United States on a multitude of subjects including telecommunications, software, financial transaction monitoring, licensing, and entrepreneurship. Additionally, Paul is recognized as one of the pioneers of the prepaid telephone card industry in North America during the 1990s where he successfully led his company from inception to NASDAQ in three years.
"Paul has demonstrated a track record of success with launching companies globally. Most recently in India, he spearheaded a recruitment software company as well as a security consulting company joint venture both headquartered in Mumbai," remarked Frank Evanshen. "With India being one of the largest mobile markets in the world, and Paul's experience there, we feel he can help us monetize this huge and fertile opportunity for our platform solutions."
About WordLogic
WordLogic Corporation (OTCQB:WLGC) develops, markets, licenses and sells advanced predictive platform software designed to accelerate text entry and search. The Company's innovations operate on a wide variety of communications devices, including smartphones, PCs, cell phones, Internet, TV, media players, automotive, and infotainment and game consoles. WordLogic offers its Intelligent Input(TM) keyboard on desktop PCs and smartphones. The Company's intellectual property portfolio includes six issued U.S. and European patents and three pending U.S. patent applications.
For more information about WordLogic Corporation, visit www.wordlogic.com. To send a message via Twitter, contact us at www.twitter.com/wordlogiccorp, or visit us on Facebook, www.facebook.com/wordlogiccorp. WordLogic headquarters are located at 1130 West Pender Street, Suite 230, Vancouver, BC, Canada.
Except for the historical information contained herein, the matters discussed in this news release are forward-looking statements and are subject to risks and uncertainties. See WordLogic's filings with the US Securities and Exchange Commission which identify specific factors that may cause actual results or events to differ materially from those described in the forward-looking statements.
Contacts:
WordLogic Corporation
Investor Relations
1.866.WORDLOGIC (main office)
[email protected]
www.wordlogic.com


Copyright @ Marketwire
Page: 1
Related Keywords:
WordLogic Corporation , Computers/Peripherals,Internet,Computer,Keyboard,Tablets,Digital Media Software,Communications,Gaming,Web,Cell phone,Smart Phone,Game Consoles,Search,Applications,Security,Social Media,Canada,USA,India,Marketwire, ,Financial,Television,Internet Technology,Game Technology,Internet,india,
---