Paragon Software Readies Snapshot Technology for Mac OS X
First Sector Level Backup for Mac Users, Paragon Snapshot for Mac OS X Ensures Integrity of Both Data and System
(June 02, 2009)

IRVINE, CA -- (Marketwire) -- 06/02/09 -- It's simply a question of time -- made of moving parts, hard drives will fail sooner or later. The innate fallibility of the hard drive requires that Mac and PC users alike have a backup plan. A point-in-time copy of data, known as a "snapshot," is an ideal solution to completely and safely backup a computer, and has been in use on Windows-based operating systems for years. Paragon Software Group (PSG), the technology leader in innovative data security and data management solutions, is preparing to make this technology available to Mac users in the consumer space as well as business professionals, with the introduction of its Snapshot for Mac OS X -- now in beta testing.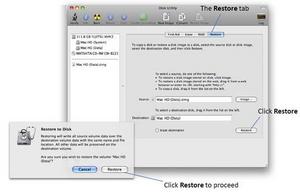 Human error, malicious software, deleted, or corrupted files due to viruses, accidentally deleted or overwritten files, installations or updates gone wrong, system or hardware failure -- the list of maladies that can befall a computer is long. Current backup solutions available to Mac users only back up individual files. Paragon created Snapshot for Mac OS X to give users a more complete solution, offering real-time protection for the whole system at the sector level. Snapshot technology combined with a sector level backup methodology enables complete system backups and immediate recovery when required; the solution also supports open file backup with the ability to back up a file that is open in the application it was created in.
Positioned between Apple's Time Machine and SMB-level backup and recovery solutions, Paragon's Snapshot for Mac OS X ensures the comprehensive security and the integrity of both data and system. With snapshot technology and sector level backup, users can successfully back up complex data structures, like databases, at the touch of a button. While Time Machine guarantees the integrity of individual files, Paragon's Snapshot for Mac OS X is complementary, guaranteeing the integrity of the complete system.
"Paragon's Snapshot for Mac OS X is simply a better way to protect data and provide peace of mind to our users," noted Tom Fedro, president of Paragon Software Group, Americas. "This technology provides a truly easy to use solution for the computer novice and is a solid addition to our comprehensive Drive Backup portfolio of products that offer the ultimate in data security, storage and management for PCs, servers and networks."
Snapshot for Mac OS X features a simple, user friendly interface designed with the most inexperienced user in mind. In the event the system is damaged or otherwise unbootable, a backup image of the system volume can be used to restore the computer immediately. After creating a backup image, all of the system and data files can be restored in one simple operation -- greatly reducing the time it traditionally takes to get the user back up and productive.
File systems supported by Paragon's Snapshot for Mac OS X include Mac OS Standard, Mac OS Extended, FAT, and NTFS (when Paragon NTFS for Mac OS software has already been installed).
Paragon's Snapshot for Mac OS X is now in beta testing and is available for download at http://www.paragon-software.com/home/snapshot-mac. For more information on Paragon's products, please visit http://www.paragon-software.com/.
About Paragon Software Group
Paragon Software Group is an innovative software developer focused on two dynamic growth markets. The company's comprehensive product line for the data storage market addresses the needs of data security, storage and management for PCs, servers and networks. A second portfolio of products focuses on mobile productivity applications for handheld devices. Founded in 1994, Paragon Software has offices in the USA, Germany, Japan, and Russia delivering its solutions to consumers, small business and enterprise clients worldwide through a network of Value Added Resellers, distributors and OEMs as well as online through the company website. Paragon Software provides technology to a host of world class companies and partners including Cisco, Dell, Toshiba, NEC, Siemens, Microsoft, Motorola, Nokia, and more. For more information please visit the company website at www.paragon-software.com.
Paragon Software is a trademark of Paragon Software Group. All other trademarks are the property of their respective owners.
Image Available: http://www2.marketwire.com/mw/frame_mw?attachid=994518

Add to Digg Bookmark with del.icio.us Add to Newsvine
Media Contact:
Bob Menzies
Lages & Associates, Inc.
949/453-8080
Email Contact


Copyright @ Marketwire
Page: 1
Related Keywords:
Paragon Software, Mac, Snapshot for Mac OS X, Apple, NTFS, backup image, Applications, Storage, Productivity Applications, Security, Computer Technology, Hardware, Software, Misc, Backup, Networks, Security, Desktop Operating Systems, Other Applications, Mac, Other, Mobile Devices, Handheld, Management, Data Management, Prosumer/Consumer, Business, Data Storage, OS (Operating System), Storage, Mac, OS9, OSX, Russia, Germany, USA, Japan, Marketwire, IT (Information Technology), Productivity Applications, Security, Computer Science, Business, russia, Business Professionals, Other,
---