Paragon Software(R) Introduces New NTFS for Mac(R) OS X 7.0
Universal File System Driver Creates Two-Way Communication Channel Between Mac OS X and Windows, Includes New MacBrowser for Dual-Boot Capabilities
(March 12, 2009)

IRVINE, CA -- (Marketwire) -- 03/12/09 -- Paragon Software Group (PSG), the technology leader in innovative data security and data management solutions, today announced the release of NTFS for Mac OS X 7.0. A complete solution designed to eliminate the barrier between Windows and Mac, NTFS for Mac provides Mac OS X users with full read and write access to Microsoft NTFS partitions. This allows users to modify existing files, delete, create, and copy new files from Mac to Windows, without the need for expensive translation software or servers.
Paragon's NTFS for Mac OS X 7.0 is based on Paragon's own unique technology -- the Universal File System Driver (UFSD). UFSD was specially developed to provide full access (read/write, format, etc.) to volumes of the most popular file systems (NTFS, FAT, Ext2/3FS, etc.) under various platforms (DOS, Windows, Linux, and Mac) when these file systems are not supported. The product is simple to install on a Mac system through user-friendly wizards, with no additional configuration required after installation. It is also simple to use, as every attached Windows NTFS partition works like a native Mac HFS partition after installation. By mounting any NTFS partition like a native Mac partition, the need to perform special commands to obtain access is eliminated. NTFS for Mac OS X 7.0 provides improved write performance enabling the same transfer rate for NTFS volumes as the native Mac OS file system.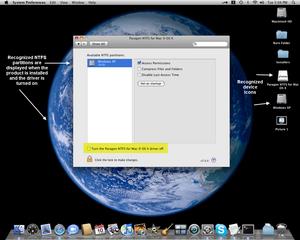 Paragon's new MacBrowser is a unique tool that allows fast, easy and transparent read/write access to Mac HFS partitions from within Windows. After the user has installed the software on a Windows operating system, a special unmapped folder under 'My Computer' can be used to browse content, read and modify files, copy, create, open, and delete files and folders on Mac partitions from Windows. To modify a file from a Mac volume, the user would copy it to a Windows partition, make the desired changes and copy it back to Mac after the modifications are completed.
With NTFS for Mac OS X 7.0, the user can optionally boot Windows at their next system restart by choosing the Windows volume in the Mac "System Preferences" pane. Windows will then start the next time the system is launched.
"Incorporating the feedback from our clients, this new version of NTFS for Mac is perfectly suited for end users of dual boot systems and for schools, universities or businesses that run a network equipped with both Mac and Windows systems," says Tom Fedro, president, Paragon Software Group, Americas. "NTFS for Mac provides true operating system independence by breaking down the barriers to cross-platform communication."
Key Features include:
-- MacBrowser: Transparent read/write access to Mac partitions from Windows. -- Full read/write access: Besides reading files, you can also modify existing files, delete files and create or copy new files (Mac OS X only provides "read" access to NTFS partitions). -- Easy to install: The driver is easily installed through a user- friendly wizard. -- Easy to use: Mount any NTFS partition like a native one -- no need to perform special commands to get access. -- Create and repair NTFS partitions under Mac: Using HFS/HFS+. -- Non-Roman characters and languages: File and folder names in national languages, including Chinese, Korean, Japanese, Russian. -- No system degradation during data transfers. -- No limitation to maximum file/partition size: (Must be within Mac OS X and NTFS specifications).
Priced at $39.95, Paragon's NTFS for Mac OS X 7.0 is available now at http://www.paragon-software.com/home/ntfs-mac/.
About Paragon Software Group
Paragon Software Group is an innovative software developer focused on two dynamic growth markets. The company's comprehensive product line for the data storage market addresses the needs of data security, storage and management for PCs, servers and networks. A second portfolio of products focuses on mobile productivity applications for handheld devices. Founded in 1994, Paragon Software has offices in the USA, Germany, Japan, and Russia delivering its solutions to consumers, small business and enterprise clients worldwide through a network of Value Added Resellers, distributors and OEMs as well as online through the company website. Paragon Software provides technology to a host of world class companies and partners including Cisco, Dell, Toshiba, NEC, Siemens, Microsoft, Motorola, Nokia, and more. For more information please visit the company website at www.paragon-software.com.
Paragon Software is a trademark of Paragon Software Group. All other trademarks are the property of their respective owners.
Image Available: http://www2.marketwire.com/mw/frame_mw?attachid=938578

Add to Digg Bookmark with del.icio.us Add to Newsvine
Media Contact:
Bob Menzies
Lages & Associates, Inc.
949/453-8080
Email Contact


Copyright @ Marketwire
Page: 1
Related Keywords:
Paragon Software, NTFS for Mac, Windows, Universal File System Driver, MacBrowser, Mac, Applications,Storage,Productivity Applications,Security,Software,Misc,Networks,Security,Desktop Operating Systems,Other Applications,Windows,Mac,Linux,Other,Management,Data Management,Business,Data Storage,OS (Operating System),Storage,Unix,Mac,Linux,OS9,OSX,Russia,Germany,USA,Japan,Marketwire,IT (Information Technology),Productivity Applications,Security,Business,russia,Other,
---