Panasonic GH2 Camera Training Course From Call Box is First of its Kind Worldwide
(April 08, 2011)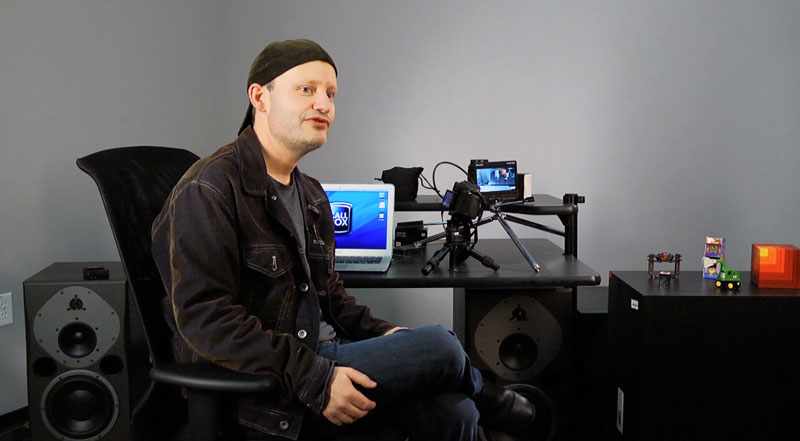 Los Angeles, CA (PRWEB) April 8, 2011
Now available at: Panasonic GH2 Guidebook. Call Box, a provider of interactive training for digital media professionals, has released their latest training course worldwide, "Panasonic GH2 Guidebook."
About the Panasonic GH2 Guidebook
Created by Apple Certified Pro instructor Noah Kadner, this course takes users through the usage of the GH2 camera in production and post-production. "Panasonic GH2 Guidebook" features original content broken down into learning modules with interactive demonstrations and easy to understand, real-world examples. The course focuses on the use of the DSLR camera as a filmmaking tool.
"The Panasonic GH2 is an exciting milestone in the evolution of affordable, high-quality cameras," says Kadner. "With the right settings and accessories you can easily create video content that looks like a Hollywood movie. This course gets you up to speed with tips and tricks only hinted at in the manual and is aimed at the starting to intermediate user."
In addition to camera settings and lens recommendations, the Panasonic GH2 Guidebook also gives tips for working with footage in post-production. "We go step-by-step through copying and archiving operations off the SDHC media cards," says Kadner. "Then we look at ingesting, editing and outputting finished projects with a focus on Apple's Final Cut Pro. As far as we know, this is the first training course of its kind for the GH2- the camera is that new."
Topics include Interchangeable Lens Choices, Working with Lens Mount Adapters,
Controlling Exposure with ND Filters, Audio, AVCHD Format Choices, Extra Tele-Convergence, Final Cut Pro Workflow, SDHC Card Management, HDMI Output, Focus Control and more.
Pricing and Availability:
"Panasonic GH2 Guidebook," is available on as a digital download and is priced at $34.99 (US). It can be purchased directly from the company at http://www.callboxlive.com/products/panasonic-gh2-guidebook.
About Call Box
Call Box Inc., headquartered in Los Angeles, CA, is a training software developer specializing in post-production products for the digital producer industry. Call Box was founded in 2006 and has leveraged strategic partnerships with other digital filmmaker training specialists such as Philip Bloom and Barry Green.
In addition to being an Apple Certified Trainer in Final Cut Pro, Noah Kadner administers several online filmmaking forums including 2-pop, Creative Cow and DVXuser.com and is the owner of Call Box. He also wrote "RED: The Ultimate Guide to Using the Revolutionary Camera" a 360-page book for Peachpit Press. He also wrote about Disney's "Tron: Legacy" and "Prom" for American Cinematographer magazine.
Additional Quotes:
"No one knows digital post-production better than Noah. Highly Recommended."
Michael Horton, Founder, Los Angeles Final Cut Pro User's Group.
"Can save you thousands of dollars in post-production trouble-shooting."
DV Magazine
"Professional-Level instruction."
MacWorld
"I count on Noah when I need advice or problem-solving to get things working right." Larry Jordan Editor-in-chief, Edit Well, The rich-media newsletter for Final Cut Studio.
Call Box products are available directly from Call Box, Tool Farm, B&H Photo and Abel Cine Tech. Additional information on Call Box can be obtained on the Web at Call Box.
###
Read the full story at http://www.prweb.com/releases/Panasonic/GH2/prweb5237254.htm.
Page: 1
Related Keywords:
plastic art,photography,entertainment award,entertainment (general),arts (general),arts, culture and entertainment,computer crime,computing and information technology,satellite technology,wireless technology,science and technology,technology (general),identification technology,agricultural research and technology,computing and information technology,satellite technology,wireless technology,science and technology,technology (general),electronics,identification technology,agricultural research and technology,consumer goods,consumer issue,consumer confidence,consumer issue,computing and information technology,satellite technology,
---