Paciolan and Givex Sign Multi-Year Agreement to Offer Uptix(R) Stored Value Tickets
Partnership Enables Venues to Drive Revenue and Enhance the Customer Experience
(February 06, 2012)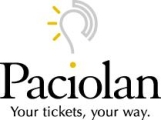 IRVINE, CA -- (Marketwire) -- 02/06/12 -- Paciolan, an industry-leading provider of ticketing, marketing, and fundraising solutions to more than 500 live entertainment organizations, today announced that it has signed a multi-year agreement with Givex, a global provider of customer engagement technology. With the partnership Paciolan will integrate Givex's stored value ticketing technology, Uptix, into its ticketing platform. The solution will enable Paciolan-powered venues to pre-sell merchandise and concessions value loaded on bar-coded event tickets. This creates a "cashless" and improved in-venue experience for fans, and increases game-day revenues for venues.
"We're thrilled to partner with Givex to provide our teams and venues a seamless stored value ticket solution that will help them increase their concessions revenues," said Dave Butler, chief executive officer of Paciolan. "With Uptix, they'll also be able to create exciting marketing incentives, including the ability to add value to tickets during the event, or as part of a loyalty program. It's a 'win-win' for venues and fans alike."
Stored value tickets can be used for single events, group sales, or season tickets. For example, customers using Uptix present their ticket to a concessionaire or point-of-sale station at the venue to pay for food, beverages or merchandise. Season ticket holders, via a fully branded website, can also manage their stored value tickets, purchase additional concession credit, view tickets and event information, and register tickets to protect against loss or theft. Uptix is also used for corporate entertaining as tickets can be given to clients or employees with stored value to spend at a company-hosted event.
"We're excited to be working with Paciolan, a company that powers more than 500 live entertainment organizations in North America, which sell more than 100 million tickets annually," said Debbi Blackburn, Vice President of Business Development, Givex. "Our Uptix system will give these organizations a new option to grow concessions revenues and drive season ticket sales, while empowering customers to pre-load tickets with merchandise or concessions value using an easy-to-use online portal."
The Philadelphia Flyers, Philadelphia 76ers, and Philadelphia Union will be the first teams to implement the integrated Uptix system. These teams will transition to the Uptix stored value system in March, and will be offering fans the ability to manage their stored value tickets via the teams' websites. The Philadelphia Flyers and Paciolan are subsidiaries of Comcast-Spectacor, the international sports and entertainment firm.
"We are excited to offer 76ers and Flyers fans the opportunity to manage their stored value and season ticket accounts through an intuitive consumer portal," said Mark DiMaurizio, Vice President of Technology Solutions, Comcast-Spectacor. "The technology convergence between Givex and Paciolan makes the process simple for fans to add or allocate stored value to their tickets, and also helps us efficiently manage the process from a team perspective."
FutureTix, a ticketing best practices and technologies consulting firm for arenas, sports teams, and universities consulted on the introduction and strategic partnership of Givex and Paciolan.
"This partnership validates the trend in the industry of more teams and venues wanting to offer a loaded ticketing system," said Dan DeMato, Principal, FutureTix. "Stored value programs are a helpful strategy in selling more tickets, including groups, single and season tickets."
About Paciolan
Founded in 1980, Paciolan is the leader in venue enablement, powering ticketing, fundraising and marketing technology solutions for leading organizations across North America. Collectively, Paciolan powers over 500 live entertainment organizations that sell over 100 million tickets annually. Primary markets include college athletics, professional sports, performing arts, arenas and museums. Paciolan is a wholly owned subsidiary of Comcast-Spectacor. Visit www.paciolan.com for additional company information.
About Givex
Givex's technology has now significantly evolved from the first gift card and loyalty programs that began in 1999. We now provide customizable tools that empower businesses of all kinds to acquire new customers, build, maintain and expand their customer database, effectively communicate with customers, and finally understand and reward their most loyal customers. Find out more at www.givex.com.
Add to Digg Bookmark with del.icio.us Add to Newsvine
Copyright @ Marketwire
Page: 1
Related Keywords:
Paciolan, Marketwire, ,Sports,Business,Entertainment,Sports,Hockey,Basketball,
---