Paciolan Launches Ticketing Intelligence Data Warehouse Solution for Clients
Arizona State University to Be the First College Athletics Client to Adopt the Technology
(April 25, 2012)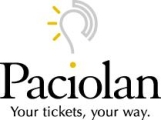 IRVINE, CA -- (Marketwire) -- 04/25/12 -- Paciolan, an industry-leading provider of ticketing, marketing, and fundraising solutions to more than 500 live entertainment organizations, announced today that it has partnered with SSB Consulting Group and Kore Technologies to create a SQL-based data warehouse solution called Paciolan Ticketing Intelligence for its clients. Based on key performance indicators, Paciolan Ticketing Intelligence will provide Paciolan's clients with real-time dashboards, cross-systems reporting and direct data warehouse access that can help them make critical, data driven business decisions. The solution is able to bring together information from multiple databases including the University foundation, merchandise, concessions, ticketing, marketing and fundraising sources. Armed with this data, teams and venues analyze sales and donation data, identify trends and tailor programs to maximize sales growth, enhance customer interactions and increase donation revenues.
"We remain laser focused and firmly committed to providing our clients with the most optimal solutions to help them efficiently run their organizations, increase revenue and be successful," said Dave Butler, chief executive officer of Paciolan. "With Paciolan Ticketing Intelligence they will be able to better analyze data on fans, donors and customers, and make timely and impacting business decisions."
Arizona State University Athletics is the first in college athletics to implement the smart analytics solution into their ticketing and fundraising systems.
"Paciolan Ticketing intelligence provides instant access to critical data, in real time that will help us better manage and measure our efforts through extensive reporting," said Steve Patterson, athletic director of ASU. "This will enhance our ability to provide world class customer service to meet the needs of our fan base, while driving additional revenue."
Paciolan Ticketing Intelligence enables organizations to integrate data from third-party systems, including data-append and lead-scoring services, as well as affiliated fundraising systems to provide sophisticated data analysis across a complex organization to aid revenue growth.
"We are excited about the opportunities to better understand and complement our sales and marketing programs," said Steve Hank, Associate Athletic Director of ASU. "Now we can monitor our sales activity, compare fund development campaigns, and integrate marketing data into a single, visual dashboard to view progress and identify trends. This rich reporting will help us to cohesively manage strategic programs to better communicate internally and externally with our fan base."
"We're very excited to be partnering with Paciolan to provide its clients with our industry-leading data warehouse solution," said Andrew Brodie, president of SSB Consulting. "With this solution, Paciolan's clients will be able to quickly and easily analyze data and trends that can help them make better business decisions based on their unique needs. They can even view live reports through their mobile device including an iPad or smart phone for instant access to critical data."
"Kore is pleased to be partnering with Paciolan and SSB as the MultiValue integration experts," said Mark Dobransky, managing partner of Kore Technologies. "Using Kourier Integrator, our enterprise integration suite, we are able to provide near real-time updates to the SQL Server database used by the Paciolan Ticketing Intelligence solution."
About Paciolan
Founded in 1980, Paciolan is the leader in venue enablement, powering ticketing, fundraising and marketing technology solutions for leading organizations across North America. Collectively, Paciolan powers over 500 live entertainment organizations that sell over 100 million tickets annually. Primary markets include college athletics, professional sports, performing arts, arenas and museums. Paciolan is a wholly owned subsidiary of Comcast-Spectacor.
Visit www.paciolan.com for additional company information.
About SSB Consulting Group
Strategic Solutions for Business (SSB) is based in Denver, Colorado. Our mission is to develop quality relationships with our clients by inspiring passion through our work ethic and enthusiasm. Our focus is to deliver high value to our clients with our software, skills, thought leadership, and involvement in the worldwide business community. SSB was born from the idea that consultants should be experts in what they do. Technology and management consultants should focus on one thing: helping their clients succeed. As such, we focus on the needs of our clients first and foremost.
Visit www.itbusinessconsulting.net for additional company information.
About Kore Technologies
Kore Technologies is a leading provider of enterprise integration, business intelligence and eCommerce Web solutions for MultiValue and Microsoft SQL Server databases. Founded in 1999 as a professional services and software development company, Kore specializes in providing business-to-business connectivity and best-in-class product integration with its flagship product -- Kourier Integrator. Leveraging this technology, and Kore's extensive experience with enterprise applications and database systems, Kore delivers solutions for integrating disparate applications, building data warehouses, and developing business intelligence solutions.
For more information about Kore Technologies, visit www.koretech.com.
About Comcast-Spectacor
Comcast-Spectacor (comcast-spectacor.com) is the Philadelphia-based sports and entertainment company which owns the Philadelphia Flyers (NHL), the home arena for both the Flyers and the NBA's Philadelphia 76ers, the Wells Fargo Center, and four Flyers Skate Zone community ice skating and hockey rinks. In addition, Comcast-Spectacor is also the principal owner of Global Spectrum, the fastest growing firm in the public assembly management field with more than 100 facilities throughout the United States and Canada; Ovations Food Services, a food and beverage service provider; New Era Tickets, a ticketing and marketing company for public assembly facilities; Front Row Marketing Services, a commercial rights sales company; FanOne, a digital fan marketing company; and Paciolan, the leading provider of venue enablement, ticketing, fundraising and marketing technology solutions.
Add to Digg Bookmark with del.icio.us Add to Newsvine
Copyright @ Marketwire
Page: 1
Related Keywords:
Paciolan, Sales,Applications,Marketing,Sales & Marketing,Productivity Applications,Database,Internet,Software Development,Other Applications,Business Intelligence,Internet Server Applications,Web Servers,Management,Sales,Sales,USA,Marketwire, ,IT (Information Technology),Enterprise Applications,Software Development,Sports,Marketing Services,Internet Technology,Computer Science,Business,Entertainment,Sports,Hockey,Skating,Winter Sports,Basketball,
---