Paciolan Launches New Customer Relationship Management Solution
Provides 360 Degree View of Customers' Ticketing, Donation and Purchase History to Maximize Revenue Potential
(November 03, 2011)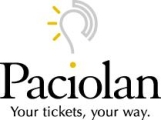 IRVINE, CA -- (Marketwire) -- 11/03/11 -- Paciolan, a leading provider of ticketing, marketing, and fundraising solutions to live entertainment organizations, today launched its new Customer Relationship Management (CRM) solution specifically designed to meet the needs of college athletics, professional sports and performing arts organizations. Paciolan CRM provides a 360 degree view of customers' ticketing, donation and purchase history to enhance each interaction and help maximize an organization's revenue potential.
"We're pleased to be launching Paciolan CRM, which will allow us to meet the demands of both college athletics and professional sports organizations that want to offer outbound sales initiatives, and that of performing arts organizations that wish to enhance their patrons' experience," said Dave Butler, chief executive officer of Paciolan. "With this new CRM solution, organizations will be able to better manage their customer communications, while delivering world class customer service."
Paciolan CRM enables an organization to deliver personalized services and effectively elicit a call to action to buy, donate, renew and participate in its programs. It also helps organizations efficiently manage and grow their sales and prospecting efforts through up-selling and retention campaigns, which increases revenues.
"As a new ticket sales department, Paciolan CRM has boosted our productivity," said Kurt Hasenbaig, assistant director of athletics, ticket sales & service, for Northwestern University Athletics. "Our sales reps are able to record all call and contact information, while as a manager, I am able to track overall activity and progress toward department goals."
Additionally, Paciolan CRM features a centralized hub of customer information to help an organization better understand its customers and donors.
"Paciolan CRM has made it easier for our ticket sales department not only to manage, organize and track sales, but also client information as well," said Tommy Heppler, sales representative for Texas Tech University. "We're able to access so much information at the click of a button in just one program. It makes work so much easier."
Paciolan CRM's intuitive interface makes the solution easy to learn requiring minimal training. It also seamlessly integrates with Microsoft Outlook for simple customer communication and tracking.
"Paciolan has done a wonderful job of responding to the needs of our users," said Paul Beard, vice president and chief operating officer for The Smith Center. "We love the intuitive interface that Paciolan CRM offers, as well as its integration with Outlook and ability to track contacts. Since going on sale with our Broadway Las Vegas series, we're especially excited to see our patron's ticketing activity in CRM as well."
About Paciolan
Founded in 1980, Paciolan is the leader in venue enablement, powering ticketing, fundraising and marketing technology solutions for leading organizations across North America. Collectively, Paciolan powers over 500 live entertainment organizations that sell over 100 million tickets annually. Primary markets include college athletics, professional sports, performing arts, arenas and museums. Paciolan is a wholly owned subsidiary of Comcast-Spectacor.
Visit www.paciolan.com for additional company information.
Add to Digg Bookmark with del.icio.us Add to Newsvine
Copyright @ Marketwire
Page: 1
Related Keywords:
Paciolan, Sales,Marketing,CRM - Customer Relationship Management,Sales & Marketing,Business Issues,Management,Sales,Sales,Marketwire, ,Sports,Entertainment,Sports,
---