Paciolan Announces Steve Demots as Senior Vice President of Sales
(June 13, 2012)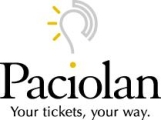 IRVINE, CA -- (Marketwire) -- 06/13/12 -- Paciolan, a leading provider of ticketing, marketing and fundraising solutions for more than 500 live entertainment organizations, today announced that Steve Demots has joined the company as senior vice president of sales. In this role, Demots will lead the sales team to develop new business opportunities and solidify long-term partnerships with Paciolan clients across all genres, including college athletics, professional sports, arenas, performing arts, museums and attractions.
"I am thrilled that Steve will be rejoining the Paciolan family," said Dave Butler, chief executive officer for Paciolan. "He not only has unmatched experience in our industry, and has built close relationships with many teams, organizations, and leagues, but he also brings a depth of knowledge of self-ticketing and the value Paciolan brings to our clients. He will be a fantastic addition to Paciolan, and a great asset to our growing community of over 500 live entertainment organizations."
Demots has a long history of success within live entertainment and has held key executive roles during his 17-year tenure in the ticketing industry. Demots previously served as vice president of professional sports, arenas and partnerships for Paciolan from 2003 through 2008. During this time, he established numerous long-term relationships, including the inception of many regional ticketing partnerships.
"I am very excited to be re-joining Paciolan and look forward to working closely with a very talented team to help develop new business partnerships and serve Paciolan clients with world-class ticketing, marketing, and fundraising products and services," said Steve Demots, senior vice president of sales for Paciolan. "I'm equally excited to start the next chapter in my career and look forward to working closely with each member of the Paciolan community."
Demots is a member and active participant of many industry associations and organizations including the International Ticketing Association (INTIX), the International Association of Venue Managers (IAVM), the Association of Luxury Seats Directors (ALSD), Sports & Entertainment Alliance in Technology (SEAT) and the Arena Network.
About Paciolan
Founded in 1980, Paciolan is the leader in venue enablement, powering ticketing, fundraising and marketing technology solutions for leading organizations across North America. Collectively, Paciolan powers over 500 live entertainment organizations that sell over 100 million tickets annually. Primary markets include college athletics, professional sports, performing arts, arenas and museums. Paciolan is a wholly owned subsidiary of Comcast-Spectacor.
Visit www.paciolan.com for additional company information.
Add to Digg Bookmark with del.icio.us Add to Newsvine
Copyright @ Marketwire
Page: 1
Related Keywords:
Paciolan, Marketwire, Sports, Business, Entertainment, Sports, Family,
---