PXT Money and BU's Agganis Arena Join Forces to Raise Money for Hockey East Skating Strides Against Breast Cancer This Weekend
Sign up at pxtmoney.com, Get a Free $5 Sign-Up Gift, Dial 877-929-3094 to Donate Any Portion of the $5 Gift to Fight Breast Cancer; Forget the Plastic(TM)-- The PXT Money Smart Phone Payment App Means Phones With Benefits
(January 25, 2012)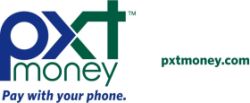 ANDOVER, MA -- (Marketwire) -- 01/25/12 -- PXT Money, a mobile payment and rewards company, will help BU's Agganis Arena fight against breast cancer, and give hockey fans a chance to join the pay-by-phone revolution, now through Sunday, Jan. 29th. No need to wait for game time. Anyone can sign up right away and be a part of the fight against breast cancer, or use the $5 free gift at participating merchants.
PXT Money ambassadors, in PXT Money T-shirts, will be at Agganis Arena both Friday and Saturday during the BU hockey games against Maine. Look for the PXT Money table, where ambassadors will give away T-shirts and iPhone covers, and walk hockey fans through the easy 4-step sign-up process at pxtmoney.com.
Depositing money into a secure PXT Money account is simple: Either do a bank transfer on PayPal, or from credit or debit/checking accounts. At sign up, the instructions for transferring money into your PXT Money account app is part of the 4 easy steps. And PXT Money is a full service transaction settlement system.
Also look for PXT Money ambassadors across the street from Agganis, at Sunset Cantina and Angora Cafe both nights during and after the game. Once you've downloaded the user friendly app and opened an account, you receive an automatic free $5 gift deposited into that account. You can then donate to fight breast cancer, or help you pay the tab at Sunset Cantina, Angora Cafe, and other local venues, such as Big City, Sunset Grill & Tap, and Vapiano.
After signing up, you will have the choice to donate any portion of the $5 free gift to Hockey East Skating Strides Against Breast Cancer. With a few clicks, for instance, you could first dial the 877-929-3094 phone number and donate $2 to fight breast cancer. Then when dining at Sunset Cantina, use the remaining $3 toward your Sunset Cantina tab with another few keystrokes on your phone.
To pay at Sunset Cantina, for example, just give the waiter or bartender your cell phone number. They key it in to their computer and send you a request to pay the tab, tax and everything included. You see the amount and click to pay. In seconds they'll receive your digital payment and generate a digital receipt. The money is automatically deposited into Sunset Cantina's account and it's all done.
Occupy your wallet and take control of your money by going to pxtmoney.com and signing up for a PXT Money account, which is just like a debit card/checking account except without banks controlling how money works. Cafe, restaurant, and store owners decide what discounts and special offers are available. Account holders decide who to send money to. It's the same as having a bank account except you just key in phone numbers to spend money. Consumers can also send each other money instantly, and pool their money to buy things. Owe a friend $10? Paying back is as easy as keying in their phone number and hitting a pay button. Want to share the bar bill at Sunset Cantina or go in on a pizza at Angora with a couple of friends? Just as easy.
PXT Money ambassadors will also let students apply for exciting paid internships now available, for which BU School of Management students can get both course credit and payment.
Pay with your phone. Earn with your phone. PXT Money means phones with benefits. Aside from exclusive discounts and special offers, anyone can also earn money on an ongoing basis by signing up friends.
"Once you have an account, whenever you sign up a friend, you earn $1, and every time that friend purchases something using PXT Money, you also get a percentage of that purchase," said John Regan, CEO of PXT Money. "And we encourage Boston area college students to let us mentor them and gain work experience with our paid internships. Apply on Facebook, or on our website."
Please visit pxtmoney.com, and PXT Money on Facebook and Twitter to hear about more special offers and internships programs. http://www.youtube.com/watch?v=rlqBCwLp7FQ&feature=youtu.be
Add to Digg Bookmark with del.icio.us Add to Newsvine
Contact:
Rivka Tadjer
Chief Marketing Officer
PXT Money
Email Contact
914-466-5976


Copyright @ Marketwire
Page: 1
Related Keywords:
PXT Payments, Communications, Digital Audio, Cell phone, iPods, iphone, Marketwire, , Apple Computer, Sports, Communications Technology, Cancer, Hockey, Skating, College Sports, College Students, Other,
---