PROMISE Technology to Unveil SANLink at NAB
All-New SANLink Adapter Brings Simple Fibre Channel SAN Connectivity to a New Generation of Devices With High-Speed Thunderbolt Technology
(April 11, 2011)

MILPITAS, CA -- (Marketwire) -- 04/11/11 -- PROMISE Technology is showcasing the PROMISE SANLink™ adapter for Thunderbolt™-enabled devices, including Apple's MacBook Pro, at NAB 2011 in the Las Vegas Convention Center on April 11 - 14, 2011, Hall S1, Booth SL2809. Developed by Intel® and brought to market with collaboration from Apple®, Thunderbolt technology supports the PCI Express and DisplayPort protocols, and delivers high-performance data services and high-resolution displays through a single, compact port.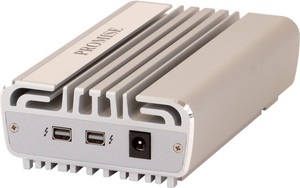 The new SANLink adapter, available this summer, will offer unrivaled expansion opportunities to a new generation of devices with Thunderbolt I/O technology. SANLink is a single cable solution that will revolutionize how users connect to a high-speed Fibre Channel SAN, empowering post-production facilities and creative professionals with easier and faster access to resources stored on their SAN.
"SANLink is proof that PROMISE continues to innovate and deliver the best and most advanced storage technology to our customers," said Chi Chen Wu, president, PROMISE Technology. "SANLink brings speed and simplicity to the post production environment and offers the latest in technology with support for Thunderbolt I/O."
SANLink will provide a dual 4G Fibre Channel link that can be used to connect to external Fibre Channel storage or to an Xsan network. Each adapter features full duplex FC ports that automatically detect connection speed and can operate independently at 1, 2 or 4Gb/s. SANLink is the perfect companion to connect to the new VTrak x30 Series as well as maintain compatibility with the previous generation VTrak x10 Series.
SANLink Highlights
A new generation of connectivity -- SANLink technology bridges two high speed technologies together, Fibre Channel and Thunderbolt interfaces, helping to bring the SAN to the masses. SANLink provides dual-ported 4Gbps Fibre Channel access allowing for redundant paths to the SAN.
Outside the box thinking -- With SANLink, connectivity is no longer tied to a single computer with a dedicated host bus adapter. Any computer with a Thunderbolt interface can attach to the SAN through SANLink. This makes SAN technology more accessible for groups with collaborative projects.
Extend your Thunderbolt port -- SANLink provides two Thunderbolt ports enabling the capability to daisy-chain other Thunderbolt peripherals. The low latency, dual-channel 10Gbps bandwidth of Thunderbolt technology enables simultaneous usage of a daisy-chained display without sacrificing any performance of the Fibre Channel connection.
Outstanding support -- PROMISE is proud to offer the best free technical support in the industry. The PROMISE technical support staff is Mac OS X and Xsan certified and available 24/7.
About PROMISE Technology, Inc.
With a long history of innovation, PROMISE Technology develops and manufactures sophisticated RAID solutions recognized worldwide, ranging from a complete line of RAID controller cards to FC/iSCSI/SAS/SATA RAID subsystems. Catering to enterprise, mid-range, entry-level consumer data protection needs, PROMISE products are distinguished by their Unified Common RAID Core and management software and unparalleled support. Headquartered in Milpitas, Calif., PROMISE has operations throughout Asia and Europe. For more information, visit PROMISE Technology's website at www.promise.com.
© 2011 PROMISE Technology, Inc. All Rights Reserved. PROMISE, the PROMISE logo, VTrak, SmartStor, SuperTrak, FastTrak, VessRAID, Vess, PerfectPATH, PerfectRAID, SATA150, ULTRA133 VTrak S3000, and GreenRAID are registered or pending trademarks of PROMISE Technology, Inc. in the U.S. and other countries. All other trademarks are the property of their respective owners. Information regarding products, services and offerings may be superseded by subsequent documents and are subject to change without notice.
Image Available: http://www2.marketwire.com/mw/frame_mw?attachid=1573108

Add to Digg Bookmark with del.icio.us Add to Newsvine
Contacts

Douglas Gruehl
PROMISE Technology
408.228.1432
[email protected]

Nancy Pieretti
PROMISE Technology
603.268.8007
[email protected]


Copyright @ Marketwire
Page: 1
Related Keywords:
NAB 2011, Apple, SAN, PROMISE Technology, Thunderbolt , Post/Production,Management,Computers/Peripherals,Display,Prosumer/Consumer,Computer,Workstation/CPU,Network (LAN),Mac OS,Production/Post,Post Production,Production,Facility (Post Production),OS (Operating System),Mac,OS9,OSX,USA,Marketwire, Inc.,National Association of Broadcasters,Other,
---