PROMISE SANLink Captures Prestigious Broadcast Engineering Pick Hit Award for 2011
International Accolades for Industry's First Thunderbolt(TM) to Fibre Channel Adapter
(September 20, 2011)
MILPITAS, CA -- (Marketwire) -- 09/20/11 -- PROMISE Technology, Inc., a leader in providing high performance storage solutions for the rich media market, today announced that its innovative SANLink, the industry's first Thunderbolt™ enabled FC Adapter captured the Pick Hit 2011 award for outstanding achievement and creative technology innovation. The award was announced by Broadcast Engineering at IBC 2011 in Amsterdam. The prestigious Pick Hit Awards are the industry's longest-running product technology awards for broadcast and production.
SANLink has broken records with the demand for review, evaluation and ownership of units exploding over the past week since its general availability announcement. This industry first is providing the creative market greater ease-of-use and flexibility in accessing their highly valuable digital assets.
"It is very exciting to be awarded such an honor," said Alice Chang, CMO, PROMISE Technology. "When we demonstrated the SANLink prototype last spring it was met with overwhelming enthusiasm and interest among all facets of the post-production community. Our research has shown that creative professionals are demanding greater flexibility and simplicity removing any previous limitations on what type of systems can be connected to the SAN and SANLink provides that solution. It is very gratifying to be recognized for providing this next generation of connectivity for the rich media market."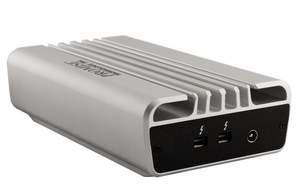 Chang continued, "We are very proud of our innovation and our ability to deliver high-performance storage solutions that are helping revolutionize the way media and entertainment professionals change the way they currently exploit their digital assets."
Broadcast Engineering Pick Hit Awards for IBC2011 are selected by a panel of independent judges who tour the convention floor looking for innovative products and technology. The judges then meet to make their selections based on several criteria, including the technical and financial improvements the product can bring to a facility's operation. Broadcast Engineering's editors and publishers have no vote in the selection process, ensuring the winners truly represent outstanding achievement in the eyes of a group of people who are representative of those making TV happen.
PROMISE SANLink is the first Thunderbolt to Fibre Channel adapter and provides media professionals with native high-speed Fibre Channel access to their shared SAN digital assets. This revolutionary connectivity is creating a sea change for media and entertainment professionals and the rich media industry. SANLink provides a dual 4Gbps Fibre Channel link that can be used to connect to external Fibre Channel storage or to an Xsan or StorNext network using a high-speed Thunderbolt port. Each adapter features full-duplex capable FC ports, that automatically detect connection speed and can each independently operate at 1, 2 or 4Gbps. Two Thunderbolts ports are provided with SANLink that enable daisy-chaining of up to 6 Thunderbolt peripherals.
With the introduction of SANLink, PROMISE has redefined how SAN infrastructures can be configured by allowing any system with Thunderbolt to connect to the SAN. Creative professionals now have the ability to use any Thunderbolt enabled portable and desktop where previously they were limited to Xserves and Mac Pros.
SANLink is the perfect companion for any Fibre Channel SAN Infrastructure. The dual ports offer unparalleled ability to edit high definition uncompressed video supporting multiple simultaneous uncompressed HD streams. Sporting rock solid compatibility with PROMISE VTrak RAID subsystems, SANLink works with both VTrak x10 and x30 series storage subsystems providing a powerful connectivity solution. Like VTrak storage subsystems, SANLink is fully qualified for Mac OS X, Xsan and Final Cut Pro solutions providing creative professionals opportunity to access, edit and manage their media files like never before.
PROMISE SANLink will be featured at the upcoming Macworld Expo Asia (www.macworldasia.com) September 22-25 at the Beijing National Conference Center
and at the Content & Communications World/HD World October 12-13, Jacob K. Javits Convention Center in New York City.
Additional resources:
Visit http://www.promise.com/SANLink to read more about SANLink
About PROMISE Technology, Inc.
PROMISE Technology, a leader in providing high-performance storage solutions to the rich media market and the leader in designing cutting-edge Thunderbolt devices, develops and manufactures sophisticated RAID storage solutions recognized worldwide, ranging from a complete line of RAID controller cards to FC/iSCSI/SAS/SATA RAID subsystems. Catering to enterprise, mid-range, entry-level and consumer data protection needs, PROMISE products are distinguished by their Unified Common RAID Core and management software and unparalleled support. Headquartered in Milpitas, Calif., PROMISE has operations throughout Asia and Europe. For more information, visit PROMISE Technology's website at www.promise.com.
© 2011 PROMISE Technology, Inc. All Rights Reserved. PROMISE, the PROMISE logo, VTrak, SmartStor, SuperTrak, FastTrak, VessRAID, Vess, PerfectPATH, PerfectRAID, SATA150, ULTRA133 VTrak S3000, BackTrak, HyperCache, HyperCache-R, HyperCache-W, DeltaScan, GreenRAID, Pegasus and SANLink are registered or pending trademarks of PROMISE Technology, Inc. in the U.S. and other countries. All other trademarks are the property of their respective owners. Information regarding products, services and offerings may be superseded by subsequent documents and are subject to change without notice. For the latest information and specifications regarding PROMISE Technology, Inc. and any of its offerings or services, please contact your local PROMISE office or the corporate headquarters. Visit www.promise.com for more information on PROMISE products.
Image Available: http://www2.marketwire.com/mw/frame_mw?attachid=1736824

Media Contacts

The Americas
Douglas Gruehl
PROMISE Technology
408.228.1432
Douglas.gruehl@promise.com

Asia Pac
Alice Chang
PROMISE Technology, Inc.
+886 3 5782395
Alice.chang@tw.promise.com

EMEA
Sophie Sun
PROMISE Technology
+31 (0)40 235 2604
Sophie.sun@eu.promise.com

Loes van Emden
PROMISE Technology
+31 (0)40 235 2614
loes.van.emden@eu.promise.com


Copyright @ Marketwire
Page: 1
Related Keywords:
PROMISE Technology, Computers/Peripherals, Prosumer/Consumer, Network (LAN), Mac OS, Broadcast Technology, Broadcast, HDTV, Software, OS (Operating System), Mac, OS9, OSX, USA, Marketwire, Inc., IBC Attendees, MacWorld Attendees, Apple Final Cut Pro, Financial, Television, Entertainment, Other,
---