PROMISE Pegasus R6 Captures 27th Annual Editors' Choice Award From Macworld
Industry's First Thunderbolt(TM) Enabled Storage Solution Solidifies Position as One of the Best Mac Hardware Products of the Year
(December 13, 2011)

MILPITAS, CA -- (Marketwire) -- 12/13/11 -- PROMISE Technology, Inc., a leader in providing high-performance storage solutions for the rich media market and the leader in designing cutting-edge Thunderbolt™ enabled devices, today announced that its innovative line of Pegasus storage solutions has been awarded the 27th Annual Editors' Choice Award by Macworld; the only storage solution recognized for quality, utility, innovation, value and excellence by the editors. PROMISE Pegasus is the world's first Thunderbolt hardware RAID storage solution providing lightning fast performance, in 4-bay & 6-bay direct attached storage configurations, all leveraging Intel's revolutionary Thunderbolt Technology.
Tweet this: PROMISE Pegasus Scores More Accolades from Editors
https://www.facebook.com/PROMISE.Technology
"We are very excited that our ground-breaking Pegasus series has received yet another accolade having previously been awarded the prestigious 'Editors' Choice Award' from Digital Review; named 'Best External Storage Partner for Apple' at Macworld Asia 2011 and awarded the 'Pick Hit Award' at the world renowned IBC Exhibition in Amsterdam," said Alice Chang, CMO, PROMISE Technology. "Our line of Thunderbolt enabled products is another example of our commitment to creative professionals and the rich media community. We look forward to introducing more products that meet the creative markets demand for innovative storage solutions."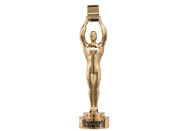 From the recently published review by Macworld Staff, Macworld.com Dec 5, 2011 http://www.macworld.com/article/163951/2011/12/the_27th_annual_editors_choice_awards.html
The Editors' Choice Awards (we affectionately call them the Eddys) recognize our favorite products released during the past year (from November 1, 2010 to November 1, 2011). It's a task we take very seriously; starting with a list of over 130 candidates, we spend weeks discussing each product, debate its merits, and whether it fulfills our standards of quality, utility, innovation, value, and excellence. The result of all this is the list presented here, the 23 best products of 2011.
Pegasus R6 (by ROMAN LOYOLA)
When Apple released new MacBook Pros in early 2011, they featured Thunderbolt, a new connectivity technology capable of high-speed data throughput. Thunderbolt peripherals, however, took a little while to come to market. PROMISE was among the first with its Pegasus R6 RAID array, and it was well worth the wait.
The R6 is, in a word, fast. Our lab tests showed that the R6 using Thunderbolt was nearly seven times faster than FireWire 800 in the AJA System Read test, which simulate data transfers done by professional video equipment. The AJA System Write test results were even more impressive; the R6's Thunderbolt results were 11 times faster than FireWire 800.
The R6 features six 7200 rpm 2TB hard drives, which are preconfigured as a RAID 5, but you can use the included easy-to-use utility to change the RAID to level 0, 1, or 10. The drives are hot swappable, so you can replace a drive on the fly. And the R6 has two Thunderbolt ports, so it's easy to daisy chain multiple Thunderbolt devices.
You'll need to buy a $49 Thunderbolt cable separately, but it's a small additional cost you'll have to pay when you consider the speed you'll get with the R6. If you have a Thunderbolt Mac and edit video, audio, or images, or you perform some other disk-intensive task, you'll quickly appreciate the Pegasus R6 ($1999).
From its rich portfolio of high-performance storage solutions that are helping revolutionize the way media and entertainment professionals change the way they currently exploit and store their digital applications, PROMISE brings the only qualified for Mac OS X products to the market. Primary among these are:
PROMISE SANLink -- the first Thunderbolt to Fibre Channel adapter that provides media professionals with native high-speed Fibre Channel access to their shared SAN digital assets


PROMISE VTrak® E-class Series -- the only qualified storage solutions for Apple's Mac OS X is an ideal storage solution for direct-attached or SAN-based applications. This line of high-performance storage solutions is a family of intelligent, high-availability SAS/SATA based RAID storage systems that fundamentally changes storage economics from purchase and set up to operation and upgrades. Choose the E-Class system that fits your requirements today with the confidence that you have the flexibility to change the interface (Fibre Channel or SAS) simply by changing the controllers


PROMISE SmartStor DS4600 -- a complete 4-bay Firewire/USB RAID storage solution equipped with four 1 or 2TB 7200-rpm SATA drives and powerful hardware RAID engine for small servers, creative pro workstations or users that need fast external storage and robust data protection


Additional resources:
Follow us:
About PROMISE Technology, Inc.
PROMISE Technology, a leader in providing high-performance storage solutions to the rich media market and the leader in designing cutting-edge Thunderbolt devices, develops and manufactures sophisticated RAID storage solutions recognized worldwide, ranging from a complete line of RAID controller cards to FC/iSCSI/SAS/SATA RAID subsystems. Catering to enterprise, mid-range, entry-level and consumer data protection needs, PROMISE products are distinguished by their Unified Common RAID Core and management software and unparalleled support. Headquartered in Milpitas, Calif., PROMISE has operations throughout Asia and Europe. For more information, visit PROMISE Technology's website at www.promise.com.
© 2011 PROMISE Technology, Inc. All Rights Reserved. PROMISE, the PROMISE logo, VTrak, SmartStor, SuperTrak, FastTrak, VessRAID, Vess, PerfectPATH, PerfectRAID, SATA150, ULTRA133 VTrak S3000, BackTrak, HyperCache, HyperCache-R, HyperCache-W, DeltaScan, GreenRAID, Pegasus and SANLink are registered or pending trademarks of PROMISE Technology, Inc. in the U.S. and other countries. All other trademarks are the property of their respective owners. Information regarding products, services and offerings may be superseded by subsequent documents and are subject to change without notice. For the latest information and specifications regarding PROMISE Technology, Inc. and any of its offerings or services, please contact your local PROMISE office or the corporate headquarters. Visit www.promise.com for more information on PROMISE products.
"Thunderbolt and the Thunderbolt logo are trademarks of Intel Corporation in the U.S. and/or other countries."
Image Available: http://www2.marketwire.com/mw/frame_mw?attachid=1829040

Add to Digg Bookmark with del.icio.us Add to Newsvine
Media Contacts

The Americas
Douglas W. Gruehl
PROMISE Technology
408.228.1432
[email protected]

Asia Pac
Alice Chang
PROMISE Technology, Inc.
+886 3 5782395
[email protected]

EMEA
Sophie Sun
PROMISE Technology
+31 (0)40 235 2604
[email protected]


Copyright @ Marketwire
Page: 1
Related Keywords:
DAS Storage, Thunderbolt, Thunderbolt enabled storage , Office Equipment,Applications,Storage,Computer Technology,Business Issues,Hardware,Services,Software,Misc,Standards,Management,CMO,Computers/Peripherals,Prosumer/Consumer,1394/Firewire,Mac OS,OS (Operating System),Mac,OS9,OSX,USA,Marketwire, Inc., ,IBC Attendees,Entertainment,Family,Other,
---