PHP Fog Releases Its Cloud Platform as a Service (PaaS) for PHP Developers
(May 10, 2011)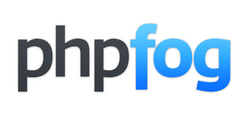 PORTLAND, OR -- (Marketwire) -- 05/10/11 -- Under The Radar Audience Choice Award Winner PHP Fog, today released its Cloud PaaS for general availability, following a successful beta program of more than 13,000 signups in the last six months. PHP Fog is available at http://phpfog.com and offers free accounts so that any PHP developer can access the platform.
"The response to our beta program has been insanely wonderful, and we are so grateful for all the feedback from the early testers," said Lucas Carlson, Founder and CEO of PHP Fog. "Programmers get tired of having to maintain deployment systems that are not really a part of their core skills. We take that chore away from them and free them up to be more productive on what they are good at."
The PHP language is one of the largest deployed languages on the Web and is the foundation of large web-scale sites like Facebook, Wikipedia, Digg, and Photobucket. PHP Fog's cloud hosting platform provides a reliable, scalable, and fast service and leverages all the latest cloud technology. PHP Fog has also teamed up with Amazon Web Services to provide multi-availability zone services for the global community of PHP developers.
PHP Fog has a compelling built-in app store which accelerates the deployment of very popular PHP apps like WordPress, Drupal, Joomla and supports rapid development frameworks like Zend, CodeIgniter, Cake and Kohana.
Developers and businesses have applauded PHP Fog on the core problem that it solves -- platform deployment and management.
"I have compared your PaaS to many others out there -- simply put PHP Fog is by far the best performing with the best support in town," said Haitham Al-Beik, who is working on a stealth startup.
"PHP Fog has some of the best server guys I know," said Neil Patel, Founder of KISS Metrics and Crazy Egg. "With them, I never have to worry about my site loading slowly or going down."
"I was actually able to get up and running tonight pretty easily," said Tim Inman, Sr. Technical Architect at Demand Chain Systems. "I moved my application from my dev hosting very quickly. So very positive feedback!"
PHP Fog prides itself on its platform management and its tenacity also shines through in the support provided by the support crew at PHP Fog.
"The PHP Fog support is great," said Lorenzo Pisani, Kohana Developer. "When I first tested it out, they were with me on the live chat and instantly implemented a few of the things I said were missing."
PHP Fog's general release
is optimized solely for PHP -- PHP Fog dives deep into optimizing the stack for PHP
enables optimal developer workflow since productive coders are happier coders
is fully managed -- monitoring, security, and backups are all seamless and automatic
includes a beautiful App Store for the best user experience
offers a VIP 24/7/365 support service option for those requiring it
features database scaling which is essential for future-proofing a deployment
Pricing and Availability
PHP developers can sign up for their free deployment account at http://phpfog.com/ There are three paid option tiers which permit higher performance features and priority support for those customers that require them. See http://phpfog.com/pricing for more information.
About PHP Fog
PHP Fog is the leading platform for PHP developers globally. From building the next Facebook to testing out ideas and enabling side projects, the company is dedicated to supporting PHP and its programmers. PHP Fog allows one click installations of popular tools like Drupal and WordPress and extends this with super simple scaling tools. PHP Fog makes cloud deployment, scaling and maintaining PHP-based deployments as simple as installing an iPhone app. The company is headquartered in Portland, Oregon. For more information, visit: http://phpfog.com/
Add to Digg Bookmark with del.icio.us Add to Newsvine
Contact:
Amber Rowland
The Rowland Agency
Email Contact
+1 650 814 4560


Copyright @ Marketwire
Page: 1
Related Keywords:
PHP Fog , Marketwire, Apple Computer, Internet Technology,
---