PHP Fog Announces General Availability of Its Cloud Platform as a Service (PaaS) at Under The Radar
(April 28, 2011)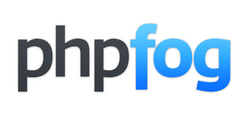 MOUNTAIN VIEW, CA and PORTLAND, OR -- (Marketwire) -- 04/28/11 -- Today at Under The Radar, PHP Fog announced that its Cloud PaaS for PHP developers will be generally available within the next 30 days.
PHP, the foundation of web-scale sites like Digg, Facebook, Photobucket, Wikipedia and The White House, is a widely-used programming language that represents a large portion of overall web development. PHP Fog's cloud hosting platform provides a reliable, scalable, fast PHP service leveraging all the latest cloud technology.
"With PHP Fog, developers can focus on what they do best -- creating code -- and they don't have to worry about complex configurations and the nuances of daily maintenance programs for deployment environments. We take care of it for them," said Lucas Carlson, CEO and Creator of PHP Fog. "Our unique cloud-based architecture gives apps the reliability and scalability needed so that developers can deploy their code in a few keystrokes which means faster development and iteration cycles. That in turn means better use of their time and less stress over things they don't need to be maintaining."
PHP Fog gives developers dedicated resources for their apps in the cloud and works seamlessly with existing PHP apps like WordPress, Drupal, Joomla and frameworks like Zend, Cake and Kohana. PHP Fog also features an app store for launching popular PHP apps like WordPress, Drupal, Magento and SugarCRM.
About Under The Radar
Dealmaker Media's Under The Radar features the most forward-thinking Cloud and Software as a Service (SaaS) startups. The Dealmaker Media team reviews over 300 startups, speaks with more than 100, and through careful scrutiny and conversations with the actual buyers, invites 30 to present on the Under The Radar stage. PHP Fog is one of the 30 companies that presented onstage. For more information, visit: http://www.undertheradarblog.com.
About PHP Fog
PHP Fog provides instant installation and N-tier scalable cloud deployment for PHP apps. PHP Fog also allows one click installations of popular tools like Drupal and WordPress and extends this with super simple scaling tools. PHP Fog makes cloud deployment, scaling and maintaining PHP-based deployments as simple as installing an iPhone app. The company is headquartered in Portland, Oregon. For more information, visit: http://phpfog.com.
Add to Digg Bookmark with del.icio.us Add to Newsvine
Contact:
Amber Rowland
The Rowland Agency
Email Contact
+1 650 814 4560


Copyright @ Marketwire
Page: 1
Related Keywords:
PHP Fog , Marketwire, Apple Computer, Internet Technology,
---