PBS and WGBH Join Forces to Launch a Major New Prime-Time Series With MARKET WARRIORS(TM); Monday, July 16, 2012 at 9/8C PM on PBS
MARKET WARRIORS Brings the Bustle, Energy and Competition of a Live Flea Market to the Screen
(May 16, 2012)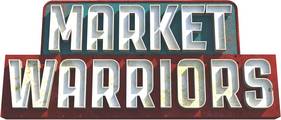 BOSTON, MA -- (Marketwire) -- 05/16/12 -- From the producers of ANTIQUES ROADSHOW, the hit PBS series and the forerunner of television's popular antiques and collectibles genre, comes a new adventure for treasure seekers: MARKET WARRIORS. Premiering Monday, July 16, at 9pm following ANTIQUES ROADSHOW, MARKET WARRIORS follows antiques pickers -- Bob, John, Kevin, and Miller -- on a nationwide treasure hunt, scouring flea markets for antiques and vintage valuables with an eye toward selling their finds for profit at auction. Over the course of 20 one-hour episodes, viewers will get to know the pickers, enjoy an up-close look at the fierce competition in each episode and obstacles they face in the marketplace each week, and make their best guesses about who will come out ahead at the end of each episode.
Fred Willard ("Best in Show," "Modern Family") is MARKET WARRIORS' off-screen host, offering wry commentary throughout the show. As host, the show is filtered through his eyes.
"With MARKET WARRIORS, we wanted to turn the lens on the antiques pickers themselves," says series executive producer Marsha Bemko. "Our pickers aren't your amateur weekend-flea-market hobbyists. They are pros looking to turn a profit in a highly competitive setting where the element of chance and a little luck sometimes trump expertise. And who better to guide viewers through the challenges our pickers face than Fred Willard, who brings to the series both his signature improvisational skills and the eye and know-how of a collector."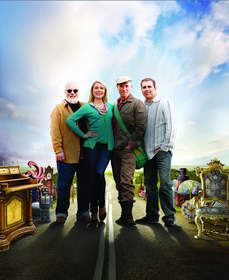 "MARKET WARRIORS is a perfect complement to ANTIQUES ROADSHOW, building on our audience's passion for history and antiques. Together they offer an addictive two hours of flea markets, antiques and unique finds," said John F. Wilson, Senior Vice President & Chief TV Programming Executive.
Meet the Pickers:
Kevin Bruneau has owned and operated an antiques business for more than two decades and is fluent in the world of buying and selling antiques and collectibles in the online marketplace. When he's not travelling with his fellow MARKET WARRIORS, Kevin is on the road hundreds of miles per week in search of antiques and the next, great find. Kevin lives and works in Rhode Island.
John Bruno is an industry veteran: an antiques and collectibles dealer and collector for 40 years, and an appraiser for more than 25 years. Along with his wife Tina, he runs one of the largest antiques show promotion/management organizations in the Northeast. John is a native New Yorker and currently lives in New Hampshire.
Miller Gaffney's eye for antiques and collecting was honed over the years at places such as Sotheby's Institute of Art. She is a licensed appraiser and the proprietor of an art advisory service that she founded in 2006. She is a native of South Carolina.
Bob Richter comes to MARKET WARRIORS as a lifelong collector and with the sensibility of an interior designer. Bob lives in New York City where he is a regular at local flea markets and furniture shops. Bob is originally from Pennsylvania.
About MARKET WARRIORS on PBS
In each episode, four pickers travel to different market locations across the country to purchase certain items with a set amount of money. Viewers will learn not only about different objects and their history; they'll also see the competitors apply their knowledge and skills to real financial transactions. Along the way, we will get to know our pickers, learn about what they bought and why through individual interviews, and discover the current value of the objects as only the marketplace can determine.
The sale of our pickers' items takes place at an auction on a different day, in a different location. All four competitors will watch the auctioneer take charge of the bidding and the picker whose objects earn the highest total profit at auction is the winner of that episode.
The MARKET WARRIORS website - pbs.org/marketwarriors
The MARKET WARRIORS web site on PBS.org is the online platform for engaging and informing MARKET WARRIORS fans. The site will highlight the broadcast, with tune-in information, streaming full episodes, and episode guides. The site, found at pbs.org/marketwarriors, will extend and enhance the broadcast experience through web-exclusive videos and profiles with the series' expert pickers -- Bob, John, Kevin and Miller. The MARKET WARRIORS blog will provide the latest behind-the-scenes news from the series, articles about featured objects from the episodes, plus insights and tips from the world of antiques and flea markets. Polls, quizzes, and questions will prompt site visitors to share their thoughts, and a "winners and losers" feature will further encourage audience participation by tracking each picker's season-long successes and failures. MARKET WARRIORS web content will be shared via social media channels, and fans can contribute to conversations on Facebook, Twitter, and share their own favorite flea market finds on the series website.
About PBS
PBS, with its nearly 360 member stations, offers all Americans the opportunity to explore new ideas and new worlds through television and online content. Each month, PBS reaches nearly 123 million people through television and more than 21 million people online, inviting them to experience the worlds of science, history, nature and public affairs; to hear diverse viewpoints; and to take front-row seats to world-class drama and performances. PBS' broad array of programs has been consistently honored by the industry's most coveted award competitions. Teachers of children from pre-K through 12th grade turn to PBS for digital content and services that help bring classroom lessons to life. PBS' premier children's TV programming and its website, pbskids.org, are parents' and teachers' most trusted partners in inspiring and nurturing curiosity and love of learning in children. More information about PBS is available at www.pbs.org, one of the leading dot-org websites on the Internet, or by following PBS on Twitter, Facebook or through our apps for mobile devices. Specific program information and updates for press are available at pbs.org/pressroom or by following PBS Pressroom on Twitter.
About WGBH
WGBH Boston is America's preeminent public broadcaster and the largest producer of PBS content for TV and the Web, including Masterpiece, Antiques Roadshow, Frontline, Nova, American Experience, Arthur, Curious George, and more than a dozen other prime-time, lifestyle, and children's series. WGBH's television channels include WGBH 2, WGBH 44, and the digital channels World and Create. WGBH TV productions focusing on the region's diverse community include Greater Boston, Basic Black, and High School Quiz Show. WGBH Radio serves listeners across New England with 89.7 WGBH, Boston Public Radio; Classical New England; and WCAI, the Cape and Islands NPR® Station. WGBH also is a major source of programs for public radio (including The World), a leader in educational multimedia (including PBS Learning Media, a free online service providing the nation's educators with curriculum-based digital content to meet 21st-century learners' needs), and a pioneer in technologies and services that make media accessible to the 36 million Americans who are deaf, hard of hearing, blind, or visually impaired. WGBH has been recognized with hundreds of honors: Emmys, Peabodys, duPont-Columbia Awards... even two Oscars. Find more information at www.wgbh.org.
For more information about MARKET WARRIORS, visit pbs.org/marketwarriors.
Press materials, including video previews and downloadable photos, are available at www.pbs.org/pressroom.
MARKET WARRIORS is produced for PBS by WGBH Boston. Executive Producer is Marsha Bemko and Senior Producer is John Kalish.
MARKET WARRIORS is sponsored by PBS through the support of public television viewers.
MARKET WARRIORS is closed-captioned for viewers who are deaf or hard-of-hearing by The Caption Center at WGBH Boston.
© 2012 WGBH Educational Foundation
May 2012
Image Available: http://www2.marketwire.com/mw/frame_mw?attachid=1986101

Add to Digg Bookmark with del.icio.us Add to Newsvine
Press contacts

Kate Hathaway
WGBH Boston
617-300-5305
[email protected]

Laura Garvey
WGBH Boston
617-300-5342
[email protected]

www.pbs.org/pressroom


Copyright @ Marketwire
Page: 1
Related Keywords:
antiques, flea market, Antiques Roadshow, television, treasure hunter, PBS, WGBH, primetime, series , Broadcast,Streaming,Digital,Internet/Web,Business,Programming,Internet,Web,Social Media,Search,Authoring/Programming,Broadcast Technology,Internet Media,Broadcast,Social Media,England,Marketwire, ,Financial,Television,Lifestyle,Internet Technology,Business,Internet,Science,england,Children,Teachers,Other,
---