Oxygen Cloud and Data Robotics Partner to Deliver Do-It-Yourself Private Storage Clouds for Businesses
Joint Solution Enables Companies to Easily Create Secure Private Clouds for End Users, Provides Remote Access From Any Desktop or Mobile Device
(June 24, 2010)
NEWARK, CA and SANTA CLARA, CA -- (Marketwire) -- 06/24/10 -- Oxygen Cloud, the company that connects people, data and devices to a single file system, and Data Robotics Inc., the company that delivers the best data storage experience, today announced their strategic partnership to deliver easy creation of private storage clouds for businesses. The Oxygen private cloud will be available as a downloadable software package for Data Robotics' Drobo FS, the Drobo designed for simple file sharing.
An Oxygen private cloud is composed of one or more Oxygen cloud drives, such as a Drobo FS. A business can plug in multiple cloud drives to create a giant storage cloud or back up data to another cloud drive. With Oxygen, users can enjoy the benefits of cloud storage without compromising on the high performance of local storage. Businesses can access and centrally manage their data without worrying about network latency and bandwidth issues.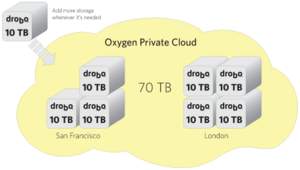 "Many individuals and businesses are presented with a tradeoff between data access and performance when considering deploying local versus cloud storage solutions," said George Crump, chief analyst at Storage Switzerland. "As a result of this partnership, a reliable, local Drobo FS can be the foundation for a private cloud that un-tethers users from their desktop and allows businesses to efficiently leverage the cloud for storage, backup, business continuity and disaster recovery."
The Oxygen private cloud also makes data accessible to end users at all times, across all devices -- from personal computers to mobile devices such as iPhone and iPad.
Together, Oxygen Cloud and Drobo FS deliver a flexible private cloud solution that empowers business users to easily convert silos of physical storage into instantly accessible private cloud storage, eliminating the resource-intensive process of setting up and managing storage -- a task that often requires hiring costly consultants.
"Data Robotics is very excited to be working with Oxygen Cloud because, for the first time ever, Drobo users can take full advantage of the cloud for remote access to their data and file sharing," said Mark Fuccio, senior director of products and markets for Data Robotics. "Joint Drobo FS and Oxygen Cloud customers can now access data on their Drobo FS from anywhere and interact with it from any device -- iPhone, iPad, Mac or PC."
"Partnering with Data Robotics was a natural fit for Oxygen Cloud," said Alex Teu, director of business development for Oxygen Cloud. "We share a vision for making technology as simple and transparent as possible for both the end user and corporate IT. We've succeeded in creating a solution that can be deployed by businesses of every size."
With Drobo FS and Oxygen Cloud, storage expansion is simple and data access is available from the desktop. Features and benefits include:
Create a do-it-yourself private cloud, simply: for businesses that lack the IT resources ordinarily required to set up a private cloud for their employees, Oxygen makes it easy for businesses of all sizes to create private clouds.
High performance: delivers a private cloud solution that removes the network bottleneck of latency and bandwidth limitations.
End-to-end encryption: automatically encrypts data at every point -- in transit, on the desktop, and on the Drobo.
Collaborate natively: users can work on shared files directly from the desktop, utilizing native desktop applications to collaborate on documents in any work group environment.
Hybrid cloud options: connects businesses with all public cloud providers so they can mix and match public and private cloud options to fit their unique requirements.
Expansion to 10TB -- and beyond: customers with growing storage requirements can easily add data capacity to their private cloud by adding more cloud drives, such as more Drobo FS.
Product Availability
Oxygen Cloud's beta offering will be available for download later this summer. To be notified when it becomes available, please sign up at http://www.oxygencloud.com/oxygen-mailing-list.
About Oxygen Cloud
Oxygen Cloud connects people, data and devices to a single file system. The company delivers native desktop collaboration and cloud storage brokering to business end users. For more information, visit www.oxygencloud.com.
Follow Oxygen Cloud on Twitter at www.twitter.com/oxygencloud.
About Data Robotics
Data Robotics, Inc., the company that delivers the best storage experience ever, develops automated storage products designed to ensure data is always protected, accessible, and simple to manage. The award-winning Drobo storage arrays are the first to provide the protection of traditional RAID without the complexity. The revolutionary BeyondRAID technology frees users from making the difficult and confining choice of "which RAID level to deploy?" by providing an unprecedented combination of advanced features and automation, including single- and dual-drive redundancy, instant expansion, self-monitoring, data awareness, self-healing, and an easy-to-understand visual status and alert panel. For more information, visit Data Robotics at www.datarobotics.com.
Drobo FS launched on April 6, 2010, and is now available from authorized partners worldwide and at www.drobostore.com. To learn more about Drobo FS, please visit www.drobo.com/drobo-fs.
Oxygen Cloud is a trademark of LeapFILE Inc and may be registered in some jurisdictions. Data Robotics, Drobo and Drobo FS are trademarks of Data Robotics, Inc. and may be registered in some jurisdictions. All other trademarks used herein are recognized to be the property of their respective owners.
Image Available: http://www2.marketwire.com/mw/frame_mw?attachid=1291948

Add to Digg Bookmark with del.icio.us Add to Newsvine
Media Contact
Hope Nicora
Bhava Communications
Email Contact
831-227-3660


Copyright @ Marketwire
Page: 1
Related Keywords:
cloud storage, cloud storage broker, desktop collaboration, virtual file system, oxygen cloud, Drobo, Computers/Peripherals, Business, Network (LAN), Storage, Mac, OS9, OSX, Switzerland, Marketwire, Inc., Apple Computer, Personal Computers, Engineering, Business, disaster, Other,
---