OpenFeint Crosses 1M Active iPhone Users Within One Month of Launch of OpenFeint 2.0 Social Discovery
All Developers and All Games Can Now Access OpenFeint for No Charge to Developers or Users
(July 14, 2009)

BURLINGAME, CA -- (Marketwire) -- 07/15/09 -- Aurora Feint Inc., developer of the series of award winning social RPG puzzle games for the iPhone(TM), announced that OpenFeint 2: Social Discovery has cracked the milestone of 1M active iPhone users across dozens of titles, within 30 days of its launch at WWDC in June. The rapidly growing user base uses OpenFeint leaderboards, achievements, discovery lobbies, one touch iPurchase and many other social gaming features of OpenFeint 2.
Based on the success of OpenFeint 2, Aurora Feint is now removing the pennies per user cost for indie developers, making OpenFeint the only platform available today completely free of charge to all game developers, publishers and studios. Unlike other models, which are based on revenue share or coins that need to be purchased for social gaming, OpenFeint provides a social platform for the iPhone game developer and user community with no revenue share or hidden costs. Go to www.openfeint.com to download OpenFeint 2.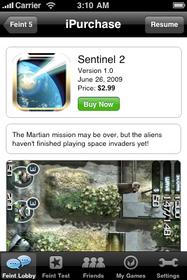 Dave Castelnuovo of Pocket God said, "Now that OpenFeint is free, there is no excuse not to use it. OpenFeint isn't just about leaderboards and chat: it's fast becoming a full featured community hub that gives your app stickiness and allows users that don't have your app to discover and purchase it within other OpenFeint enabled apps."
OpenFeint 2.0 Social Discovery is optimized for indie developers and studios. OpenFeint is more attractive to developers because it does not require revenue sharing or any fees. Publishers of iPhone games may have to start providing their own social gaming platforms to attract game developers.
"We included OpenFeint in our flagship title Sentinel 2 and already had planned to launch 5 more OpenFeint enabled games," said Paul Jackman of Origin 8. "Now that Jason and Danielle have made OpenFeint free to developers and users, it really is a no-brainer. No other platform out there gives us the exposure provided by OpenFeint."
PJ Cabrera, author of iPhone Games Projects by APress, a key book on iPhone game development, says, "You could spend countless nights and weekends implementing social networking into your game from scratch, and you wouldn't even match half the features in OpenFeint."
"We are proud of this important milestone, demonstrating the increasing popularity of OpenFeint," said Jason Citron and Danielle Cassley, co-founders of Aurora Feint. "We urge all indie developers to OpenFeint enable their games because they get real benefits of social gaming and social discovery for no fees, revenue share or hidden costs."
OpenFeint Social Discovery
OpenFeint Social Discovery supports multiple approaches to discovering games and game content in the App Store.
1. Discovery Lobbies: Interact with other people from any OpenFeint enabled game and discover what they are playing. See the name of the game every player has come from alongside each and every message. Clicking on the game's name or icon will take you to its iPurchase Catalog page where you can click Buy Now to go directly to the app store and purchase the game. 2. What are my friends playing: Clicking on a person in your friends tab shows you a list of all the OpenFeint games they have played. Clicking on any of those games will take you to its iPurchase Catalog page from where you can click Buy Now to go directly to the app store and purchase the game. 3. Social Challenges: Send a challenge to your friends: even those playing a different game! Your friend, including those imported from Facebook or Twitter, will receive the challenge when opening any OpenFeint enabled title. From there, they can click to the challenge information and are given the option to purchase your game from the iPurchase Catalog page if they don't already own it.
"With over 1000 registered developers, 1M active users and over 100 applications live and another 100 in development, OpenFeint has become the de-facto choice of indie developers," said Peter Relan, investor in Aurora Feint who also serves as its Chairman.
Note: Aurora Feint(TM) is a trademark of Aurora Feint Inc., Facebook(TM) and fbConnect(TM) are trademarks of Facebook, Twitter(TM) is a trademark of Twitter Inc., APress(TM) is a trademark of APress, and iPhone(TM) and AppStore(TM) are trademarks of Apple Computer.
Image Available: http://www2.marketwire.com/mw/frame_mw?attachid=1022556

Add to Digg Bookmark with del.icio.us Add to Newsvine
Press Contact:
Peter Brooks
(415) 255-1554
Email Contact


Copyright @ Marketwire
Page: 1
Related Keywords:
OpenFeint, Applications,Networking,Game Development,Mac,OS9,OSX,Marketwire, Inc.,Apple Computer,Social Networking,Other,
---