Online Advertising Technology Innovator AdReady Introduces Collective Insights(TM); Extends Power to Help Small Budget Advertisers Compete
New Capabilities Enhance Clients' Social, Display Capabilities
(November 03, 2011)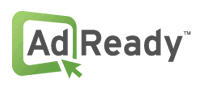 SEATTLE, WA -- (Marketwire) -- 11/03/11 -- AdReady, an online digital advertising leader whose powerful software platform helps advertisers get big results from small budgets, previewed new capability that further expands its competitive advantage in display and social media at its Partner Summit today.
Termed "Collective Insights™," the new set of services allows advertisers and agencies to amplify their smaller-budget campaigns to perform significantly better in online display marketplaces. Collective Insights relies on a wide range of aggregated insight and data mined from the AdReady platform and other sources to overcome structural challenges faced by advertisers with smaller budgets.
"AdReady is focused on removing market inefficiencies that smaller advertisers face when trying to compete in today's advertising marketplaces," said Karl Siebrecht, CEO of AdReady. "'Collective Insights' extends AdReady's ability to improve online marketing ROI and help smaller advertisers achieve performance levels historically accessible only to larger advertisers in both the traditional and social web."
AdReady's new capability is rooted in three key insights:
Focus on breadth, not depth
AdReady works with a wide range of small-budget advertisers rather than just a few large ones. This creates the opportunity to aggregate insight across campaigns to the benefit of many through automated bid and mid-campaign optimization recommendations.


Augment core data with external data
"Collective Insights" pulls relevant information from external, dynamic data sources. This sometimes "non-obvious" data is a critical source of insight for smaller campaigns with small stand-alone data signal.


Create an accelerated "learning phase"
Optimization is not left to testing phases that are beyond the reach of small budget advertisers, or require time they don't have the luxury to devote. AdReady leverages historical data to help advertisers make better decisions sooner, both out of the gate with their initial bids and throughout their campaign cycle.


"Large budget advertisers have long had an advantage in building better, more effective online display and social campaigns," said Dave Pavlu, president of AdsUpNow. "With 'Collective Insights' we are able to match that ability to optimize, analyze and target social and display campaigns." He added that AdReady allows them "to see in real time what works and make adjustments on the fly."
The link between display advertising and social media gets stronger daily. AdReady also unveiled its upcoming Facebook Ads integration that will allow advertisers and agencies to more easily manage Facebook social ads campaigns in concert with their online display campaigns.
"The biggest topic is how to compete not just with local competitors, but with much larger ones," said Michael Crosson, publisher of SocialMediopolis, a social media marketing group on LinkedIn with more than 240,000 active mostly small and medium sized business members, "AdReady has an easy-to-use platform that can give them that edge. It's a perfect DNA match."
Leading industry analysts credit platforms like AdReady for giving small budget advertisers the right tools at the right price.
"We have seen the challenges that prevent smaller advertisers from realizing their full potential with online display and social media campaigns. AdReady's Collective Insights solution goes a long way to leveling the playing field," said Jed Williams, Analyst, BIA/Kelsey
According to Siebrecht, the setting for the Collective Insights announcement reinforced the company's commitment to providing clients with the innovative new capabilities and insights they need to become "Masters of Online Advertising."
About the AdReady Partner Summit
More than 100 agencies, companies and industry experts participated in the AdReady Partner Summit. The one-day Summit's goal was to help attendees learn about, and capitalize on, the latest trends in the industry. AdReady Partner Summit attendees benefit from previews of upcoming AdReady product functionality; the ability to gain insights from industry veterans that have helped shape digital marketing; the opportunity to extend their reach by networking with industry peers and AdReady executives and technologists; and sharing of online advertising best practices with their peers.
About AdReady
AdReady provides powerful software that enables any marketer to master online advertising. Unlike time-intensive, inefficient approaches that don't get the job done, AdReady simplifies the process with an intuitive start-to-finish solution that improves advertising ROI by successfully reaching and converting digital consumers where they live. More than 6,000 customers in the U.S. have run more than 600,000 ads across nearly 150,000 sites through the AdReady solution. AdReady has been recognized for "Best Ad Delivery Platform Innovation" by the Digital Publishing and Advertising Conference and "Service Provider of the Year" by the Washington Technology Industry Association. To learn more, please visit www.adready.com, follow us on Twitter @AdReady, or find us on Facebook.
Add to Digg Bookmark with del.icio.us Add to Newsvine
Media Contact:
Kathy Wilson
For AdReady
781/652-0499
[email protected]


Copyright @ Marketwire
Page: 1
Related Keywords:
AdReady, Sales,Advertising,Marketing,Sales & Marketing,Networking,Internet,Social Media,Display,Business,Marketing,USA,Marketwire, ,Internet Technology,Biology,Genetics,Business,Other,
---