"OnLive Desktop Plus" Introduces World's Fastest Flash Browsing... on iPad
Gigabit-Speed Accelerated Browsing With Full PC Flash Animation and Video Over Any Connection; Gigabit-Speed File and Attachment Upload/Download With Any Cloud Storage or Email Service; Full Microsoft(R) Office Apps and Adobe(R) Reader(R), Delivered Insta
(February 23, 2012)

PALO ALTO, CA -- (Marketwire) -- 02/23/12 -- OnLive, Inc., the pioneer of instant-action cloud computing, is pleased to announce the OnLive™ Desktop Plus service, bringing gigabit-speed(1) accelerated browsing with full Adobe® Flash® to devices with the OnLive Desktop App, regardless of the device's local Internet speed and local computing capability, making OnLive Desktop Plus by far the world's fastest mobile browsing experience, if not the fastest consumer browsing experience available on any device. The free OnLive Desktop App, currently available on iPad® -- and coming soon to Android®, PC, Mac®, TVs and monitors -- delivers no-compromise, media-rich, instant-response Windows® applications including Microsoft® Word, Excel® and PowerPoint® software, and as of today, Adobe® Reader® for PDFs, along with 2GB of cloud storage. OnLive Desktop Plus, available for $4.99/month at desktop.onlive.com, provides all OnLive Desktop Standard features plus OnLive's gigabit-speed accelerated browsing experience with full Flash player capability. With OnLive Desktop Plus, the iPad not only becomes 100% Flash compatible, it becomes the world's fastest mobile Flash player.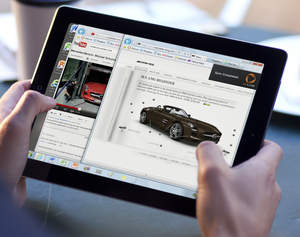 Running remotely on powerful PCs in the cloud that are connected by Gigabit Ethernet to the Internet, OnLive Desktop Plus utilizes OnLive's patented instant-action cloud gaming technology to deliver a seamless PC application and Web experience, instantly responsive to multi-touch gestures, as well as a full PC on-screen keyboard, handwriting recognition and optional Bluetooth® keyboard.
Regardless of your local connection speed, be it Wi-Fi or 4G LTE, even the most complex Flash websites -- including ones that would take minutes to load over your local connection -- load in seconds, instantly delivering fully interactive animation, video and sound. A 50 megabyte file from cloud storage (e.g., Dropbox) or a 15 megabyte attachment from Web email (e.g., Gmail™, Yahoo!® Mail, etc.) can literally download or upload in less than a second, resulting in an utterly transformative Web experience. And, despite the astounding speed improvement, OnLive Desktop Plus can dramatically reduce Web browsing data usage, since only the top layer of the currently visible part of a website is ever sent over the local connection. Essentially, OnLive Desktop delivers only what you can see or hear at a given moment, potentially reducing data usage by a factor of 10 or more.
"Experiencing a full Flash-enabled Web experience at gigabit speeds on iPad is nothing short of breathtaking, and OnLive Desktop Plus is your ticket to ride," said Steve Perlman, OnLive Founder and CEO. "Combine that with OnLive Desktop's full-featured Microsoft Office and Adobe Reader PC applications and not only do you have the world's fastest mobile browser, but the world's most powerful productivity tools literally at your fingertips."
The free OnLive Desktop app is available for iPad now in the United States desktop.onlive.com/iosapp. Android, smartphone, PC, Mac and monitor/TV support (via the OnLive MicroConsole™ thin client with Bluetooth keyboard/mouse) are coming soon -- with your same OnLive Desktop available by login from any device -- as well as support for the United Kingdom and other countries. OnLive Desktop can be accessed anywhere, on any device, at any screen resolution. Announcements regarding the release of the OnLive Desktop app in the UK Apple App Store will be made shortly.
Set up your free OnLive Desktop account at desktop.onlive.com. OnLive Desktop services include:
OnLive Desktop Standard, FREE! -- Available Now!

As-available(2) access to OnLive Desktop, with Microsoft Word, Excel, PowerPoint, Adobe Reader
2 GB of secure cloud storage, appearing as your Documents folder on OnLive Desktop



OnLive Desktop Plus, $4.99/month -- Available Now!

All features of OnLive Desktop Standard and...
Priority access to OnLive Desktop
Cloud-accelerated Web browser(1), with:

Lightning-fast transfer of Web mail attachments (e.g., from Gmail, Yahoo! Mail) and cloud storage files (e.g., from Dropbox)
Full Adobe Flash and Acrobat® PDF plug-ins



OnLive Desktop Pro, starting at $9.99/month -- Coming Soon!

All features of OnLive Desktop Plus and...
50 GB of secure cloud storage, appearing as your Documents folder on OnLive Desktop
Ability to customize OnLive Desktop with additional PC applications(3)



OnLive Enterprise (contact

[email protected]

for more information)

T-managed OnLive Desktops for businesses and organizations
Available for custom integration by independent software vendors, consultants
OnLive collaborative services -- including live desktop spectating and desktop sharing with voice chat for small groups or thousands of simultaneous users -- are coming soon to OnLive Desktop Pro and OnLive Enterprise.
(1) OnLive Desktop provides cloud-accelerated web browsing with up to gigabit Ethernet speed connections to the Internet for extremely fast, but brief, data transfers. These connections are shared with other OnLive users. Sustained high-speed data transfers that excessively impact these shared connections are not permitted. Please be reasonable. Your Internet usage may be limited by OnLive in its sole discretion.
(2) While you can always access your OnLive cloud storage, access to your free OnLive Desktop Standard service depends upon availability. OnLive Desktop Plus and Pro provide priority access to OnLive Desktop services.
(3) OnLive will limit PC applications that may be added. Malware or other applications that may compromise security or reliability are not permitted.
Terms and conditions apply. OnLive may, at its sole discretion, limit Internet usage, limit OnLive Desktop usage and limit the applications that can be used with OnLive Desktop. OnLive cannot control when and if 3rd-party app stores and devices will, or continue to, offer OnLive apps and app updates. OnLive is not responsible for lack of availability or limited capabilities of any OnLive service through 3rd-party devices.
See desktop.onlive.com for details.
About OnLive
OnLive is the pioneer of on-demand, instant-action cloud computing and instant-play video game services, delivering real-time interactive experiences and rich media through the Internet. With groundbreaking video compression technology, OnLive harnesses cloud computing to provide the power and intelligence needed to instantly deliver full-featured, media-rich applications and the latest, premium game titles to tablets, smartphones, PCs, Macs and HDTVs via the OnLive® Game System or on connected TVs. OnLive is available in North America and the UK and will continue expanding into Europe and Asia. OnLive's technology is backed by hundreds of patents and patents pending. The company is headquartered in Palo Alto, California. OnLive investors include Warner Bros., Autodesk, Maverick Capital, AT&T, British Telecommunications (BT), The Belgacom Group, HTC and Juniper Networks. More information is available at www.onlive.com and www.onlive.co.uk.
OnLive is a trademark of OnLive, Inc. All other trademarks are the property of their respective owners.
Image Available: http://www2.marketwire.com/mw/frame_mw?attachid=1896502

Add to Digg Bookmark with del.icio.us Add to Newsvine
For OnLive media inquiries, please contact:
Jane Anderson
[email protected]
(650) 440-0450

Brian Jaquet
Director of Corporate Communications
[email protected]
(415) 235-4844

For the UK
James Beaven
[email protected]
0208 964-4545


Copyright @ Marketwire
Page: 1
Related Keywords:
cloud, enterprise, office, desktop, remote, instant, on-demand;iPad;Microsoft Word, Excel, Powerpoint, Word, Gaming,Internet,Digital Media Software,Communications,WiFi,Web,Animation,Smart Phone,Search,Applications,Security,Video,browser,EMail,Applications,Storage,Security,Internet,Business Issues,Cloud Computing,Services,Software,Misc,Networks,Security,Compression,Security,Internet Server Applications,E-mail,Cloud storage,Animators,Internet/Web,Prosumer/Consumer,Internet,Web,Email,Phone OS,PDF,Flash,Gaming,Handheld PC/PDA,Graphics/Design,Interactive/Multimedia,email,Mac,OS9,OSX,USA,Marketwire, Inc., ,Adobe Flash,Communications Technology,Internet Technology,Game Technology,Internet,Email,england,Other,
---