Omniture SiteCatalyst Now Available on the Apple iPhone
SiteCatalyst for iPhone Lets Marketers Mobilize Their Marketing With Access to Reports, Bookmarks and Dashboards
(October 02, 2008)

OREM, UT -- (Marketwire) -- 10/02/08 -- Omniture, Inc. (NASDAQ: OMTR), a leading provider of online business optimization software, today announced the availability of the new SiteCatalyst for iPhone application from the Apple iTunes App Store. Omniture customers can now access all of their SiteCatalyst reports, bookmarks and dashboards using the familiar iPhone touch screen. SiteCatalyst for iPhone provides a quick and easy way for customers to securely log-in to Omniture SiteCatalyst and receive real-time reports for up-to-the-minute results of their online business.
In July, Omniture announced enhanced mobile analytics in Omniture SiteCatalyst -- providing marketers with business insight to optimize mobile site design, content, marketing campaigns and the user experience based on attributes such as mobile device types, location, and supported video and audio formats. In addition, Omniture began providing SiteCatalyst reports to online marketers via their Internet-enabled mobile phone. With today's announcement, marketers can now receive even more detailed reports and access their SiteCatalyst bookmarks and dashboards with a native application built specifically for the iPhone.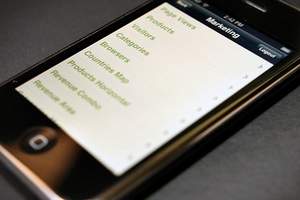 Omniture SiteCatalyst provides marketers with actionable, real-time intelligence about online strategies and marketing initiatives. SiteCatalyst helps marketers more quickly identify the most profitable paths through their Web site, determine where visitors are navigating away from their site, and identify critical success metrics for online marketing campaigns. SiteCatalyst is the foundation of the Omniture online marketing suite.
"Just as Apple is innovating the mobile platform, Omniture is innovating how marketers identify and measure users across mobile platforms," said Aseem Chandra, senior vice president of product marketing at Omniture. "We are delivering to customers the familiar, graphical SiteCatalyst interface with rich reporting capabilities and easy access to multiple facets of their business. Marketers can now stay more connected to their online business -- whether on the PC or on-the-go."
SiteCatalyst for iPhone is a free application available to existing Omniture SiteCatalyst customers using their SiteCatalyst username and login. Customers may find and download the application by going to Apple iTunes and typing "Omniture" or "SiteCatalyst" in the Search iTunes Store section of iTunes. The application is also found in the Business and Free Applications section of the iTunes App Store.
About Omniture
Omniture, Inc. is a leading provider of online business optimization software, enabling customers to manage and enhance online, offline and multi-channel business initiatives. Omniture's software, which it hosts and delivers to its customers as an on-demand subscription service and on-premise solution, enables customers to capture, store and analyze information generated by their Web sites and other sources and to gain critical business insights into the performance and efficiency of marketing and sales initiatives and other business processes. In addition, Omniture offers a range of professional services that complement its online services, including implementation, best practices, consulting, customer support and user training through Omniture University(TM). Omniture's nearly 4,700 customers include eBay, AOL, Wal-Mart, Gannett, Microsoft, Neiman Marcus, Oracle, General Motors, Sony and HP. www.omniture.com
Copyright © 2008 Omniture, Inc. All rights reserved. Omniture and SiteCatalyst are registered trademarks of Omniture, Inc. in the United States, Japan, Canada, and the European Community. Omniture, Inc. owns other registered and unregistered trademarks throughout the world. Other names used herein may be trademarks of their respective owners.
Note on Forward-looking Statements
Management believes that certain statements in this release may constitute "forward-looking statements" within the meaning of Section 21E of the Securities Exchange Act of 1934 and Section 27A of the Securities Act of 1933, including, but not limited to, statements regarding the abilities and expected benefits of our services to customers. These statements are based on current expectations and assumptions regarding future events and business performance and involve certain risks and uncertainties that could cause actual results to differ materially, including but not limited to, risks associated with our ability to ensure that our solutions address the specific requirements of our customers, the continued adoption by customers of our services, including Omniture SiteCatalyst and other services, the significant capital requirements of our business model, our ability to develop or acquire new services and enhance existing service offerings, risks associated with our acquisition strategy and disruptions in our business and operations as a result of acquisitions, the continued growth of the market for on-demand, online business optimization services, changes in the competitive dynamics of our markets, errors, interruptions or delays in our services or other performance problems with our services, our ability to hire, retain and motivate our employees, the adoption of laws or regulations, or interpretations of existing law, that could limit our ability to collect and use Internet user information, expansion of our international operations; and such other risks described in Omniture's quarterly report on Form 10-Q for the three months ended June 30, 2008, and from time to time in other reports filed by Omniture with the U.S. Securities and Exchange Commission. These reports are available on the Investor Relations section of our web site at http://www.omtr.com. Omniture undertakes no duty to update any forward-looking statement to conform the statement to actual results or changes in the company's expectations.
Image Available: http://www2.marketwire.com/mw/frame_mw?attachid=846474

Omniture Press Contact:
Blake Stowell
801.722.0115
Email Contact


Copyright @ Marketwire
Page: 1
Related Keywords:
Omniture SiteCatalyst, Apple iPhone, iTunes App Store, SiteCatalyst for iPhone, mobile analytics, Sales, Applications, Marketing, Sales & Marketing, Internet, Search, Internet Server Applications, Search Servers, Management, Sales, Sales, Canada, USA, Japan, Marketwire, Sony, HP, Apple Computer, Communications Technology, Internet Technology, Business, Internet, Other,
---