Omnicom Media Group Selects Celtra as Rich Media Mobile Advertising Provider
Celtra to Fulfill Omnicom's Mobile Rich Media Ad Serving Needs Across Europe, Middle East and Africa
(October 23, 2013)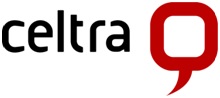 CAMBRIDGE, MA -- (Marketwired) -- 10/23/13 -- Celtra Inc., the industry leader for rich media mobile ad serving and analytics, today announced it has been selected as a preferred rich media mobile advertising partner for Omnicom Media Group, the global advertising and marketing communications services company, across Europe, the Middle East and Africa. Through this strategic partnership, Celtra will enable all Omnicom agencies, including OMD, PHD, M2M, MGOMD and others to easily deploy rich media campaigns for their brands.
Through AdCreator 3, Celtra's mobile ad production, delivery and analytics platform, in-depth reporting and full creative control allows Omnicom to extract more value for their clients, providing better insight into how consumers are engaging with a brand's campaigns. AdCreator's analytics capabilities allow Omnicom to measure campaign performance across an entire media buy in real-time. This improves internal efficiencies, allowing for more sophisticated campaign planning, as well as faster ad creation with more inventory sources for improved reach and relevance.
"We have selected Celtra as a rich media mobile advertising technology provider because they enable the entire mobile advertising ecosystem -- from advertiser to media owner -- to collaborate to successfully launch mobile rich media campaigns. This collaboration is what is necessary for mobile advertising to achieve its promised scale," said Alex Newman, Head of Mobile EMEA at Omnicom Media Group. "Celtra's ongoing pace of innovation around formats and the wide reach of those formats across the media landscape will help to keep our clients at the forefront of this rapidly maturing industry. Further, by delivering real-time media metrics in a transparent manner, we are able to strengthen our mobile proposition and demonstrate tangible value to our clients."
Celtra's AdCreator 3 enables Omnicom to take full advantage of its creative partners' capabilities and leverage their position as a leader within mobile advertising and planning. Through this partnership, Celtra will work to support Omnicom's various creative and publisher partners to ensure seamless campaign execution across all fronts. As a self-service ad creation platform with a powerful dashboard allowing access to all aspects of brand campaigns, AdCreator 3 provides Omnicom centralized campaign control across all media buying points.
"Celtra's selection by Omnicom Media Group, the world's largest advertising holder, as a rich media mobile advertising provider across Europe, Middle East and Africa is a tremendous honor and a testament to our platform's ability to remove friction from mobile rich media advertising," said Jonathan Milne, Celtra's General Manager Europe. "Our AdCreator platform allows Omnicom the freedom to create interactive, engaging ad formats, run them across their preferred media mix and provide their customers the data and proof points that verifies the effectiveness of their mobile advertising campaigns."
Celtra's ads support in-app and mobile web HTML5 advertising across iOS and Android smartphones and tablets. Non-technical personnel can quickly and easily create engaging rich media advertising campaigns; AdCreator 3 simplifies the ad creation process, automatically managing technicalities with display option and validation tools. Within the platform, agencies have the ability to distribute ads to media owners and adjust strategy and message according to immediate customer feedback through AdCreator's single, centralized dashboard.
About Celtra Inc.
Celtra Inc. is the global leader for rich media mobile ad serving and analytics. Celtra's AdCreator 3 platform, which is used by world's leading agencies, publishers and networks in more than 30 countries, is the only complete SDK and ad server agnostic platform for rich media mobile advertising. Celtra's unparalleled HTML5 ad products are designed to provide the best user experience, performance and reliability on distinctive mobile platforms with one single ad unit. For more information, visit Celtra at www.celtra.com or @CeltraMobile on Twitter.
Celtra is headquartered in Cambridge (MA), with offices in New York City, San Francisco, Los Angeles, Chicago, London (UK), Tokyo (JP) and Ljubljana (SI).
Media Contact:
Derek Lyons
SHIFT Communications
+1 (617) 779-1838
Email Contact


Copyright @ Marketwire
Page: 1
Related Keywords:
Displays, Internet, Computers/Home Office, Communications, Digital Toys, Web, Tablets, Networks, Smart Phone, tablet, Tablet, Social Media, Mac, Android, Africa, Marketwire, Inc., Internet Technology, middle east,
---