OSN to Launch Multiscreen Broadband TV Service With KIT digital
MENA's Largest Satellite TV Provider Chooses KIT digital to Provide Advanced Over-the-Top VoD and Live TV Platform
(November 22, 2011)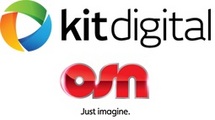 DUBAI, UNITED ARAB EMIRATES and PRAGUE, CZECH REPUBLIC -- (Marketwire) -- 11/22/11 -- KIT digital, Inc. (NASDAQ: KITD), a premium software solutions and services provider for multiscreen video management and delivery, announced that OSN, the largest pay television platform in the Middle East and North African (MENA) region, has selected KIT digital as its premier global technology provider. KIT digital will work with OSN to design, develop, and deploy a new, state-of-the-art over-the-top (OTT) video platform that will deliver OSN's content to millions of users across 24 countries, as a complement to OSN's traditional satellite TV service.
OSN, the ultimate destination for the widest choice of Western and Arabic entertainment in the Middle East and North Africa, broadcasts channels in Arabic, English, and Filipino languages. OSN currently offers 93 exclusive channels, which consist of owned and operated, as well as third-party (e.g. Disney, Discovery, National Geographic and other) channels. The current lineup includes 19 high-definition channels with Dolby Digital audio delivered through state-of-the-art file-based technology.
David Butorac, CEO of OSN, said: "KIT digital's advanced solutions, unparalleled experience and global footprint support our commitment to providing the very best in next-generation premium content options to our customers, and keeps us on the cutting edge of this burgeoning field of digital entertainment. OSN has been a leader in adopting innovative technology, such as HD and 3D, and now we are determined to expand into multiple screen delivery. Consumer demand for aggregation of premium and social content to a variety of new connected devices provides a great new arena to bundle content with devices, utilizing the native features for each device to enable unique interactive content experiences."
KIT digital will work with OSN to deploy a digital multiscreen platform that will support subscription, transactional and advertising-funded business models for video-on-demand and live streaming. The solution will deliver a wide variety of OSN content to its customers over a range of connected devices. OSN will be leveraging the KIT Connected Device Framework to deliver apps featuring both VoD streaming and live TV channels.
Kaleil Isaza Tuzman, chairman and CEO of KIT digital, commented: "OSN is one of the best run and most respected pay TV operators in the world, and we won this client in the context of strong competition. Our deployment of a world-beating OTT platform for OSN is a milestone in the ongoing expansion of KIT digital and underscores our long-standing presence in the Middle East and North Africa. OSN will now be able to leverage the KIT Video Platform to significantly increase operational workflow efficiencies while delivering advanced broadband TV experiences to audiences anytime, anywhere."
About KIT digital, Inc.
KIT digital (NASDAQ: KITD) is a premium provider of end-to-end video management software and related services. The KIT Video Platform, the company's cloud-based video asset management system, enables enterprise, media & entertainment and network operator clients to produce, manage and deliver multiscreen socially-enabled video experiences to audiences wherever they are. KIT digital services more than 2,400 clients in 50+ countries including some of the world's biggest brands, such as Airbus, The Associated Press, AT&T, BBC, Bristol-Myers Squibb, BSkyB, Disney-ABC, FedEx, Google, HP, Mediaset, MTV, News Corp, Telecom Argentina, Telefonica O2, Universal Studios, Verizon, Vodafone and Volkswagen. KIT digital maintains executive offices in New York and its operational headquarters in Prague, Czech Republic, with offices in 21 countries around the world. Visit the company at www.kitd.com or follow on Twitter at www.twitter.com/KITdigital.
About OSN
OSN is the ultimate destination for the widest choice of brand new premium Western, Arabic and Filipino entertainment in the Middle East and North Africa, with subscribers in 24 countries. OSN is the home of 93 channels filled with great value entertainment, offering viewers in the MENA region exclusive access to the latest blockbuster movies, top rated series, sports, documentaries, news, kids' entertainment, and live talk shows. The movie offering includes over 100 movie premieres per month -- uncut and with no commercial breaks. OSN boasts the most comprehensive portfolio of exclusive regional rights from all the major Hollywood studios, including Warner Brothers, Paramount, Fox, Disney, Sony, MGM, Universal and DreamWorks, and offers access to the world's leading television brands -- including Disney Channel, Sky News, Discovery Network and Nat Geo. OSN has changed the TV viewing experience in the MENA region through its pioneering introduction of HD and 3D viewing experiences, and brings viewers 19 High Definition channels. OSN was also the first to launch a DVR service (the OSN Showbox HD) as well as the region's first video-on-demand service. OSN On Demand offers viewers the opportunity to watch over 1,000 movies and over 52 latest seasons of top television series per year in full HD quality and Dolby Digital sound. OSN is owned and operated by Panther Media Group; a company registered in Dubai's DIFC trade zone, and is co-owned by Orbit Group and KIPCO. For more information, visit www.osn.com.
Add to Digg Bookmark with del.icio.us Add to Newsvine
KIT digital Contact:
Daniel Goodfellow
SVP, Corporate Communications
Tel. +1-917-513-6081
Email Contact

KIT digital Investor Relations Contact:
Matt Glover or Geoffrey Plank
Liolios Group, Inc.
Tel. +1-949-574-3860
Email Contact

OSN Contact:
Alison Wilcox
Public Relations Manager
Tel: +971 4 367 7160
Mobile: +971 50 6583122
Email Contact


Copyright @ Marketwire
Page: 1
Related Keywords:
KIT digital, Inc., Broadcast,Management,Streaming,Digital,Prosumer/Consumer,Business,VOD,Anim,Broadcast Technology,Internet Media,DTV,HDTV,Software,Africa,Czech Republic,Argentina,Marketwire, Inc., ,Sony,HP,Sports,Television,Business,Entertainment,Sports,middle east,
---