OAISYS to Exhibit at Practice Management Institute National Conference for Medical Office Professionals
Will Showcase Latest Call Recording Technology for Profitability, Compliance and Liability Protection in Healthcare
(November 09, 2011)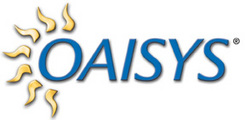 TEMPE, AZ -- (Marketwire) -- 11/09/11 -- OAISYS®, a leader in business call recording and contact center management solutions for the healthcare industry, announced today it will appear as an exhibitor at the Practice Management Institute®'s National Conference for Medical Office Professionals at the Treasure Island Hotel and Casino in Las Vegas, Nov. 16-18.
PMI's 7th annual Las Vegas Conference is open to anyone seeking advanced training in coding, reimbursement and office management for the medical practice. Attendees are comprised primarily of physician staff members -- medical office managers, coding and billing professionals from across the United States. Attendees may choose from 16 sessions presented by nine experts and organized into two learning tracks (Coding/Reimbursement and Management).
Practice Management Institute (PMI) is a leading provider of continuing education for medical office professionals. PMI offers a broad curriculum of educational seminars, workshops and certification programs that address all areas of medical office management. Reimbursement and business management topics, along with specialty programs, are presented in 400 of the nation's leading hospitals, health care systems, medical societies and colleges. For more than 22 years, physicians have relied on PMI to provide the latest information on managing an efficient and compliant practice.
OAISYS is dedicated to the healthcare industry and making practice management easier. OAISYS recording solutions were built from the ground up to be simple to use and administer while including vital aspects relative to regulatory compliance and other healthcare-specific concerns. No matter where a practice or hospital may be in terms of implementing an electronic medical records (EMR) or electronic health records (EHR) system, documenting calls with an OAISYS solution can start making an immediate improvement on operations, processes and practice profitability.
"We are proud to once again exhibit at PMI's Las Vegas conference," said Brian Spencer, president of OAISYS. "This is an organization dedicated to expanding opportunities for its members, and that includes recruiting a diverse and select group of exhibitors to showcase solutions in a wide range of operations and technologies. This is the third time we've exhibited at the Las Vegas Conference, and each time, we see our message of call recording as a vital component of medical documentation resonate more soundly with the attendees."
OAISYS' HIPAA-compliant call recording and voice documentation solutions bring three primary benefits to healthcare businesses:
Liability Protection: Malpractice and licensing complaints often include information exchanged over the phone. OAISYS call recording solutions make it easy to locate, retrieve, play back, annotate and securely share phone-based information with attorneys, review boards and others in order to eliminate "he said/she said" disputes and quickly and easily investigate potential issues before they become difficult, time consuming and expensive.
Increased Revenue: By having access to what was said, when and by whom, practices can accelerate their collection times from both insurers and delinquent patients, authoritatively appeal declined or reduced payments and provide evidence to state insurance offices in the event of a dispute, all of which can improve billing cycles.
Staff Performance: When staff members know their phone calls are being recorded, they are motivated to perform as professionally as possible. In the event of a service complaint, managers can easily review phone conversations and engage their staff members on the best ways to improve service.
OAISYS provides innovative, reliable and affordable call recording solutions that help healthcare professionals overcome the everyday challenges they face.
About OAISYS:
OAISYS (www.oaisys.com) is a leading developer of call recording and contact center management solutions for a wide range of organizations, from small- to medium-sized businesses to multi-site large enterprises. The OAISYS voice documentation and interaction management solutions help companies within a variety of industries -- including healthcare, automotive dealerships, financial services, and the public sector -- attract and retain customers by digitally capturing phone-based interactions for simple retrieval, playback and management. Compatible with leading business communications system providers, including Avaya, Mitel, ShoreTel and Toshiba, as well as SIP-based communications services, OAISYS Tracer and Talkument applications help companies improve risk management, quality assurance, customer retention, dispute resolution, regulatory compliance requirements and other critical business concerns. OAISYS is headquartered in Tempe, Ariz. OAISYS Limited is located in Cambridge, England.
Add to Digg Bookmark with del.icio.us Add to Newsvine
OAISYS PR Contacts:
Teri Sawyer
T&Co.
714-536-8407
Email Contact

Roland Murphy
OAISYS
888-496-9040, ext. 1020
Email Contact


Copyright @ Marketwire
Page: 1
Related Keywords:
OAISYS, Tracer, Call Recording, Voice Documentation, Call Recording for Healthcare, England, USA, Marketwire, , healthcare, Surgery, Physician, Financial, Healthcare, Hospitals, Medical, Business, england, Other, Medical Professionals,
---